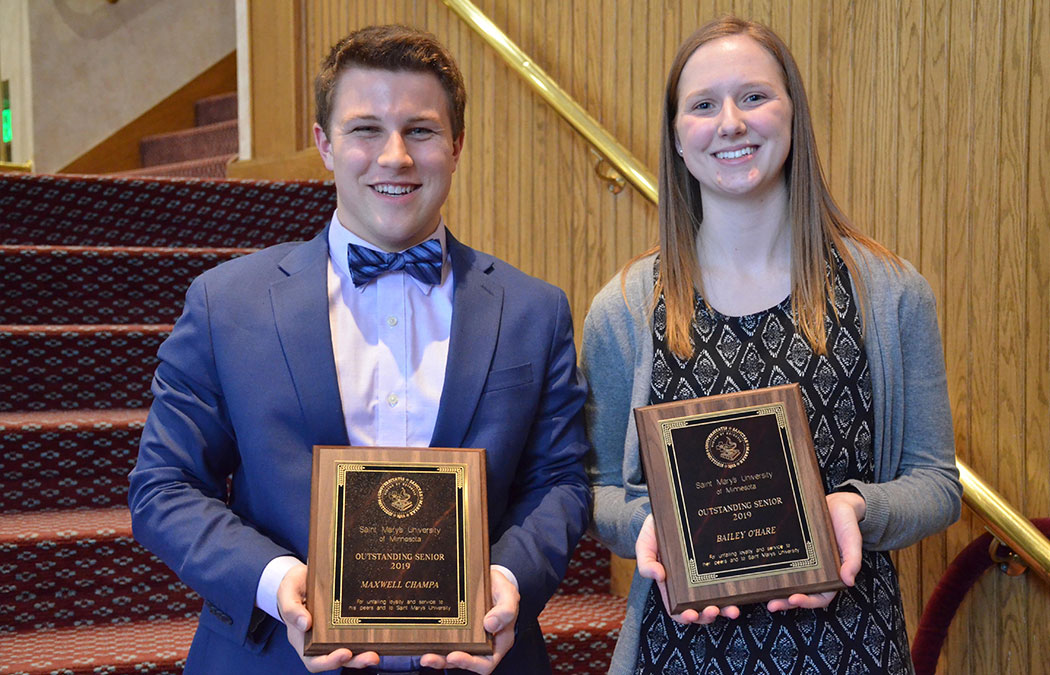 In celebration of its heritage, Saint Mary's University presented awards to the leader of the De La Salle Christian Brothers, as well as one faculty member, one staff member, and two outstanding seniors at its annual Founders' Day celebration March 12 on the Winona Campus. Brother Robert Schieler, FSC, Superior General of the De La Salle Christian Brothers received an honorary doctorate of educational leadership. Saint Mary's also recognized the dedication and outstanding service of two faculty and staff members who have advanced our mission consistently over time with the Brother Charles H. Severin, FSC, Award (Dr. Tricia Klosky) and the Distinguished Lasallian Educator Award (Alisa Macksey).
Each year, Saint Mary's recognizes outstanding undergraduate male and female seniors who have demonstrated the ideals of scholarship, character, leadership, and service. The Outstanding Male and Female Senior awards were presented to Max Champa, son of Bill and Marykaye Champa of Bloomington, Minn., and Bailey O'Hare, daughter of Tim and Brenda O'Hare of Rushford, Minn. Congratulations to these students and the other finalists: Aldontae Guess, Tatiana Jones, Marissa Kinzer, Zechariah Kitzhaber, Erin McCoy, Bailey Melz, Laura Sonday, and Nathan Young.
Photo caption: Max Champa and Bailey O'Hare were named this year's Outstanding Male and Female Seniors.