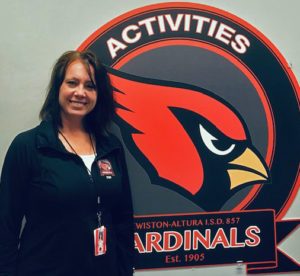 Kelsey Philipsek is a student enrolled in Saint Mary's M.A. in Teaching program. The M.A. in Teaching program is designed for students who did not receive an undergraduate degree in education, but want to pursue a teaching career and receive the proper licensure.
Philipsek is in her second year of teaching at Valley Middle School of STEM in Apple Valley, however, she did not begin her career in teaching. Before entering the classroom, Philipsek worked as a civil engineer. After realizing teaching math is where her interests lie, she became an educator and is now pursuing her Minnesota licensure.
What made you want to pursue an M.A. in Teaching degree?
Before becoming an educator and pursuing my MAT degree and licensure, I worked as an engineer. I tried everything I could to enjoy the field of engineering, however, nothing kept me intrigued. So pursuing education and this degree finally allows me to do the things I want to do: teach math. Having this degree is going to equip me to have the degree I want, and allow me to work with the people that I want.
What has your experience at Saint Mary's been like so far? What have you enjoyed the most?
I really enjoy the flexibility of my program. Being able to work full time and go to school has been awesome. The faculty has also been phenomenal. They're great to work with, and their communication is great. All of my classes have been online, however, I don't feel like I've lost any experience because they're online. You know, sometimes you'll take an online class and find yourself saying, "Well, I don't know if that was worth it." These courses are 100% worth it. They're great. I feel like I get to connect with not only my professors but my classmates. The professors also work really hard to make it an exciting lesson and have opportunities for us to have breakout sessions.
What made Saint Mary's program stand out?
I was looking at a few other programs in Minnesota and what made Saint Mary's stand out was the flexibility of being able to work and still go to school. A few of the programs I looked at would not allow you to work in education while also pursuing a degree. As a current middle school math teacher, that was a huge plus. Another benefit was the fact that a majority of my math courses from my time as an undergraduate transferred over, allowing me to mostly focus on the education courses I need.
Would you recommend the M.A. in Teaching program to someone else?
I would definitely recommend the program. First, it's so flexible to fit with your schedule, so being able to earn credits toward your education while also being able to do what you want to do is why I picked the program. And second, it's just a great program. I have really enjoyed my classes, and I like the professors and my classmates. At no point in my experience have I felt like what I am learning is not applicable to my career. The professors are mindful of everyone's time and make sure they don't assign you busy work, so everything you do in your course has a purpose.