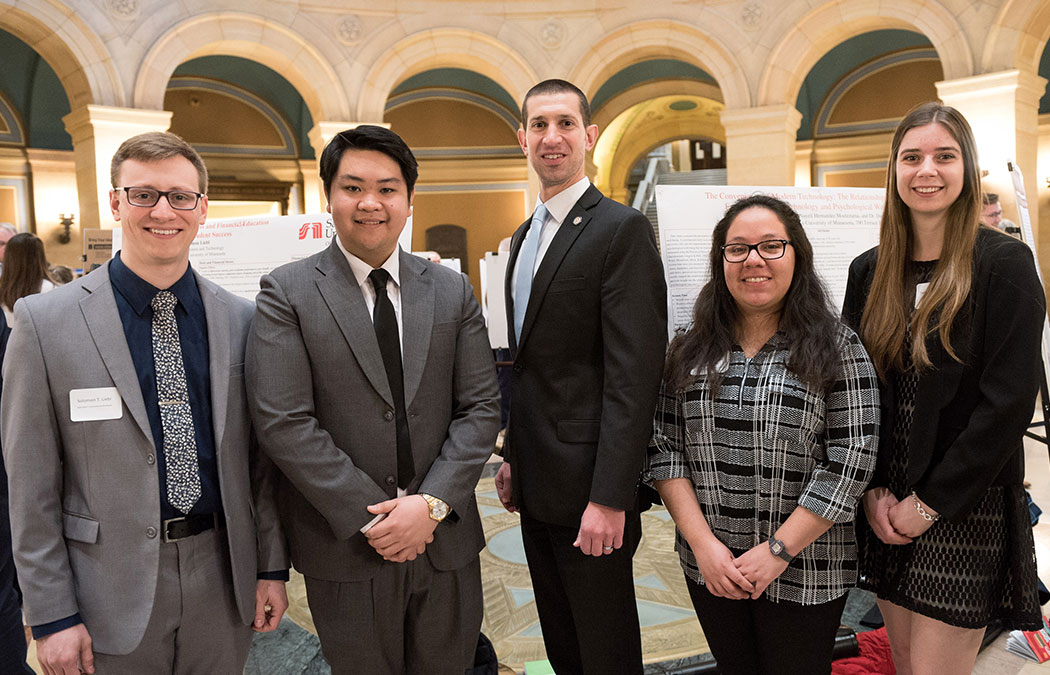 Four Saint Mary's students presented their research for Scholars at the Capitol March 11. These students had a chance to engage with several lawmakers, who asked to review their research papers. A legislator also asked one of the students to potentially testify at a committee meeting related to a proposed bill.
Junior Samantha Chaffee, junior Huy Truong, and senior Nayeli Hernandez Moctezuma — advised by Dan Bucknam, Ph.D., assistant professor of Psychology, — presented "The Convenience of Modern Technology: The Relationship Between the Excessive Use of Technology and Physical Well-Being."
Their study examined the perception of technology usage and its relationship with psychological well-being. The students' research established significant correlations between screen time and stress, happiness, and depression. Their results support the established relationship between screen time and psychological well-being and provide insight into the relationship between the perceived interference of screen time and psychological outcomes.
Senior Solomon Liebl presented "The Effects of Financial Stress and Financial Education on College Students." Advised by Andrew Scott, assistant professor of Business, Liebl investigated existing research surrounding college students' financial welfare and the effects of financial education. Liebl's research shows that high levels of student loans contribute to student financial stress, which can influence academic performance and retention. Further research has indicated that implementing targeted financial education classes and offering financial counseling will help decrease students' financial stress. In summary, Liebl suggests that universities may encounter positive benefits from investing in financial education programs.
Photo caption: Saint Mary's students with Senator Jeremy Miller (center).