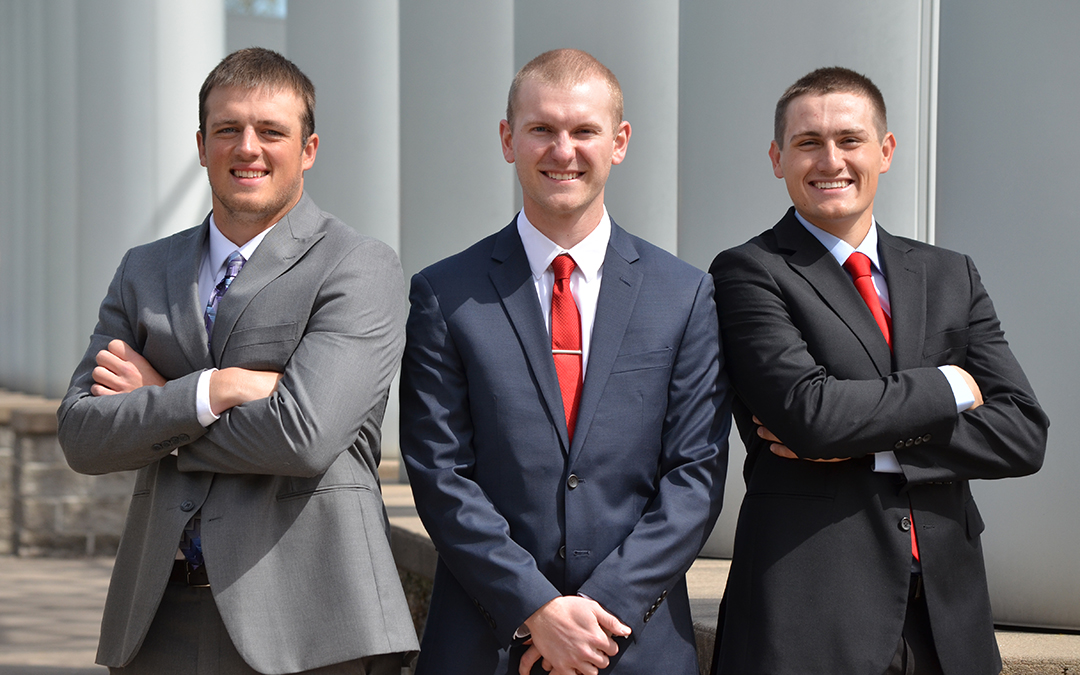 For John Heim, Dixon Irwin, and Nathan Boice, success can be found in the acronyms. This Saturday, they will walk across the Saint Mary's University commencement stage to receive their B.A.s, which have prepared them for their future careers with 3M and IBM.
All three are double majors in Business Intelligence and Analytics and Finance who are making it their business to help their future employers with their businesses. All three have a passion for understanding and interpreting data.
"I have always been interested in money, data, and how businesses operate," Heim, a Lewiston, Minn., native said. "There are so many different elements of business, and you can really take your career in any direction."
Irwin, who calls Red Wing, Minn., home, said the analytics component of business is what excites him the most. "All the insights that can be discovered using the tools we've learned is what has excited me most about my major and business in general," he said.
Boice, who lives in St. Charles, Minn., hopes his knowledge in business intelligence can help companies thrive. Both he and Heim are headed to IBM to work as financial analysts, while Irwin will work as a frontline intern in business analytics for 3M's Marketing-Sales Operations division.
And all three say that having a job lined up long before graduation took a huge weight off their shoulders, allowing them to focus on schoolwork and athletics.
Ratajczyk, who teaches Business Intelligence and Analytics courses, isn't surprised that interest in the major is growing at a rapid pace, largely because of the growing industry need, as well as the versatility of the major.
"We recognize that data is an asset for a business," he said. "Everyone recognizes they need the data, but it really comes down to how you are going to use it, and that's where our students succeed.
"They understand finance and accounting and all the applications of how data can be used: marketing, sales, purchasing, and supply chain perspectives," he added. "We work together to offer solid electives, so that if your interest is in project management, computer science or math, there are opportunities geared to those areas. There are six pillars of data science we use in the program: business acumen, mathematics, computer science, ethics, data command, and communication."
Another useful part of the program has been the real-world experience built in throughout business courses.
"The entire Business Department at Saint Mary's prepares you from spectrum to spectrum," Heim said. "Professor Ratajczyk put us through real-world situations every day, like the freight project and our Celebration of Scholarship presentations. "Both of these required all of us to use everything we have learned to put together quality projects. I loved being held accountable each and every day to be the best possible student I could be."
Irwin also believes Saint Mary's prepared him well for his first position, especially because of the communication skills he strengthened in the program. "The real-life projects and presentations have helped me and will continue to help me as I transition into the real world," he said.
Boice added, "My Business Intelligence classes have given me a lot of experience when it comes to explaining very technical analytics concepts and processes to those who aren't versed in the area. What I appreciate about the finance program is that it exposes you to the whole spectrum of the finance industry and doesn't just pigeonhole you in one area. I appreciate that the Business Department makes things challenging and forces you to think critically and especially strategically. I believe that I have an advantage over my colleagues from other universities."
Ratajczyk said he begins preparing his students for the real world on Day 1. "It's about using real data sets, not end-of-the-chapter problems, but using messy data that isn't clear, a taste of what they'll be looking at in the real world. I hold nothing back. That can be one of the most frustrating experiences for students but also the most beneficial when they graduate and enter the workforce.
"Graduates of our program can communicate," he added. "They can humanize the data and the project. Our students have tenacity. If there's a problem, they go and solve it or find the resources to solve it. Anybody can teach you to push buttons, but when you don't know why you didn't meet the objective and can't explain it, that's where our students beat the competition."
Photo caption: Graduates John Heim, Nathan Boice, and Dixon Irwin.