As a geographer and cartographer, Caroline "Siffy" (Erickson) Torkildson M'10 not only creates maps of the world, she is also trekking around the world using maps. And her M.S. in Geographic Information Science from Saint Mary's is helping her go places.
Most recently she's been accepted into the Society of Woman Geographers as part of a prestigious group of women explorers, and researchers who "know no boundaries."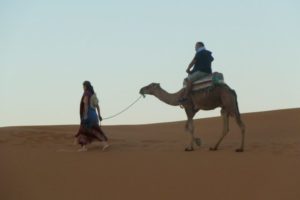 On her website she states, "Even before I could read, I pored over atlases and National Geographic magazines, dreaming of faraway lands. I feel as Annie Peck wrote, 'My home is where my trunk is.' "
Torkildson originally attended Saint Mary's as an undergraduate for a year before she transferred to study oceanography, but her love of maps led her to geography. A subsequent stint in the Peace Corps took her to Madagascar.
In her 40s, she decided to go back to school to study GIS and become more employable, as computer mapping was in its infancy when she was in college. When she began researching programs, she was happy to return to Saint Mary's for its strong reputation.
"John Ebert and Dr. Dave McConville were both so supportive and encouraging and patient," she said. "Because of them I stuck with it, and I was determined." She jokingly compares getting through the program to her recent climb to the top of Mount Kilimanjaro. "I wasn't sure I'd make it to the top but I did. Getting through the program, I was also nervous, but I made it," she said.
Before she completed her capstone project at Saint Mary's, she was offered a position with the Environmental Protection Agency's Landscape Ecology Research Lab in Nevada. "I was hired because of my GIS skills, so it really has opened doors for me," she said.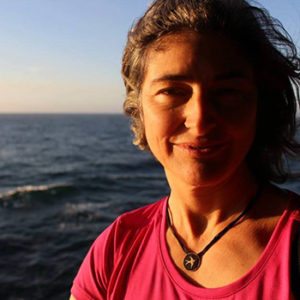 At the EPA, Torkildson completed her capstone project on finding the best location to grow native grasses for biofuel near the Koda Biomass Facility in Minnesota, which related to the renewable energy program at EPA.
For the EPA she also did sea level rise modeling for regions in North Carolina and California, as well as for the Passamaquoddy Tribe in Maine as part of a sustainability program to help tribes with environmental and health concerns. She also looked at the proximity-to-green-space in cities and how it affects health and well-being.
After five years at the EPA, she reconnected with an old friend in Germany and ended up getting married. She found a job using open source GIS programs, such as QGIS, for a contracting company in Germany, through which she uses high-resolution satellite imagery for terrain analysis in Germany and Eastern Europe.
"Having learned basics of GIS from Saint Mary's, I've been able to apply those skills to learn new open-source programs," she said. "Saint Mary's professors were helpful, the smaller class size was beneficial, and the curriculum was really good. There was a variety of spatial analysis, programming, database management, internet mapping, all the different aspects of GIS. And it was all practical in the real world. There was also a class on grant writing and how to write a proposal which has helped me in my work."
In her husband, she found her soulmate and exploring partner. In her life, she's traveled to the Himalayas in Nepal, the Sahara in Morocco, Europe, Alaska, Patagonia, Nepal, and Mount Kilimanjaro in Tanzania—remote areas of the globemany have never experienced.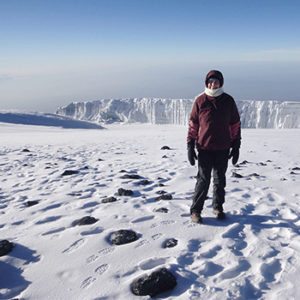 And, together, they publish anthology books through their company, Sacred World Explorations. Last year, they published The Walkabout Chronicles, which contains writings by 35 authors, several of whom are well-known explorers. Their new book, The Pilgrimages Chronicles comes out in November, and Torkildson is also researching the life of Annie Peck—one of the original Society of Woman Geographers members—for another book about traveling in her footsteps.
Torkildson credits her GIS classes for helping her become more technology savvy in the publishing world as well.
When Torkildson discovered she had been nominated and accepted into the Society of Woman Geographers, she wrote to Ebert and Dr. McConville to share in her excitement. "Both of you were important in me receiving this award, as my education and subsequent research for the EPA were part of my application process," she said.
Torkildson now joins a prestigious society membership that includes noted researchers such as Jane Goodall and Sylvia Earle. There are currently 500 members; some of the historical members include Margaret Mead and Mary Leakey.
"I'm a geographer; it was always my love, and the society was founded in the 1920s by women who were not accepted into the Explorer's Club, like Amelia Earhart. When I was in geography in the '80s, there weren't many women. But I think it's getting better for women in science overall and also women in geography. Half of my class in GIS at Saint Mary's were women."
She tells future women geographers that they need to "live the life you imagine." "I've always been a very curious person, and I think curiosity is very important."
Top photo: Trekking in the Himalayas, Nepal