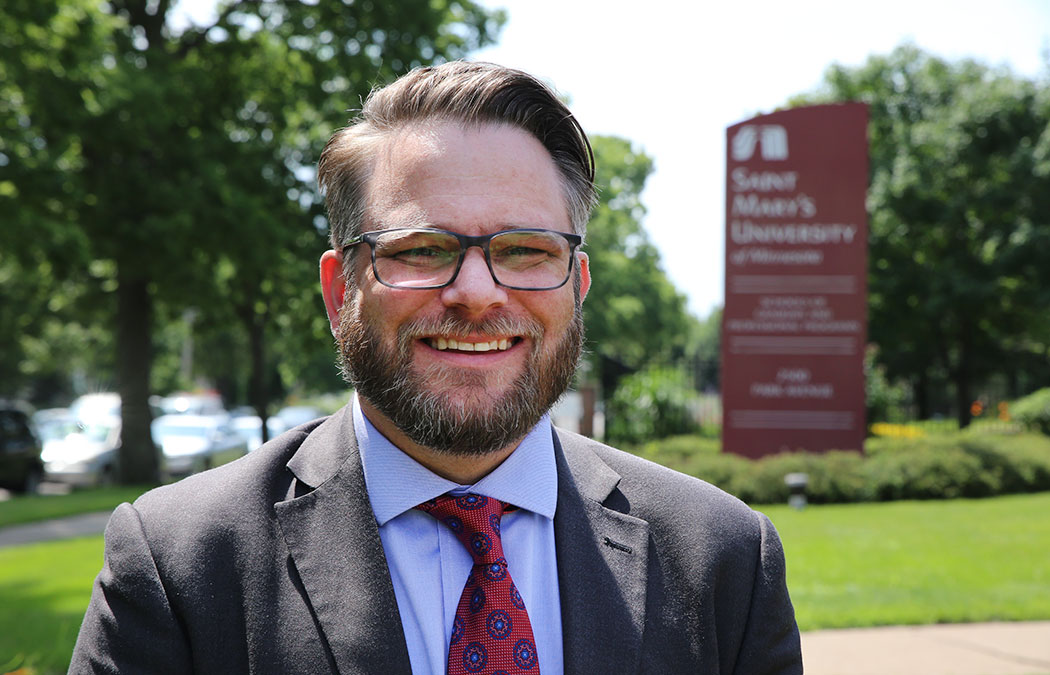 Of all the tidbits of advice Matt Beetcher M'15 has picked up, the one he lists as the best came from a recently finished audiobook: "Chief Joy Officer: How Great Leaders Elevate Human Energy and Eliminate Fear" by Richard Sheridan.
And that piece of advice?
"It was to approach people or situations as a teacher, not as a boss," Beetcher said. "I have been trying to remember that when working through issues or challenges."
As Beetcher explained, a boss may tell someone what to do, how to do something, or to stop doing something entirely. A teacher, on the other hand, will use different approaches by perhaps asking one of the following questions: "Tell me a little bit more about that?" "How's that working for you?" "Do you have any control over this?"
"Teachers provide some open-ended questions so [students] really are not being told the answer," Beetcher said. "They're coming to it on their own. It's not easy to think like that. It's easier to be a boss and tell people what to do, but that's not going to provide any growth for people."
By wearing the hats of a manager of environmental services operations at Mayo Clinic in Rochester, Minn., instructor at Saint Mary's University, and coach of his youngest son's peewee hockey team, Beetcher can apply this wisdom to all areas of his life.
Building connections
Coincidentally, it was Beetcher's own boss, Larry Nation M'12, who played a major role in Beetcher wanting to pursue a Master of Arts in Health and Human Services Administration at Saint Mary's after completing the degree three years before Beetcher.
"I could see myself in the program," Beetcher said. "I was interested in on-campus learning … I wanted to network, team build, and leverage those interactions."
Through those connections with fellow healthcare executives, Beetcher was able to take on a more active role within the program, allowing him to begin navigating the world of higher education.
Eventually, Beetcher's inspiration from his involvement led him to a role as an instructor in the same program at Saint Mary's. He currently teaches the capstone course in the Healthcare and Human Services Management bachelor's completion program at the Rochester Campus. He taught a class about the U.S. healthcare system the previous two years.
"I'm trying to plant seeds about how students can utilize education and leverage it for career advancement," Beetcher said, "and how to learn a concept from the U.S. healthcare system and apply it at work within their professional environment."
One of Beetcher's overall goals in his classes is to help students have "true exposure to advanced thinkers," so they know exactly what success can look like in their chosen field.
From a professional standpoint, Beetcher said the program at Saint Mary's helped afford him the ability to move from direct operations management — overseeing such matters as housekeeping, waste management, and recycling — to supporting the development of training and hiring programs.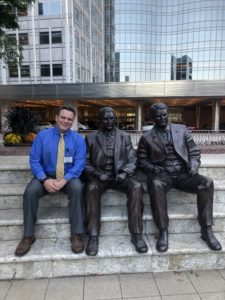 He began his career at Mayo Clinic as a supervisor of environmental services in 2005, working nights and watching his then two young children during the day while his wife, Erika, worked as a nurse at Mayo Clinic. She currently works as a nurse practitioner.
"I would nap when they napped to get through," Beetcher, said. "But it had such purpose to work an evening job and to balance out our family — and to do the right thing for the family. And it actually worked really, really well."
As his children grew up, the surge of middle school homework and after-school activities made it apparent that Beetcher needed to switch to days. He began his current role in 2012.
A home of their own
Up until his involvement with the program at Saint Mary's in 2013, much of Beetcher's career had focused on tactical approaches to keep operations running smoothly at such a large facility. In his new chapter, Beetcher centers his energy on solutions that address key issues within his department.
"Previously, we could only talk about it," Beetcher said of developing new training resources, "but now I have the time and resources to identify solutions."
One of those resources is a new training center for environmental services at Mayo Clinic that Beetcher has helped oversee since it first was suggested three years ago. Scheduled to open on Nov. 1, the Environmental Services University facility will feature three mock patient rooms and one mock exam room. In the past, Beetcher and his team had a rather nomadic existence, hopping from one unoccupied room to another.
"It was always a challenge to train in the live environment," Beetcher said. "Now, everything is already there and set up, and it's just going to build in so many efficiencies for where equipment is stored and how we teach and how we train … We're really excited because some of the challenges that we've always had will just be gone because we'll have our own space."
The industry of building maintenance and other related fields have experienced a significant change over the past few years, Beetcher said, because of increased awareness of data-driven logistics and the leveraging of chemicals, materials, and processes used. Beetcher and his team use data to the efficiency of each employee. In addition, Beetcher also spends plenty of hours working to both attract and retain staff.
"We want to develop [associates] if they want to stay. We also want to develop those who want to pursue other opportunities within Mayo," he said.
When it came to starting his master's program at Saint Mary's, the hardest part was finding the time to apply and committing to initiating the process.
"Growth takes time, but you have to start somewhere," he said. "The unknown is the hardest point — but you find the time for what is important."