Nearly 100 guests joined Saint Mary's University of Minnesota as it broke ground for a new 10,000-square-foot addition to Cascade Meadow Wetlands and Environmental Learning Center in Rochester on Aug. 15.
Although the event celebrated a physical expansion, the excitement multiplied as university officials discussed the programming that will take place inside.
Once approved by state and regional accrediting bodies, this expanded Saint Mary's facility will house the graduate portion of a proposed 3+2 Physician Assistant program, a collaborative effort with the Mayo Clinic School of Health Sciences.
Participants chosen for the program could potentially become a physician assistant in as little as five years—spending three years studying at Saint Mary's Winona Campus, followed by two years of graduate study at Cascade Meadow.
Students successfully completing the program will earn a bachelor's degree from Saint Mary's University of Minnesota and a Master of Health Sciences in Physician Assistant Studies from Mayo Clinic School of Health Sciences.
This new addition will also house programming within the university's Schools of Graduate and Professional Programs. Saint Mary's has had an educational presence in Rochester since 1985.
A generous $5 million gift from Jack and Mary Ann (Wera) CST'64 Remick of Rochester will support the building expansion and programming.
Scott Walker, associate vice president, partnerships-Rochester, and executive director of Cascade Meadow, said that "when longtime Saint Mary's University supporters Jack and Mary Ann Remick gifted this beautiful facility to Saint Mary's in 2015, we began envisioning the ways we could best utilize this natural environment and expand upon the important work Jack Remick had started.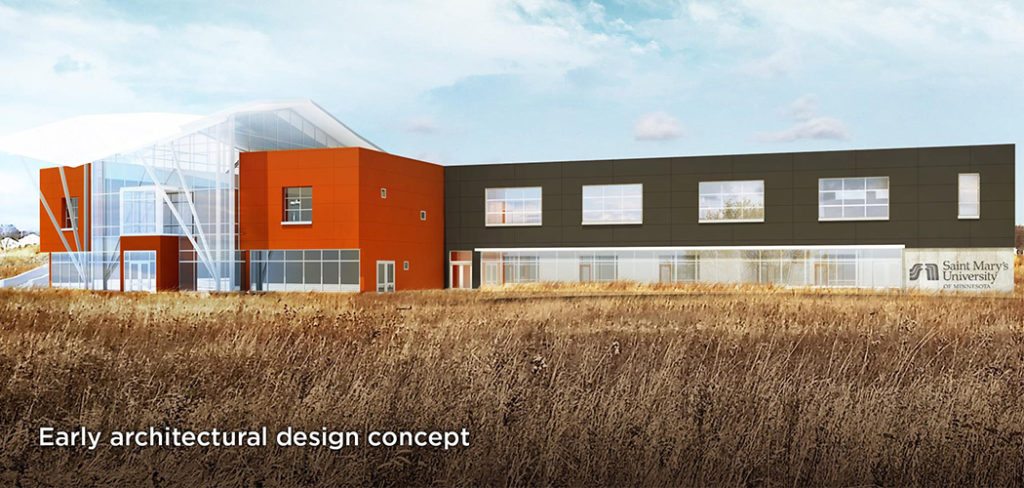 "Cascade Meadow continues to be a regional resource for environmental education," Walker said. "Our students—as well as students throughout the region—are finding that the hands-on learning opportunities here in this diverse ecological system are invaluable.
"It's because of the Remicks' continued generous support and leadership, that we will expand and growour Rochester presence and usher in a new educational opportunity to help Rochester continue to thrive."
Luis Escobar '12 provided a unique perspective as a Saint Mary's alumnus who is working as a certified physician assistant at the Mayo Clinic Health System in St. James, Minn.
"I'm a proud Saint Mary's University alum, and I am honored to work for the Mayo Clinic Health System. I can also attest that a career as a physician assistant is a very rewarding one," he said. "I was excited to hear about the proposed collaboration between the Mayo Clinic School of Health Sciences and Saint Mary's University for a physician assistant program. Physician assistants play a very direct role in being of service to others.
"Working for the Mayo Health System, we are part of an unbelievable support system," he added. "Every medical provider working within Mayo Clinic Health System is equipped to give our patients the best care. This proposed Physician Assistant program would be a tremendous asset to students. Being able to learn from the best in the nation would be a dream come true for many Saint Mary's students."
Audrey Kintzi, vice president for Development and Alumni Relations added, "Saint Mary's students deserve an education that prepares them to address the needs of tomorrow, and they deserve an environment that meets their expectations as well as their drive and determination. It makes me incredibly happy that we are now able to house such very important study and work in a wonderful new facility."
Brother William Mann, Saint Mary's president, told attendees that the ground breaking was just part of the growth occurring at Saint Mary's. "We are proud to be in Rochester. We're proud to be collaborating with the Mayo Clinic," he said. "Today is only the beginning. That was our promise in (our 2012) centennial. It's not just that we got to 100 (years), but we got to 100 strong and determined. Because of our friends, we continue to do great things."
DLR Group is serving as the architect of the project, and McGough Construction will serve as general contractor. Construction will begin Sept. 1.
View KIMT's news coverage of the event.
Groundbreaking participants included (from left): Amado Guevara, project manager, DLR Group; Abigail Propsom '19, Cascade Meadow intern; Dr. Michael Silber, dean, Mayo Clinic School of Health Sciences; Brother William, Saint Mary's president; Mary Ann (Wera) Remick CST'64, chair, Saint Mary's Board of Trustees; Jack Remick, founder, Cascade Meadow; Luis Escobar '12, physician assistant, Mayo Clinic Health System; and Dan Melbostad, general manager, McGough Construction.