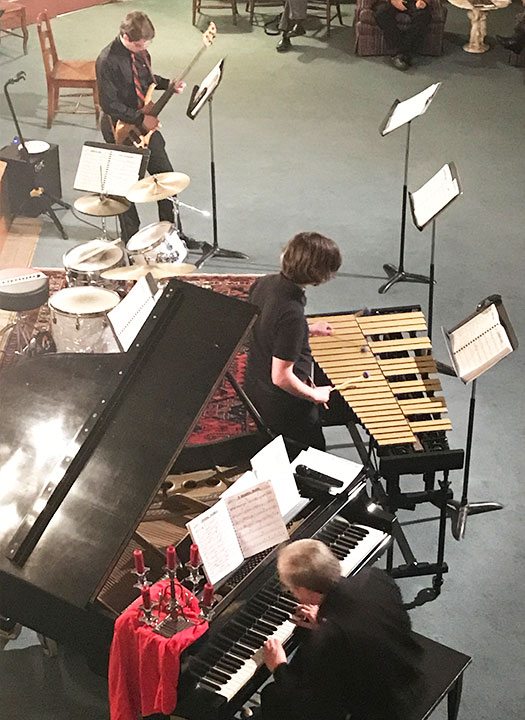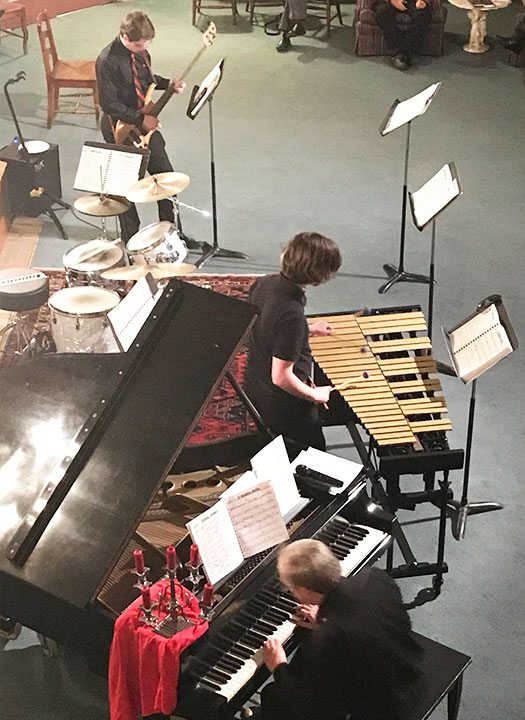 As part of the 2018 Mid West Music Fest (MWMF), the father and son jazz trio known as H3O, featuring Eric Heukeshoven (piano), Hans Heukeshoven (vibraphone), and Max Heukeshoven (bass), will perform at 3 p.m. Saturday April 28, in Hardt's Music, 115 E. 3rd St.
The hour-long set will feature a wide range of selections by Chick Corea, Horace Silver, Thelonius Monk, and other jazz giants. "Almost Spring" — written by Eric Heukeshoven exclusively for H3O's first MWMF appearance — will also be premiered.
Tickets for MWMF can be purchased online at midwestmusicfest.org/tickets or at The Root Note, Deaf Ear Records, and People's Food Co-op in La Crosse and at Midtown Foods in Winona. Tickets must be redeemed for a wristband at the ticketing hub located at the Tent Stage on the corner of 2nd and Center Streets.

About the H3O Jazz Trio
The father and son trio H3O began performing great jazz tunes together when bassist Max Heukeshoven was only 14 years old. With older brother Hans on drums and dad Eric on the piano, they were asked to play for a private pool party and haven't stopped since!
Eric Heukeshoven is an assistant professor of music at Saint Mary's. Hans Heukeshoven is a 2015 graduate of Saint Mary's with degrees in music performance and computer science. Max Heukeshoven is pursuing a degree in music industry at Saint Mary's and plans to attend law school in 2019.
H3O performs a wide variety of jazz styles. They have worked as the rhythm section for numerous area professionals including Minnesota Music Hall of Fame's Les Fields and Dr. John Paulson.
For more information on booking H3O for an event, contact Eric Heukeshoven at 507-450-5622 or aehsmu@gmail.com.