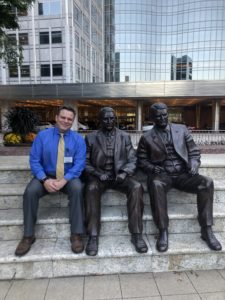 WINONA, Minn. – It seems fitting that with the celebration of 50 years of Title IX, Bruna Bucciarelli B'76 Is among this year's induction class into the Saint Mary's University Sports Hall of Fame.
After all, Bucciarelli was a true pioneer for women's athletics at Saint Mary's, being among the first — and the best — to put on the Cardinal uniform in the inaugural stages of women's sports.
Bucciarelli, along with George Drouches B'78, Mark Staub B'88, Jenni (Gutterman) Becker B'06, and Jen (Schipp) Stewart B'06, will be recognized and honored as part of the second annual Cardinal Excellence Fund Dinner, which will be held at Visions Event Center in Winona on Saturday.
"It was a surprise, let me tell you," said Bucciarelli on being notified of her upcoming induction. "I certainly wasn't expecting it. I always considered hall of fame inductions as reserved for someone who scored 100 points in games, something like that — and that wasn't me.
Bucciarelli may not have scored 100 points in a game, but she certainly excelled in her fields of competition — all three of them.
A three-sport standout in basketball, cross country, and volleyball, Bucciarelli epitomizes greatness and boldly led the way for decades of talented women athletes. Just as 50 years ago, Title IX made history in creating equal opportunity for all, Bucciarelli's pioneering achievements led to greater opportunities for all women at Saint Mary's.
"It is truly an honor to be inducted into the Hall of Fame," Bucciarelli said. "And I am humbled that I was chosen to go in at this time, representing women's athletics in such a big and important movement as the celebration of 50 years of Title IX."