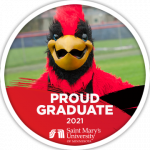 Add a specially designed Facebook profile pic to signify you are one of our 2021 graduates or in support of 2021 graduates (all degrees and locations). This time of year, we know our graduates are missing out on so much because of this pandemic. The Office of Communication created a way for us to both applaud and spotlight this year's graduates, and it's easy to do.
Log into Facebook and go to your profile. Hover on your round profile photo, and click "Update." On the next screen, click on "Add Frame." Search for:
smumn21grad for Proud Graduate without mascot
smumn21gradbr for Proud Graduate with mascot
smumn21supporter for Proud Supporter without mascot
smumn21supporterbr for Proud Supporter with mascot
Drag to reposition, choose the duration you'd like this frame to remain, or change your picture from this screen. Once satisfied, click on "Use as Profile Picture."
Join us in showing our pride for our graduates and their many accomplishments!