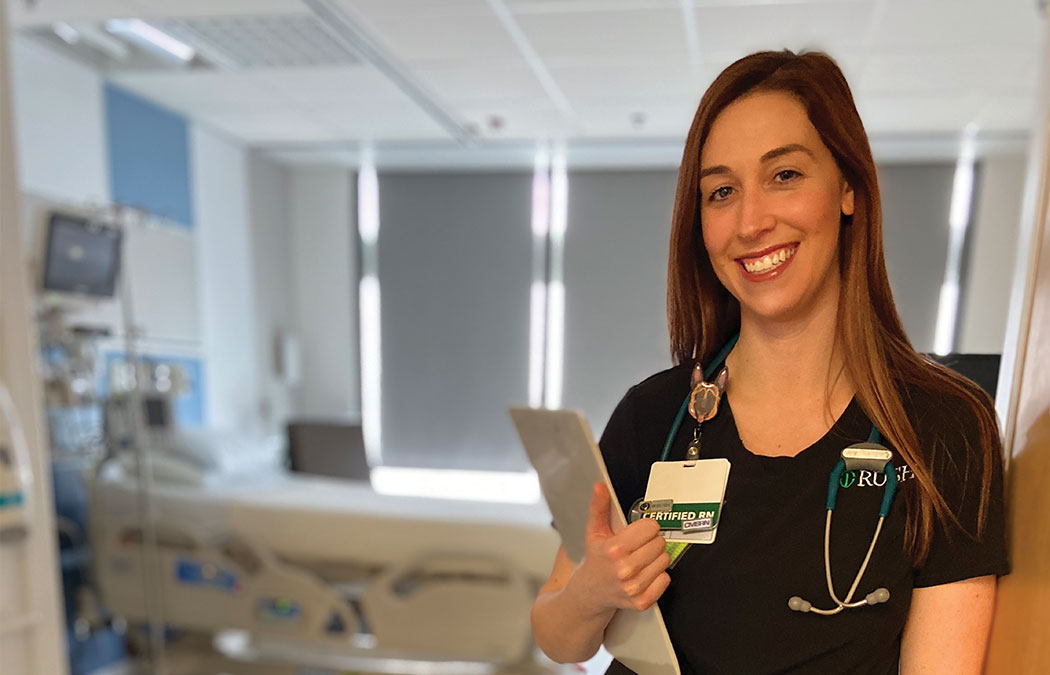 Colleen Joyce '10 and her husband Joe Haynes '09 say they wonder regularly which one of them will contract COVID-19 first.
They know, deep down, the question is ultimately more of a "when" than an "if."
Joyce, an RN2 who works at Rush University Medical Center in downtown Chicago, and Haynes, a fire fighter with the Chicago Fire Department, are on the front lines of the pandemic, and frequently come face-to-face with the highly infectious disease.
"Every time we get out of the fire truck, we never know what we're about to walk into," Haynes said.
"It's very worrisome. I come home to her and she comes home to me, and we work in the fields most affected by it. It's always in the forefront of our thoughts. But it's the job we signed up for. We know that we've got a job to do, and we try to do it the best we can and stay optimistic and hope it ends as quickly as possible."
"We're both taking extra precautions," Joyce added. "We wash our hands a thousand times a day. I always wear a mask. I don't think there's such a thing as too many precautions. Neither of us can go to work if either of us gets it. And we don't want to stay home; we want to be out there."
The couple, who married about a year ago, met more than 11 years ago as undergraduate students on Saint Mary's Winona Campus. They share an obvious a affinity for Chicago, for their two dogs, for (the late and great) Father Andrew Fabian of the Philosophy Department, for their alma mater, and for helping others.
Joyce majored in biology, knowing from her days of being a nanny that she wanted to work in the medical field; Haynes majored in English, went into the military, and became a prosecutor for the city of Chicago before joining the fire department nearly a year ago.
"I knew in college that I wanted to go into public service," he said. "I knew as a firefighter I would also be able to still practice law and would be able to help two-fold. I joined the re department just in time for this national crisis, so I'm able to put my money where my mouth is."
In mid March the couple completed a whirlwind tour of Europe, returning just two days before President Donald Trump suspended international travel because of safety concerns. Their jobs changed instantly.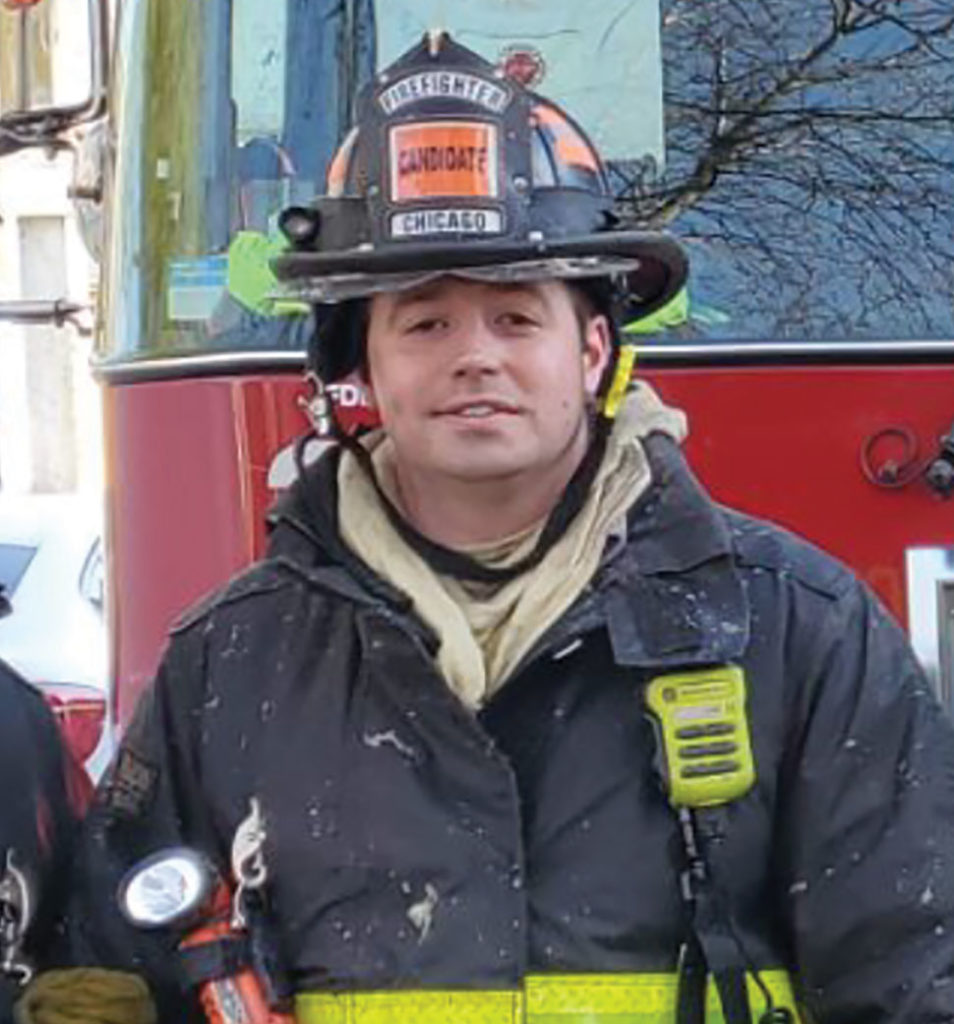 Haynes sees patients on the front end, responding to 911 calls and serving as a trained emergency medical technician. He and others on the truck respond to everything from gunshot wounds to emergency transports. In spring, he began seeing a lot of people who had COVID-19 symptoms who called 911 because they were having difficulty breathing.
If the patients are taken to Rush, there's a possibility they will end up in Joyce's COVID-19 unit. Joyce also serves as a clinical instructor for the hospital nursing program, and she recently transitioned into an interim director position — shortly before COVID-19 arrived in Chicago. "I got thrown into this madness," she said.
When patients arrive via ambulance, after being admitted, they wait in her 32-bed unit (one of two the hospital established, in addition to multiple ICU COVID units). If they are negative, they are sent to another unit. If they are positive, they stay, unless they require intensive care.
"We monitor them very closely because it is a respiratory condition," Joyce said. "We have a really good team on my unit who really took this on and has been very resilient. I feel like we're learning from each patient. I'm so proud of how my staff has responded. It makes me proud to be a nurse and to work with them."
Though days are long and draining — and having to quarantine themselves from the family they love has been an added emotional strain — the two find ways to remain positive. For Joyce, it's about watching patients recover (like one patient who went back and forth from her unit to the ICU twice but is now home quarantining and doing well). "Seeing so many people recover gives me hope that we're taking the right steps and going in the right direction," she said.
She also described the overwhelming support Chicagoland businesses have shown her and other healthcare workers — by providing food, gift cards, and other gestures — as amazing.
For Haynes, it's about how everyone has put aside their differences to get through this crisis together. "It's lending perspective," he said. "In this political climate, people are putting their differences aside. We're all in this together, and we're trying to get through this together, and that's a bright spot for me."
And, they enjoy coming home to each other and their two dogs, Lucy and Layla. "They are so excited when I walk in the door they make me forget about what I see every day," Joyce said.
"They're the best therapy." They also give thanks for the technological advancements that allow them to connect virtually with friends and family, including the supportive friends they made at Saint Mary's.
"My years at Saint Mary's with Colleen were the best years of my life so far," Haynes said. "We've made lifelong friendships, we had inspirational teachers, and when that day comes, we'll encourage our children to attend Saint Mary's."
Photo caption: Colleen Joyce '10 at Rush University Medical Center in Chicago.