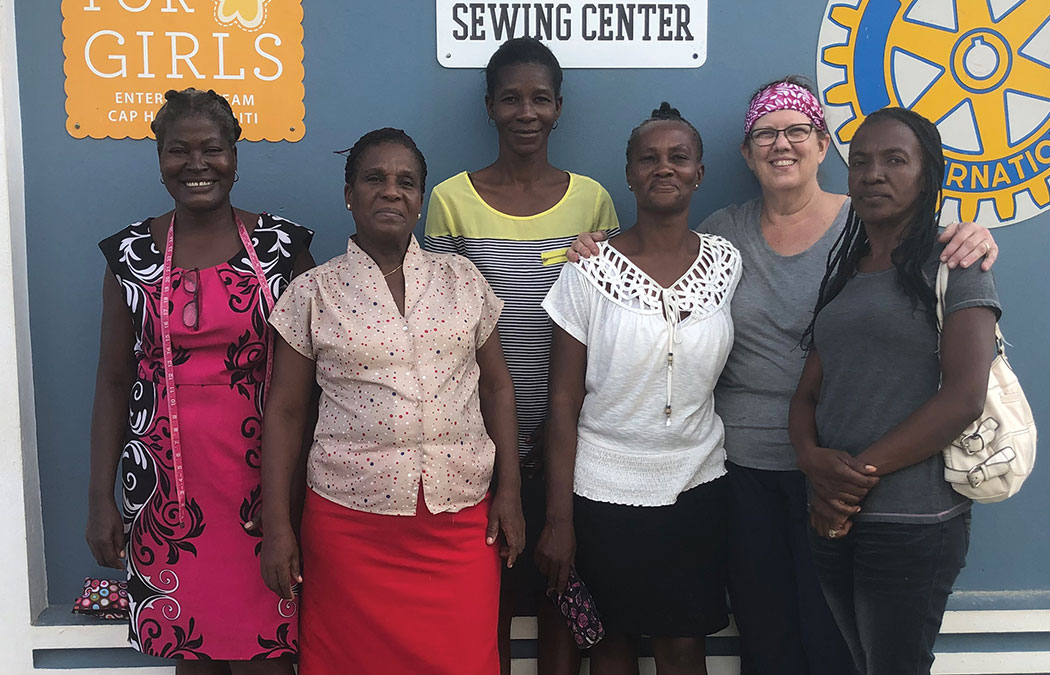 Ellen Schreder's voice cracks emotionally when she speaks of her Haitian friends and what she describes as their "infectious hope and joy."
In the wake of the COVID-19 pandemic, she constantly fears for their safety.
"They're being told to wash their hands, but 80 percent of them don't have access to running water," she said.
"They're being told to socially distance but they can't. Their food is purchased in open markets … where they are shoulder to shoulder with each other, and they live in close proximity to one another."
And if they do get sick, she adds, there's no access to medical care.
Schreder said she read there are an estimated 60 ventilators in all of Haiti (which has an estimated population of 11.5 million). In truth, she discovered there are maybe 20 functioning ventilators, and medical personnel don't know how to properly use them.
"They're dying in their homes and not being counted because nobody knows," she said.
"We'll never know."
Schreder, who is a partner at a Minneapolis law firm, first fell in love with the people of Haiti when she visited the country with her daughter on a mission trip about 15 years ago. In 2014, she and colleague Dr. Leslee Jaeger established a way to support Haitians in supporting themselves through Days for Girls and Helping Haiti Work.
It began with teaching Haitians to construct reusable menstrual products but, in the wake of the pandemic, has switched to manufacturing cloth masks.
Schreder had discovered that without access or funding to purchase proper sanitary products, girls in Haiti and other Third World countries were often forced to miss school for a week every month. Ultimately, she said, many dropped out of school.
Schreder and Jaeger began helping Haitian women develop valuable sewing skills, as well as a business plan for constructing and marketing sustainable feminine hygiene solutions. From their newfound income, the Haitian workers could now support their families, and countless girls were given the supplies and confidence they needed to stay in school. Schreder and Jaeger lead the Days for Girls Enterprise Team in Haiti (the only one in existence in Haiti).
When Haitian nonprofits began seeing a large demand for cloth masks this spring, they switched priorities. Haitian workers had constructed upwards of 6,000 masks by April 21.
At $2 each, the seamstresses are taking home about 50 cents per mask, which is greatly helping their families.
The orders keep coming in, and like here in the U.S., many businesses are closed, and material is hard to come by.
Another outcome of the pandemic has been an extreme rise in the price of food. Schreder recently raised $3,600 from family and friends, which was used to purchase large quantities of food for Haitian families. Even with cash, because of the current food scarcity in Haiti, it was difficult to find what they needed.
Too often, Schreder said, Haitians are forgotten.
Sometimes, she explained, visitors from more affluent countries visit Haiti on a volunteer mission. They come bearing gifts and they stay a few days, maybe a week, and help with building projects or other chores.
But when they leave, they never return.
Schreder said back in 2014 she had visited Haiti for about a week to teach women how to sew. She had discovered that her team of local sewers were very skilled but that they had rushed to get through the first round of production and earn as much as they could. They assumed she — like so many before her — would never return. On the first of many return trips, Schreder was greeted by the surprised exclamation, "Miss Ellen; you came back!"
"No one is ever as happy to see me as my Haitian friends," she said.
Schreder looks forward to her return visits, which are now three or four times a year. In September, she led a group that included other Saint Mary's alumnae Mary (Hennessy) Pawlowski '82 and Cindy (Chamberlain) Budd '82. Schreder attended Saint Mary's for two years, between 1980 and 1982, and she made lifelong friends during that time. She was excited to introduce her U.S. friends to her Haiti friends.
"I can tell people about this all day long every day and unless you go there and see it, and touch it, and smell it, and feel it … It gets me choked up just talking about it. I look at them and I see they have nothing and they are so happy," she said.
"And then I come back here and look at all that we have, and people just don't get it. It's life altering. I have a lot to learn from them."
Photo caption: Ellen Schreder with some of her Haitian seamstresses.