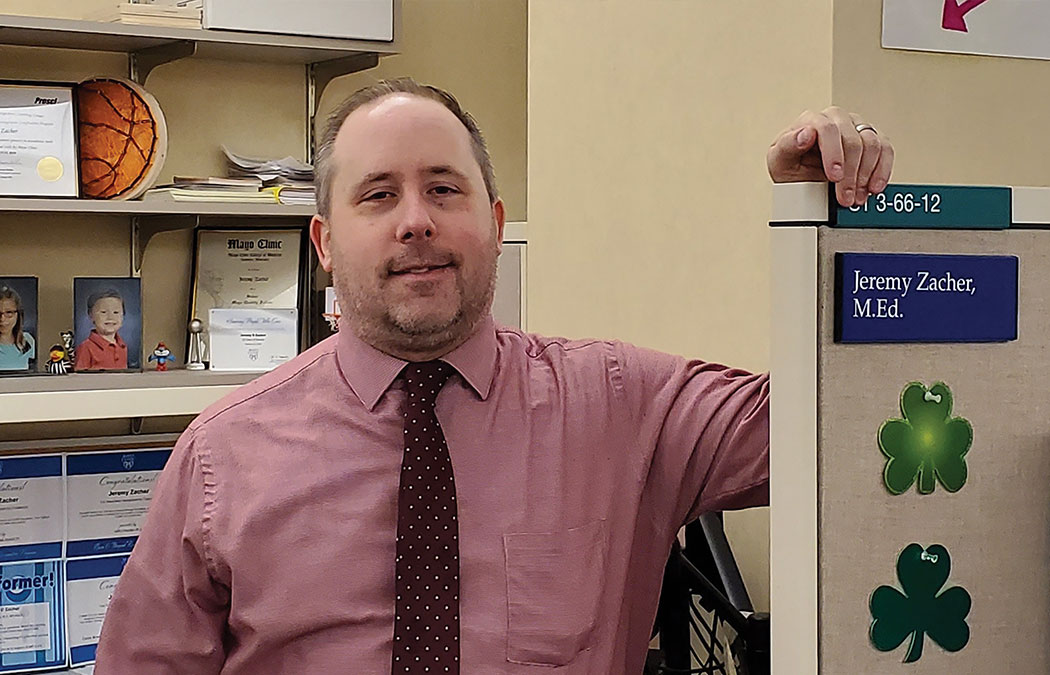 Jeremy Zacher M'19 doesn't ever see or interact with patients at Mayo Clinic, yet his work is vital to the frontline heroes testing and treating COVID-19 patients.
As an education coordinator and instructor in Laboratory Medicine and Pathology, Zacher and his team support departmental education and all of the educators for more than 60 laboratories at Mayo Clinic. His personal areas of focus are online training and leadership development.
The advance of COVID-19 has dramatically shifted his work plan priorities. "Though education is obviously still important, we have shifted into a support mode to help with technology issues, work with assignments for online training, and assisting staff with working more efficiently and effectively," he said. "Each day is a little different with the challenges we tackle."
One of those challenges has been training lab workers doing COVID-19 lab testing.
"Much of what I do deals with online training and education, so this has been all about supporting our staff and helping them adapt quickly," he said.
"We have many laboratory staff members who are redeployed to help with the COVID-19 testing, so they need to be trained quickly so that they can contribute as soon as possible. My work as of late has included creating online training, videos, and quick reference guides for staff to use in their training."
Though much of the Mayo Clinic laboratory staff still needs to be on site, many are now working from home for the first time, so Zacher and his team are there to train and answer questions.
"Many of those working from home have never had to deal with that sort of challenge before, so we are supporting them through the change," Zacher said. "Part of that includes teaching them about the technologies, but also we try to support the well-being of the employees. We work with a variety of people, some of whom haven't previously had to do meetings online. It's about getting people more comfortable with using the technology, providing them with resources to work from home, and helping them feel good about what they're doing on a daily basis."
Zacher is finding multiple ways to directly apply what he learned in Saint Mary's M.Ed. in Learning Design and Technology program. He graduated in 2019.
He admits getting his master's degree was something he'd always wanted to do but had put off for quite some time, telling himself his workload and his family life would make it too difficult. But after working at Mayo Clinic for about 15 years, he decided the time was right and that a master's degree would open up the door to more opportunities.
"I looked at a variety of programs, and the LDT program stood out because of how it fit with both my work and my own interests. Because education and technology have really been passions of mine, it seemed like a great fit. I was able to modify and adapt what I was learning directly to the work I was doing, which made
it seem less like another task to manage and more like a way of enhancing the things I was already doing. One top of that, the support I got throughout the process from my classmates and professors was outstanding."
Zacher said the experience continues to benefit him in his career; for starters, after successfully balancing school, work, and family life, he feels confident in his ability to manage multiple projects and deadlines all at once.
"Much of what I do for the department is to help our educators and trainers become better at what they do, so it was great to be able to share what I learned with my colleagues at the same time that I was improving myself and developing into a more effective leader for our laboratories and for Mayo Clinic."
Although Zacher said it's both humbling and exciting to be a part of the COVID-19 fight, he doesn't consider himself a hero. "We have so many great researchers, technologists, specialists, and lab assistants who are on the front lines, collecting samples, testing specimens, and searching for answers, and I see them as the real heroes of all of this because of how vitally important their work is to keeping everyone safe and healthy.
"Mayo Clinic's primary value is that 'the needs of the patient come first'," he said. "For those of us in roles that don't see patients, sometimes it's hard to truly visualize what that means, but in today's world, it's very apparent to see the impact we are having on the lives of so many people. I am just happy to be able to do my part and contribute where I can."