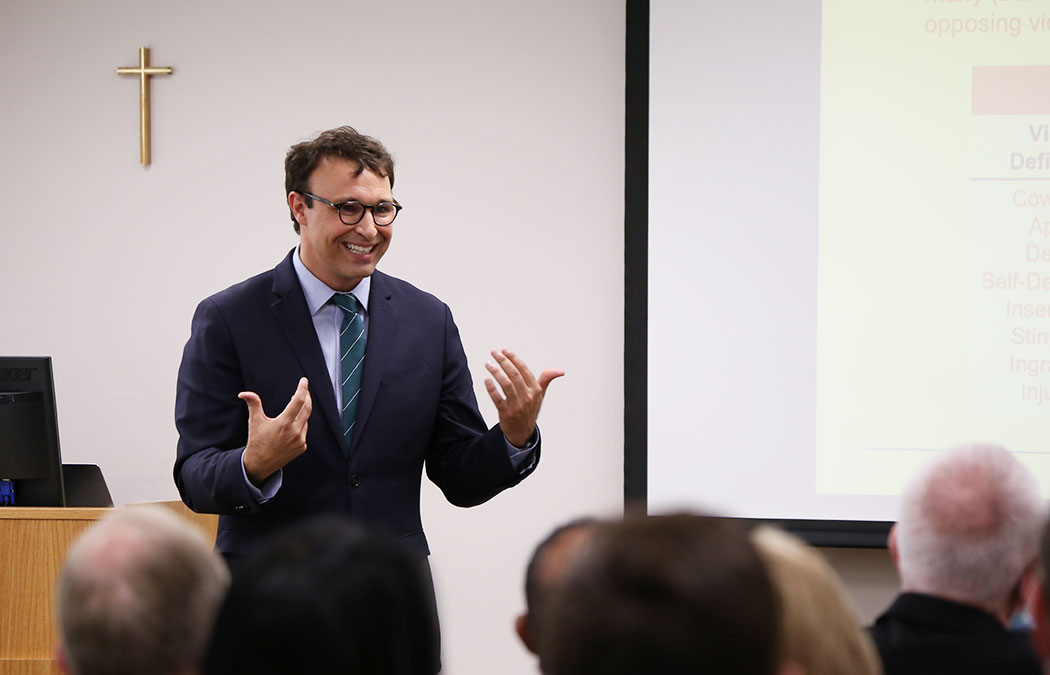 On Oct. 18, guest speaker Michael Lamb, Ph.D., defined character and articulated its importance in college and university classrooms to the very Saint Mary's educators who are defining and articulating character within their own classrooms.
While on the Twin Cities Campus, Lamb led a seminar for 20 faculty members from across the university centered on character development in higher education, focusing on his recent article "How is Virtue Cultivated? Seven Strategies for Postgraduate Character Development," published in the Journal of Character Education. Later in the day, he presented "Several Reasons why it is Good to form Character within the University" to faculty, staff, and students.
Lamb is executive director of the Program for Leadership and Character and assistant professor of politics, ethics, and interdisciplinary humanities at Wake Forest University. He is also a research fellow with the Oxford Character Project. His research focuses on leadership, character, and the role of virtues in public life. He is currently a principal investigator for several grants related to character education with the John Templeton Foundation, Kern Family Foundation, and Lilly Endowment.
"Michael is a true leader in this field," said Michael Hahn, Ph.D., program director of character and virtue education in the school of education. "Beyond his many and impressive academic and professional accomplishments, he models leadership and character and we are delighted to welcome him to Saint Mary's to expand our understanding of what university character education means today."
Lamb's visit to Saint Mary's was made possible through the $1.7 million grant awarded to the university by the Kern Family Foundation to support the school's renewed and invigorated focus on character and virtue education. Lamb complimented Saint Mary's on the work it is already doing to make character and virtue a central part of the student experience while at the university.
"Historically, character education has been central to the mission of many universities, but for a variety of reasons, character has become less central over the last few decades. Yet in recent years, a number of universities — including Saint Mary's and Wake Forest — are now recovering a focus on character to address some of the challenges of our age. I am excited to see how this shift will shape higher education in the decades to come," Lamb said.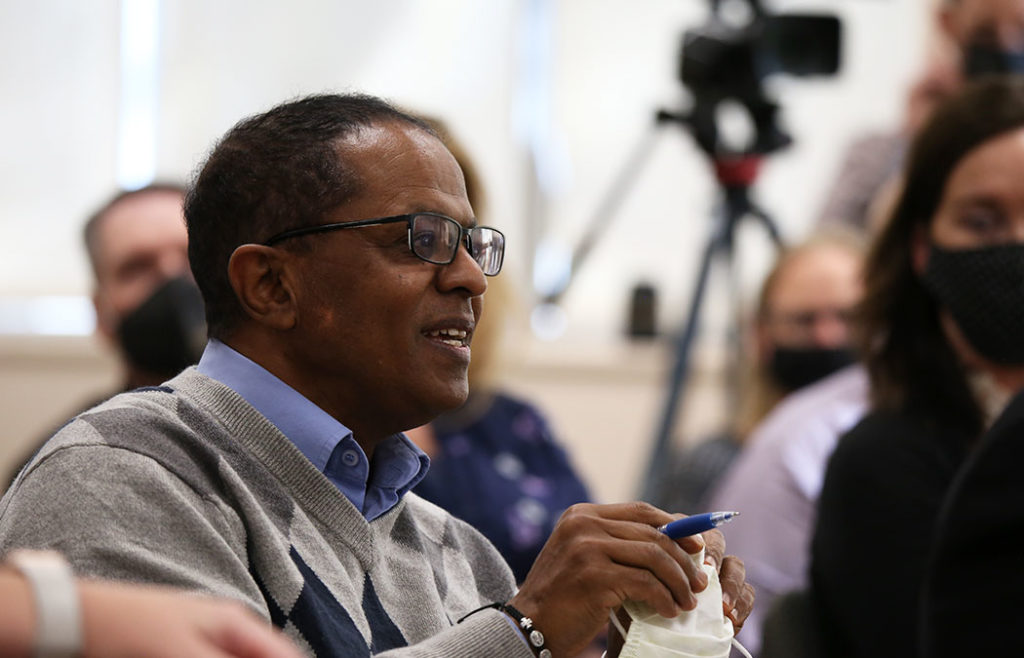 Attendees said they see themselves using the issues discussed during his visit in their daily work for the university.
"I'm in the starting stages of evaluating our classes and thinking about how we embed ethics and virtue into our MBA program," said Mary Jacobs, assistant dean of graduate and MBA programs in the School of Business and Technology. "The lecture is the start of a journey for me of listening to his philosophy, reading his articles, and kind of embedding that into Saint Mary's philosophy and thinking about how that all ties together and what more can be done in our MBA classes."
Many view imbuing character and virtue into the classroom as something that will set Saint Mary's apart in the higher education landscape.
"When you attend a college or university, a lot of it is so focused on academia and content, so by us putting this as a priority, having learners really look inside and develop who they are at their core, I think that's a huge difference between the experience you get at Saint Mary's with character and virtue versus what you might find at other institutions," said Sarah Haugen, M.Ed., an associate program director in the Master of Education in Teaching and Learning program.
For Matt Gerlach, Ph.D., vice president for character, virtue, and ethics and endowed director of the Hendrickson Institute, the opportunity for professional development surrounding the topic of character and virtue is paramount to Saint Mary's mission.
"A lot of times, we're so busy with meetings and emails and the work of teaching that we don't have those times to set aside and reflect on our larger mission and purpose and why we're doing what we're doing and how to do it better," Gerlach said.
Saint Mary's will continue providing opportunities for faculty, staff, and students — as well as the general public — to learn about character and virtue education. Julie Nagashima, Ph.D., of North Central College will present "Faculty Perceptions of University Character Education" on Wednesday, Nov. 10.