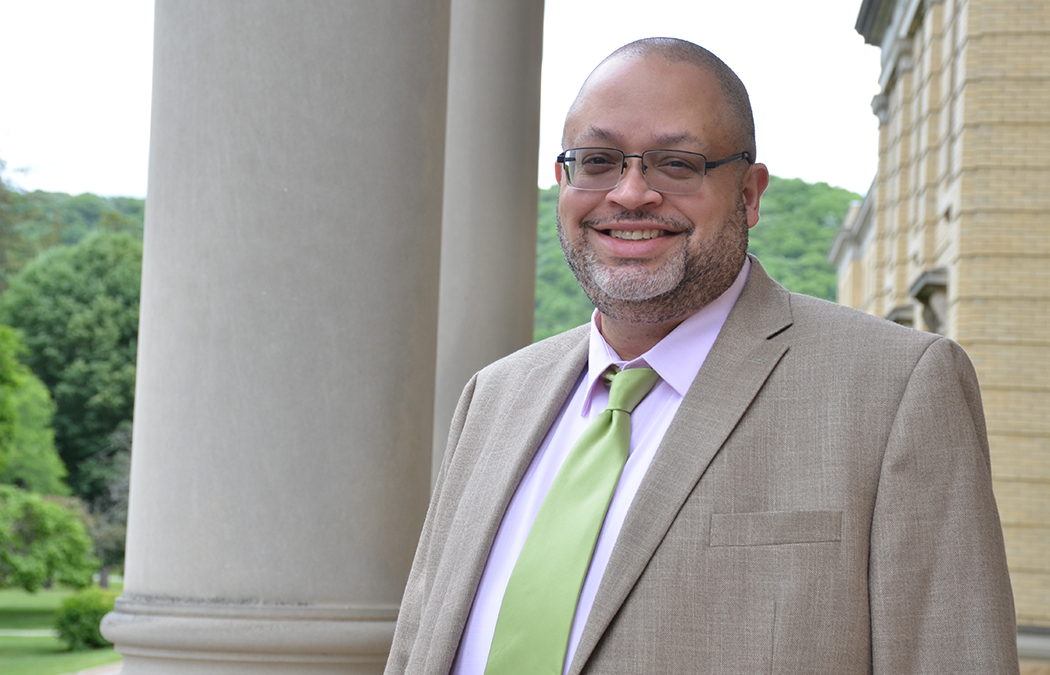 Stepping into the newly created position of vice president for inclusion and human dignity, Leon Dixon says he's not one to shy away from a challenge. He is ready and well-prepared to advance Saint Mary's goal to develop and foster a more inclusive university community that emphasizes human dignity.
"Anywhere you go, universities exist to serve the students," he said. "So that's why I'm here — to serve them."
A particularly meaningful title
At many colleges and universities, and other industries for that matter, similar roles hold the title of diversity, equity, and inclusion officer. For Dixon, having the words human dignity in his title is crucial.
"Usually, chief diversity officers deal a lot with demographics and try to make sure demographic needs are accommodated for and accounted for. Well, our students, our society deserves more than just demographic treatment. We're more than just figures to check off in a box," he said.
Dixon says in today's society, diversity, equity, and inclusion can be "loaded words" that can lead to fractures among people. However, he says people can't disagree when speaking about human dignity.
"Human dignity, that's a God-given right. It's not a mandated right; it's not written in by law. This is something that God mandates — that everybody is treated with dignity and respect. You can't divide that," he said. "I don't care what faith you practice … We all believe that."
A year of pain and division
Discussions of inclusion and diversity have become more prevalent, and more sensitive in the last year after high-profile killings of Black men and women at the hands of law enforcement, as well as the evidence pointing to vast disparities in everything from health care to jobs to the economic impact witnessed throughout the COVID-19 pandemic. However, Dixon sees the current climate as an opportunity to lean into dialogue and change.
"I really believe the only way you address these kinds of conversations, these kinds of issues, is to actually have conversations," Dixon said. "Once we get to that place where we feel as though we have to voice our opinion, whether it's in the affirmative or the negative, it's still a good place to be, because that's where the learning comes."
Dixon says the discussions and exchange of opinions has to be continual for sustainable change to happen.
"You know, your opinion is yours, and you can get mad and be like a kid on the playground, 'I'm taking my stuff and going home.' But as long as you come back to the playground again tomorrow, that's what is most important, because sooner or later, we're going to get past the emotional part and really get into who and what the conversation should be about and who we want to be."
Being mindful of the last year, as well as the recent recognition of Juneteenth, can be a way to continue to move the conversation forward, Dixon said.
"What it does give us is an opportunity to actually have a conversation about how we can prevent this from happening again. How can we recognize and lift up those who are feeling marginalized? How can we find a way for law enforcement and communities of color and communities of low economic means to coexist? We need systems of law and order for a society to function … but we also need law enforcement to work with people they are serving instead of controlling them."
Building a more inclusive campus and university
Building a hospitable university can take many shapes, but Dixon says having a community that is close and intentional in its actions is vital.
"We've got a lot to do, we have a long way to go, but we have to start somewhere," Dixon said. "And it starts with us being intentional about our actions, intentional about conversations, and intentional about building a better place."
Adhering to the school's Lasallian Catholic tradition, which places an emphasis on concern for the marginalized and social justice, will also play a role in conversations about inclusion and human dignity.
"We're Lasallian Catholics, it's not an either or proposition," Dixon said. "At the end of the day, we're all guided by the Holy Spirit that keeps us moving and pushes us forward."
He says he is encouraged that he believes most people in the university community are not afraid of changes that may need to be made.
"That's a beautiful place to be in, because so often we know change is hard on most people," Dixon said. "That makes my job easier. But more importantly, it creates an environment so these conversations can be the catalyst for what we can become.
However, to be successful, everybody in the university community needs to take part in the work.
"When we do inclusion work on campus, it's important that everybody knows they have a stake in this. While your background or demographic profile are important, every person comes with a unique and particular history. All of these aspects of each person's life are necessary ingredients for a vibrant and hospitable community where all are welcome and supported," Dixon said.
The work begins
To implement change, Dixon will engage the entire university community. He plans to listen and assess before prioritizing the work that needs to be done.
"I need to hear firsthand where the problem areas are, or where the opportunity for growth is, or just what everybody is feeling," Dixon said. "I need to know this because you can't craft a plan for the people if you're not with the people and doing it with love for the people."
Measures of success
How students discuss their experiences at Saint Mary's will be the best way to gauge whether the environment is inclusive.
"What we don't want is that statement where (students) say, 'This isn't the place for me because I don't feel valued or respected … And it can be just one student and we fail. These are things I don't ever want to hear. These are the things that are non-negotiables," Dixon said. "I'm here to help create an environment where we can all thrive."
"If any student ever feels they don't belong for reasons other than being homesick, we've got to work harder. I've got to work harder."