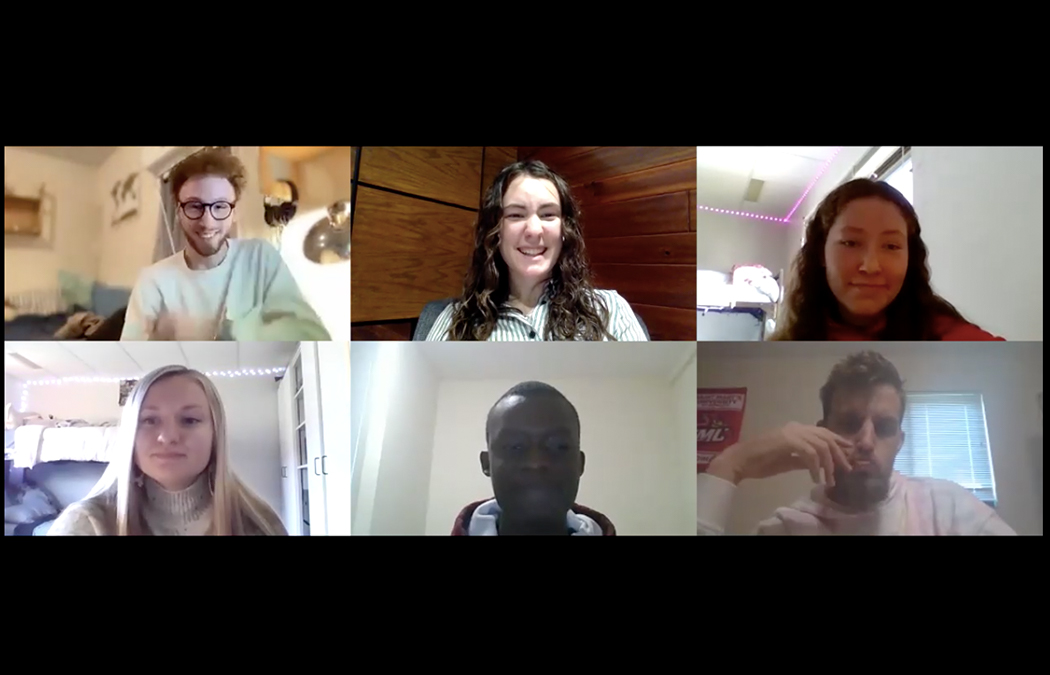 Students in one of Lori Charron's communication classes last semester took the word "group project" to a global level.
In the Intercultural Communication class, Charron had her students tackle solving a world problem by teaming up with students at UniLasalle-France, another Lasallian Catholic university. For the project, the students were tasked with identifying a current issue and potential solutions for a specific problem by learning from each other's country's perspectives and initiatives. The topics could range from global hunger to climate change.
Upon completion of the project, the students from the two universities had to produce a roundtable discussion with their group where they discussed the issue and the solutions they had come to within their group. The Saint Mary's students also had to give presentations about what it is like to work in an international team.
"This was really a win-win project," Charron said. "For the students from UniLasalle, they had the opportunity to practice their English. What my students got out of the project is the opportunity to work on an international team."
Public relations and digital media major Felicity Bieker said she felt extremely overwhelmed when she heard about the project.
"Prior to this, I had never worked with anyone abroad," she said. "I've traveled abroad but have never worked one-on-one with someone from another country."
Bieker said her concerns about long-distance coordination and potential language barriers did not last long. The first, and only, hurdle to get over was finding times to meet. According to Bieker, it became apparent quickly that conversing over email would not work.
After switching communication to a messaging app, the group was able to nail down a regular meeting time.
Bieker and her group chose to examine disability rights and laws in France and the United States. For the senior, the project not only allowed her to learn more about what laws relating to the topic exist in both countries, but it also allowed her and the entire group to find parallels the two countries share regarding the issue.
"The biggest thing we found is that stigmas surrounding handicaps and disabilities are pervasive throughout the world," Bieker said. "It's not just the United States and France."
As an added benefit of the connection, the students also got geography lessons by learning more about each others' countries.
"During the first few Zoom meetings, we took the time to learn the differences between our cultures, like holidays and the education system," she said. "It was really fascinating to identify differences and similarities."
With a semester of school left, Bieker is unsure of what she wants to do when she graduates. However, she says she sees herself using the tools she gained from the class project in her personal and professional life moving forward.
"I think the project itself has helped me to communicate more clearly. It also taught me to ask questions and ask for clarity if you don't understand what someone is saying."