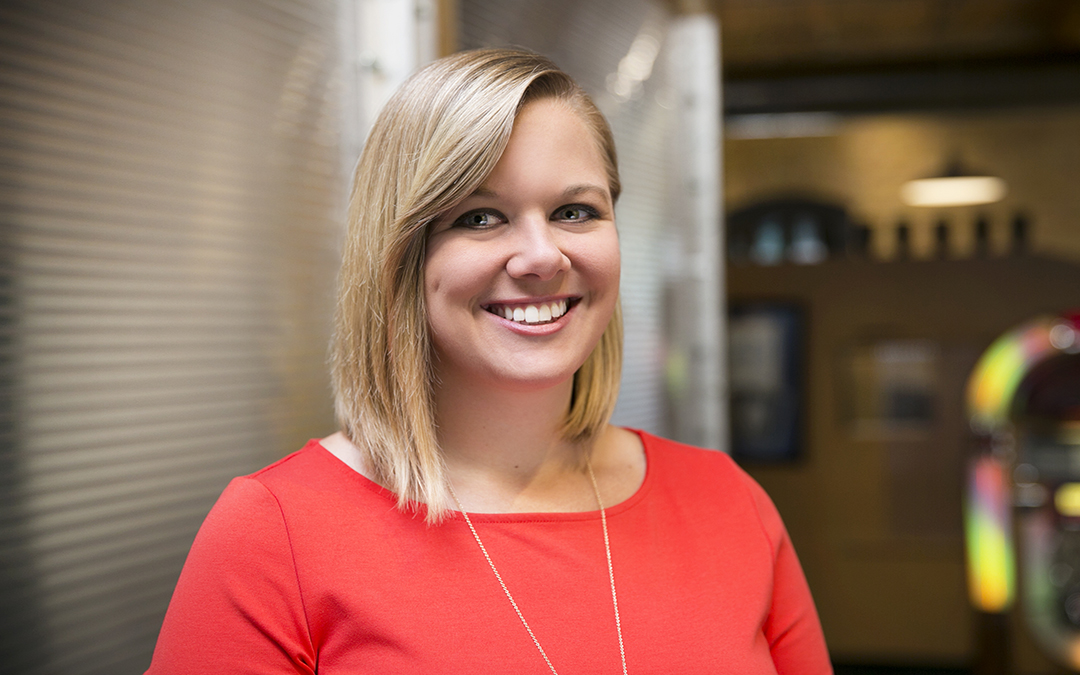 Karina (Rajtar) Wiatros '10 admits she had no idea what she wanted to do when she grew up.
"With some kids, you can when they're little that they're meant to be a teacher or a doctor," she said. "I was not one of those kids because everything was so interesting to me."
Even as she chose her undergraduate major of journalism at Saint Mary's University, she was always questioning her decision, always open to other areas of study. "Every class had me thinking, 'Maybe I should have majored in that,' " she said.
Her interest in so many different topics has served her well in her current position as a senior account executive at Maccabee Public Relations in Minneapolis and will surely help in her future position as account supervisor for Inprela Communications, also in Minneapolis.
"I tell people going into public relations is the best way to continue to get to learn things," she said. With clients who specialize in everything from health savings accounts to technical services to residential real estate, Wiatros says there are always new things to learn. "I love the variety, getting to learn about completely different industries.
"I don't have the patience to sit and do a puzzle, but it feels like a puzzle coming up with a strategy for each client — deciding when it makes sense to pitch a story or do a video versus writing blog posts and determining how we can use content across channels. There's a lot of strategizing, coming up with PR campaigns and determining what the best tactics are for any given goal, whether it's white papers or media relations," she added. "I do a lot of research."
Wiatros returned to her alma mater this spring to share advice with communication students.
"It's important to get involved in activities, right from your freshman year," she said. "I still think it was one of the best things for me. I learned responsibility and how to collaborate and work with different groups. Working with people in so many different clubs is a lot like working with different clients."
Additionally, she credits serving as the editor of "The Cardinal," Saint Mary's student newspaper, for preparing her the most for her career. "I learned how to be a leader and do all that writing and design, while putting out fires," she said. "I'll never forget the time the paper didn't save and I had to put it all back together in one day. The fact I was able to pull that off still amazes me."
She also admits she may have overdone it just a bit with her involvement in: Student Senate, Student Activities Committee, the PR/Business Club, Together Encountering Christ (TEC) retreats, Volunteer Mentors, Habitat for Humanity, lacrosse, phonathon, Senior Class Gift Committee, Taylor Richmond Benefit Dance committee, and more. Regardless, she did learn about time management and how to juggle multiple projects. These days, she also multitasks as a wife to Jordan Wiatros and mother to 9-month-old son, Isaac.
After graduating from Saint Mary's, Wiatros earned a Master of Business Communication degree from the University of Saint Thomas.
She arrived at Maccabee after serving as account manager for the Minneapolis agency Tad Ware & Company. Before that, she was marketing manager for children's book publisher ABDO, a marketing communications assistant with the non-profit Nacel Open Door, and a marketing communications specialist for the Independent Community Bankers of Minnesota.
Wiatros said she's grateful she never wavered from her journalism degree. "It helps me be more direct in my communications and gives me insight into what the media is looking for, which makes me stronger at writing successful pitches," she said. "The things I learned in classes definitely apply because my classes were so heavily based on writing, and I use that every day. When I was in school, social media wasn't the powerhouse it is now. And analytics is now huge and so necessary in this business. I am also impressed with how the department has adjusted the classes since I graduated and kept up with the times."