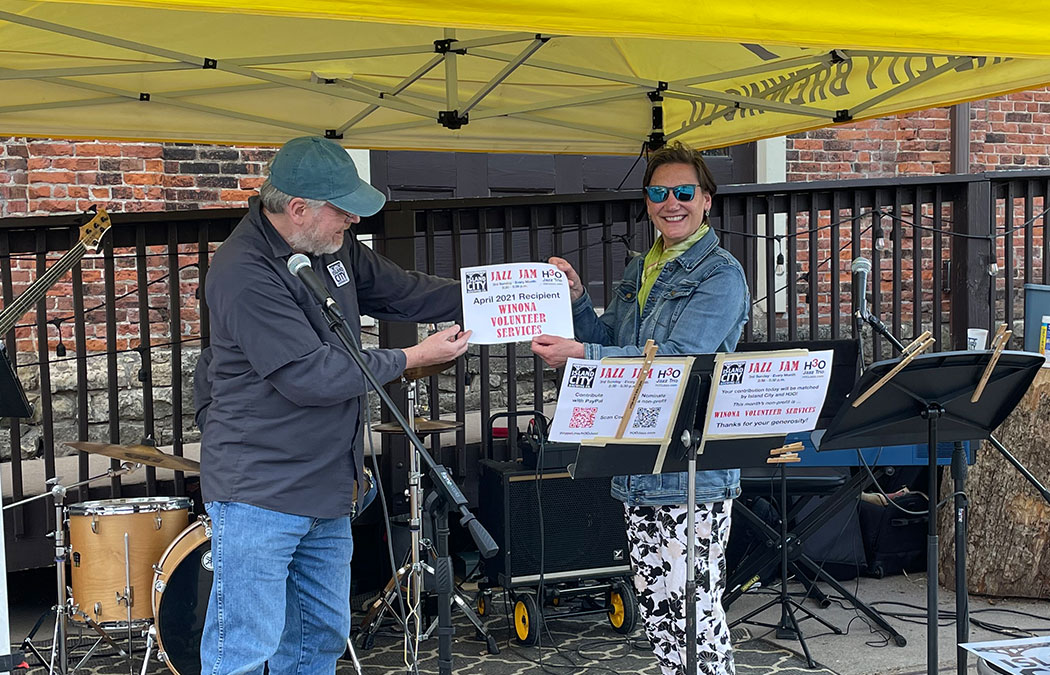 Over the past four years, the monthly Jazz Jams at Island City Brewing Company have offered an afternoon of family-friendly fun and a chance for area musicians to jam with the H3O Jazz Trio.
On April 18, the Jazz Jam introduced a whole new dimension of community involvement. H3O Jazz Trio and Island City Brewing Company used the monthly event to support area nonprofits by raising $170 in donations which was matched by Island City and H3O to bring the total to $510.
Winona Volunteer Services will use this donation to assist them as they wrap up the annual MN FoodShare drive.
The free event had a positive turnout, including 12 "jammers" (ranging in age from 7 to 93) who sat in with the band (following safety protocols).
H3O hopes to host more of these events in the future with an opportunity to enjoy jazz, whether listening or actively participating, while supporting area nonprofits. "It's a win-win-win for Winona," said A. Eric Heukeshoven, member of H3O and assistant professor of music and director of jazz studies at Saint Mary's.
Nominate a local nonprofit you'd like to see benefit from this event in the future.
For an up-to-date schedule, visit H3OJazz.com. You can also email events@islandcitybrew.com or info@h3ojazz.com for more information.
About the H3O Jazz Trio
H3O Jazz Trio features a father and his two sons. They began playing together when the younger son, Max, was only 14 years old. Along with older brother Hans on drums and vibes and dad Eric on the piano, the group was asked to play for a private pool party and haven't stopped since!
A. Eric Heukeshoven is an assistant professor of music and director of Jazz Studies at Saint Mary's University of Minnesota. Hans Heukeshoven is a 2014 graduate of Saint Mary's with degrees in Music Performance and Computer Science and works as a software engineer. Max Heukeshoven is a 2019 graduate of Saint Mary's with a degree in Music Industry and plans to attend law school.
More information about the H3O Jazz Trio can be found at H3OJazz.com.
Photo caption: H3O's Eric Heukeshoven presents Winona Volunteer Services director Sandra Burke with the first Island City Jazz Jam fundraiser proceeds.