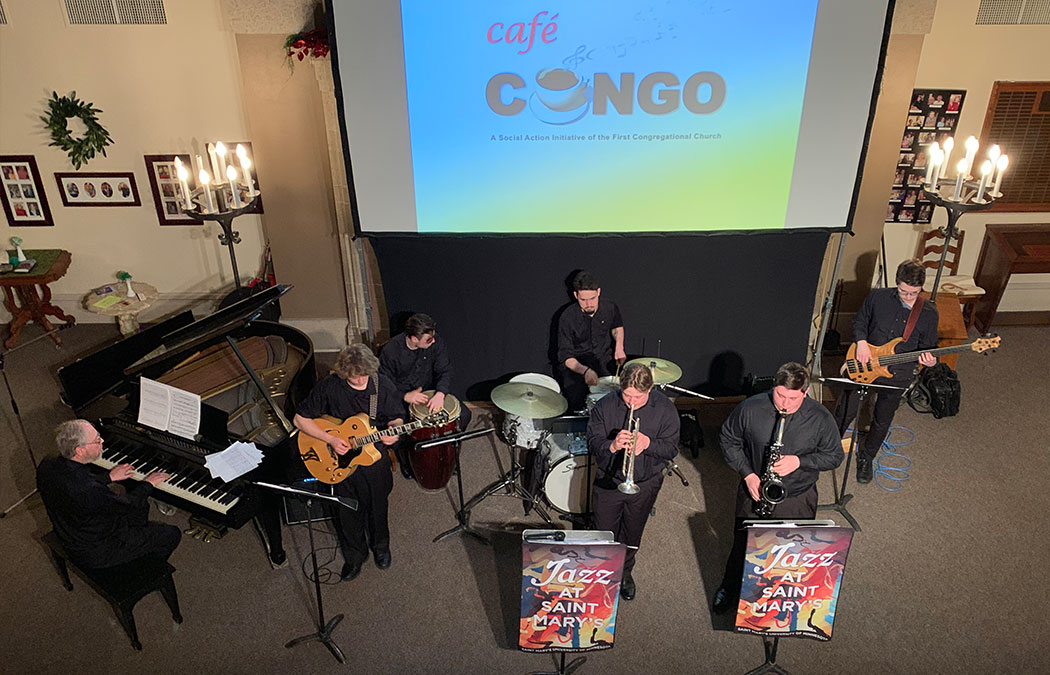 Saint Mary's University students of Jazz Combo 1, led by their director, A. Eric Heukeshoven, "played it forward" for a packed Café Congo at First Congregational Church of Winona on March 13. According to event organizer, Steve Bachler, proceeds from the group's performance totaled nearly $400 – an increase of 35 percent over previous similar fundraisers. Jazz Combo 1 presented an evening of selections from their recent international tour of Germany and Belgium for the appreciative and generous audience.
Jazz at Saint Mary's next performance will take place Sunday, April 28, at 3 p.m. in the Page Theatre. One Small Step – Jazz in 1969 will present an exploration of this important turning point in jazz history. From the end of the bossa nova era to the intersection of jazz and pop music, listeners will be transported 50 years back in time on a musical journey. Featured student soloists will include Ben Albus on guitar with vocalists Erin McCoy and Liam Hahn.
Jazz at Saint Mary's
Jazz has played an integral role at Saint Mary's University since the mid-1950s when the locally famous big band known as the Marinotes (led by Brother Paul Turner, FSC '46) was formed. Today, the Jazz Ensemble, Jazz Workshop Combo, and Jazz Combo 1 are staples of the curriculum.
In March 2015, Jazz Combo 1 was featured at numerous venues in Ireland, including the Castle Hotel in Dublin and Galway's number one jazz club, Busker Brownes. In March 2012, the group toured and performed in Germany. A fundraiser for the Dreifaltigkeits-Krankenhaus (Trinity Hospital) in Köln (Cologne) drew a packed house of over 450 and raised in excess of $8,000.
Photo caption: Jazz at Saint Mary's "playing it forward" at Café Congo. From left, A. Eric Heukeshoven, piano; Sam Price, guitar; David French, percussion; Cray Alvarez, drums; Jake French, trumpet; Sam French, alto sax; and Max Heukeshoven, bass.