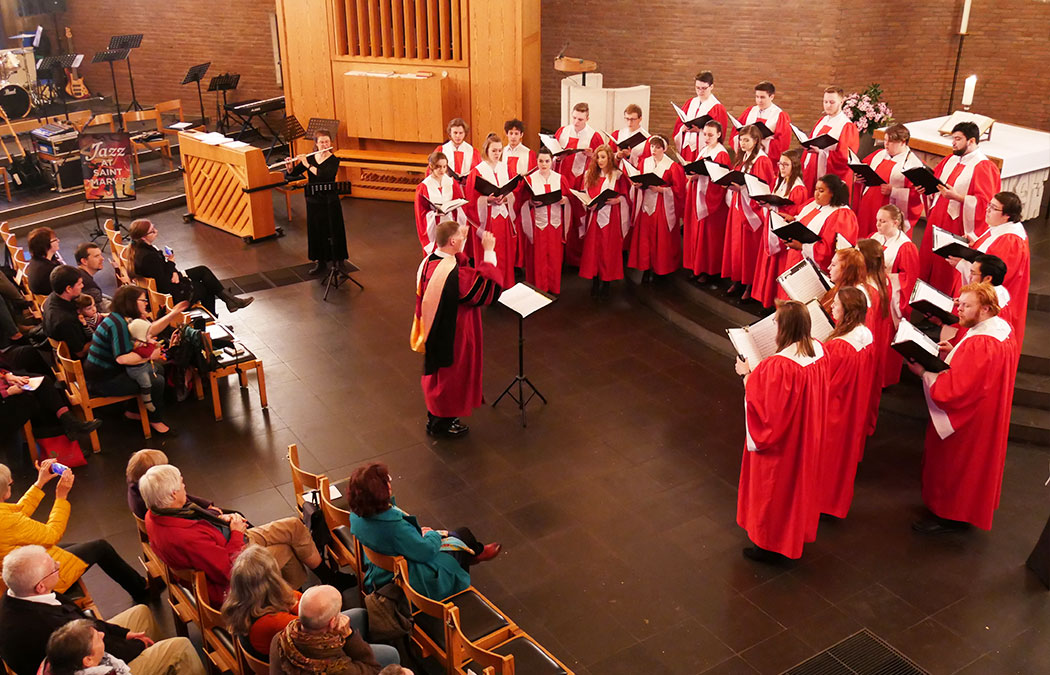 Saint Mary's Jazz Combo 1 students brought the music of pioneering American jazz pianist, composer, and poet Horace Silver to audiences in Germany and Belgium during their recent spring 2019 tour. Concerts took place in Cologne, Germany, and various locations throughout Belgium. The tour culminated with a performance at Brussel's premier jazz club, The Music Village. Local audiences welcomed the musicians back at their homecoming performance on March 5 in the Saint Mary's Performance Center.
The 26-voice Chamber Singers, directed by Dr. Patrick O'Shea, toured in parallel with Jazz Combo 1, and performed in Wesseling, Germany (combined concert with Jazz Combo 1), Ternat, Belgium (jointly with the choir of the Sint-Jozefsinstituut, a Lasallian school), and Brussels Cathedral. The Chamber Singers also performed for Mass at the Sint-Gertrudiskerk in Ternat. Repertoire included the world premiere of "Father, Forgive" by A. Eric Heukeshoven, who directed Jazz Combo 1 on the tour, with Dr. Janet Heukeshoven on flute. The Chamber Singers performed their homecoming concert on March 7 at the Chapel of Saint Mary of the Angels in Winona.
Both groups have upcoming performances — the Chamber Singers and Concert Choir on April 27 and Jazz at Saint Mary's on April 28.