Saint Mary's University of Minnesota announced today that renowned author and speaker Jonathan Haidt, a social psychologist widely considered to be one of the world's leading experts on the psychology of morality, will speak on the topic "What Capitalism Does To Us and For Us" at its 2022 Hendrickson Forum.
At the Thursday, April 7, event, presented by Saint Mary's Hendrickson Institute for Ethical Leadership, Haidt will specifically address the ethics of capitalism, which requires that we first understand why the left and the right disagree so sharply about what it is and what its effects are. It's Haidt's hope that in the 21st century, we may come to understand capitalism and the human person well enough to better control our own destiny and that "we may attain forms of capitalism that exemplify dynamism with decency."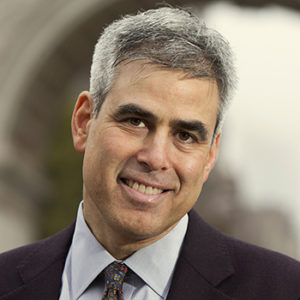 "At the Hendrickson Institute, we strive to empower leaders with tools to become creative, ethical, and globally oriented," said Brother Robert Smith, FSC, Ph.D., vice president of university initiatives and special advisor to the president, who leads the Hendrickson Forum. "We look forward to hearing Professor Haidt's insight into business ethics and how to develop tools and techniques business and organization leaders can use and should use."
Drawing on extensive research surrounding the book he is currently writing — "Three Stories about Capitalism: The moral psychology of economic life" — Haidt will help people think about capitalism, business, prosperity, and ethics, not just in North America and Europe, but in the world's many rapidly developing countries, where he's found great interest in understanding the relationships between morality, prosperity, and society. Any country that gets capitalism right will prosper; the costs of getting it wrong are immense.
About Haidt
Haidt's research has helped people to understand those who differ from them morally — not just across nations, but across the political divide within each nation.
Haidt has excelled as a teacher and public speaker. He won three teaching awards from the University of Virginia, and one from the governor of Virginia. His four TED talks have been viewed more than 7 million times. He has presented his work at the World Economic Forum, the Aspen Ideas Festival, the British Academy, and the Royal Society for the Encouragement of Arts.
He was named a "Top 100 Global Thinker" by Foreign Policy magazine in 2012, and one of the 65 "World Thinkers of 2013" by Prospect magazine.
Haidt earned his Bachelor of Arts degree from Yale University in 1985 and his Doctor of Philosophy degree from the University of Pennsylvania in 1992. He then did postdoctoral research at the University of Chicago and in Orissa, India. He was a professor in the department of Psychology at the University of Virginia from 1995 until 2011, when he joined the NYU Stern School of Business.
He is the author of more than 100 academic articles and four books. Haidt is the author of The Righteous Mind: Why Good People are Divided by Politics and Religion; The Happiness Hypothesis: Finding Modern Truth in Ancient Wisdom, Flourishing: Positive Psychology and the Life Well-Lived, and The Coddling of the American Mind: How Good Intentions and Bad Ideas Are Setting Up a Generation for Failure.
The Hendrickson Forum
Once a year, during the Hendrickson Forum, Saint Mary's brings an internationally recognized speaker to its Twin Cities Campus to engage Saint Mary's faculty, staff, and students, and the wider community in timely and important conversations.
This year's event will be held Thursday, April 7, from 11:30 a.m. to 1:15 p.m., with check-in and networking beginning at 11 a.m. at the Saint Mary's University Center at 2540 Park Ave. in Minneapolis. The event is open to the public and general admission tickets are $75 per person, which includes lunch. Reduced rates are offered to faculty, staff, and students. Advance registration is required. More information and online registration is available at smumn.edu/hendricksonforum.
The program also includes a presentation of the Hendrickson Medal for Ethical Leadership. The recipient of that award, given by the Hendrickson Institute for Ethical Leadership, will be announced at a later date.
Haidt will join a distinguished roster of former speakers: Nicholas Christakis, the late Cokie Roberts, Zanny Minton-Beddoes, Jon Huntsman, Jr., James Stavridis, Sheila Bair, Ian Bremmer, John Micklethwait, and more. Focusing on issues ranging from global migration to microfinance, world-altering events to the new world order, the Hendrickson Forum is a venue for thought-provoking information and discussion.
About the Hendrickson Institute for Ethical Leadership
The Hendrickson Institute for Ethical Leadership is an educational enterprise of Saint Mary's University of Minnesota and serves as an educational and transformational resource to the community. Founded in 1994 and located in Minneapolis on the Twin Cities Campus of Saint Mary's University, the institute serves both current and emerging leaders. It is an academic resource for the university and the wider community, and a forum for exploration of ethical issues. As part of its mission, the institute provides programs that encourage and develop ethical, globally oriented leaders; offers integrative leadership models; promotes practical ethical principles; and infuses leaders with an appreciation of spirituality and free enterprise. For additional information, visit smumn.edu/HendricksonInstitute.