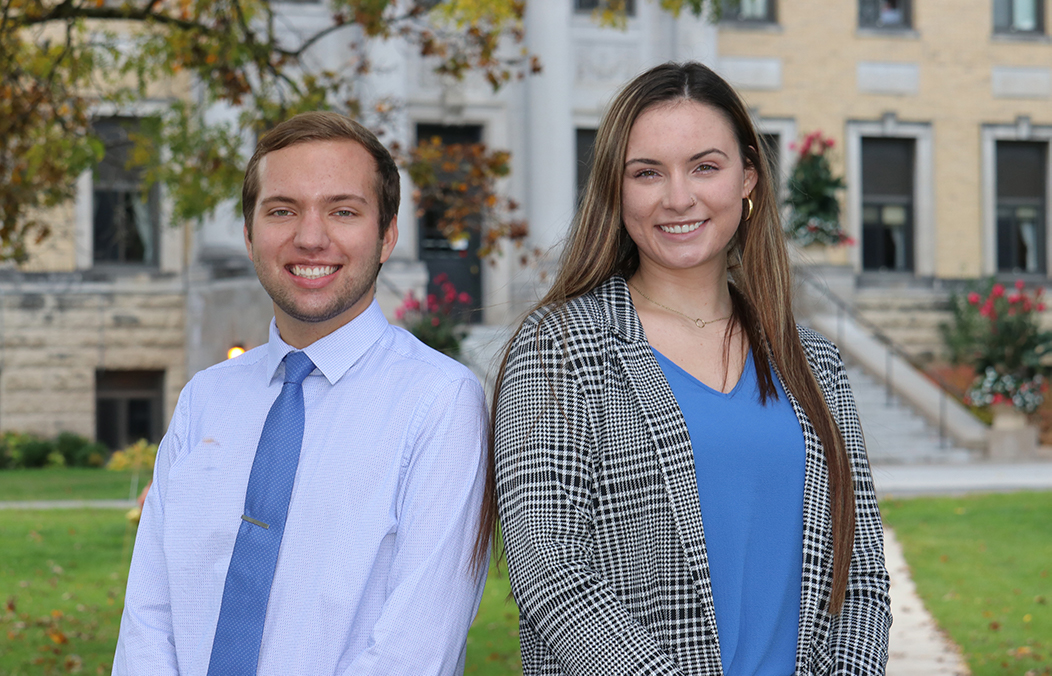 Jonathon Krull, president of the College Republicans, and Clare Bath, president of the College Democrats, stand on opposite sides of many national issues yet stand united on two fronts: empowering students to vote and the need to model civil discourse, particularly during this divisive national election.
Despite their differences, both students share similar backgrounds and goals, as well as a sincere love of the democratic process.
Krull is a sophomore majoring in political science; Bath is a senior double majoring in political science and history. Whereas Bath is interested in international issues — focusing on the Middle East and North Africa — Krull hopes one day to run for political office. Both see politics as a way to help people and to make a positive difference locally and globally.
Both grew up immersed in politics. Krull's father is an alderman in his hometown of Seymour, Wis. The Krull family always watched the news, and politics was a frequent topic of discussion in his household. Bath's father is a political science professor at Concordia Moorehead; likewise her family openly and frequently discussed political matters.
Both college political leaders believe it's critical that their peers vote, regardless of how they are voting. In a joint project with the President's Office, the Student Senate, and the College Republicans and Democrats, Bath and Krull assisted with hosting a voter registration drive, included voting information in newsletters and on social media, put up flyers with informational QR codes; passed out "I will vote" stickers; and spoke to classes. Bath alone spoke to 30 classes about how to register to vote, and the various voting options.
And both Bath and Krull believe our nation's leaders, representing both major parties, can and should do better. They're tired of what they call hyperpartisanship, increased fear mongering, and name calling. And both found it too difficult to watch the entire first presidential debate because it was too painful.
"It was very unbecoming of the office. Political offices are esteemed offices," Krull said. "And people should be civil when in office; I'd like to see it return to that. We can respectfully disagree with one another. It's important to see where the other person is coming from and how they got there. Instead of accusing and name calling, we should be coming up with well-founded arguments and having a civil discussion."
Bath agrees. "Showing civil discourse is very important," she said. "In my mind, there are two benefits. By listening to others' points of view, you can reemphasize and legitimize your own point of view. You can also appreciate another person's point of view and think about how it relates to or shapes your own political philosophies. It shouldn't be 'We have different views so I'm not going to listen.' It should be 'I'm going to hear your point of view because you may have different experiences than I may have had.' "
Bath and Krull believe the country has grown increasingly and alarmingly divisive, particularly since 2016.
"I think politics in the last eight years has been partisan to the extreme and that's really frustrating," Bath said. She believes civil discourse must first be modeled by the current administration. "In the last four or so years, hate speech found a safe place in America," she said. "Commonly coined terms have been used to brush off mainstream media. We've delegitmize other people's voices and struggles in America. These perspectives, rooted in hatred, have really blossomed.
Krull believes social media has played a significant role in creating a bigger rift between the two parties. He's currently researching its role in hyperpartisanship. "It's an echo chamber," he said. People sound out their own views and don't want to read or believe anything that differs from their own viewpoint. There's a confirmation bias; they only seek articles that support their viewpoint. People are more entrenched in their own views than ever before."
Both are nervous for the post-election fallout, regardless of who wins.
Bath is more worried about riots and violence in larger cities. "We're a small enough campus that people are aware who believes what. I believe there are very few instances of disrespect. I give Saint Mary's students a lot of credit for being Minnesota nice. In terms of the nation, it's worrisome coming from either perspective, especially in light of social justice issues. It's absolutely terrifying, no matter what side of the political spectrum you're on. It's so frustrating that we've gone from 'our rights' to 'my rights.' "
Krull believes emotions will run high this Nov. 3. "Regardless of which side wins, the other side will feel it's the end of the world," he said. "All the hyperpartisanship and fear mongering the candidates like to throw out doesn't help with trying to slow that down. On campus, students want to listen to the other viewpoint and have that civil discussion, that's something the rest of the nation can learn from. Regardless, we've reached a point where we need to try to turn back and fix our problems."
So how do we begin to turn things around? Bath and Krull believe it'll take all of us showing character and virtue with open mindedness, patience, civility, honesty, compassion, and justice.
Krull references the close relationship democratic Vice President Joe Biden had with republican presidential candidate the late John McCain. And he recalls how the late Supreme Court Justice Ruth Bader Ginsburg and former Supreme Court Justice Antonin Scalia were on opposite ends of the political spectrum but remained close friends. "I'd like (national politicians) to take the viewpoint that although politics is their life, the greater good of the country comes first. It's country first, politics or party second, and I think that's the mindset they have to get back to. The constituents are the focus, not your own party."
For Bath it's about sticking to politics and not letting it degrade into pettiness. "It's a shift in culture," she said. "It has potential to happen with new leadership, but it's going to take everyone holding ourselves and our neighbors accountable."