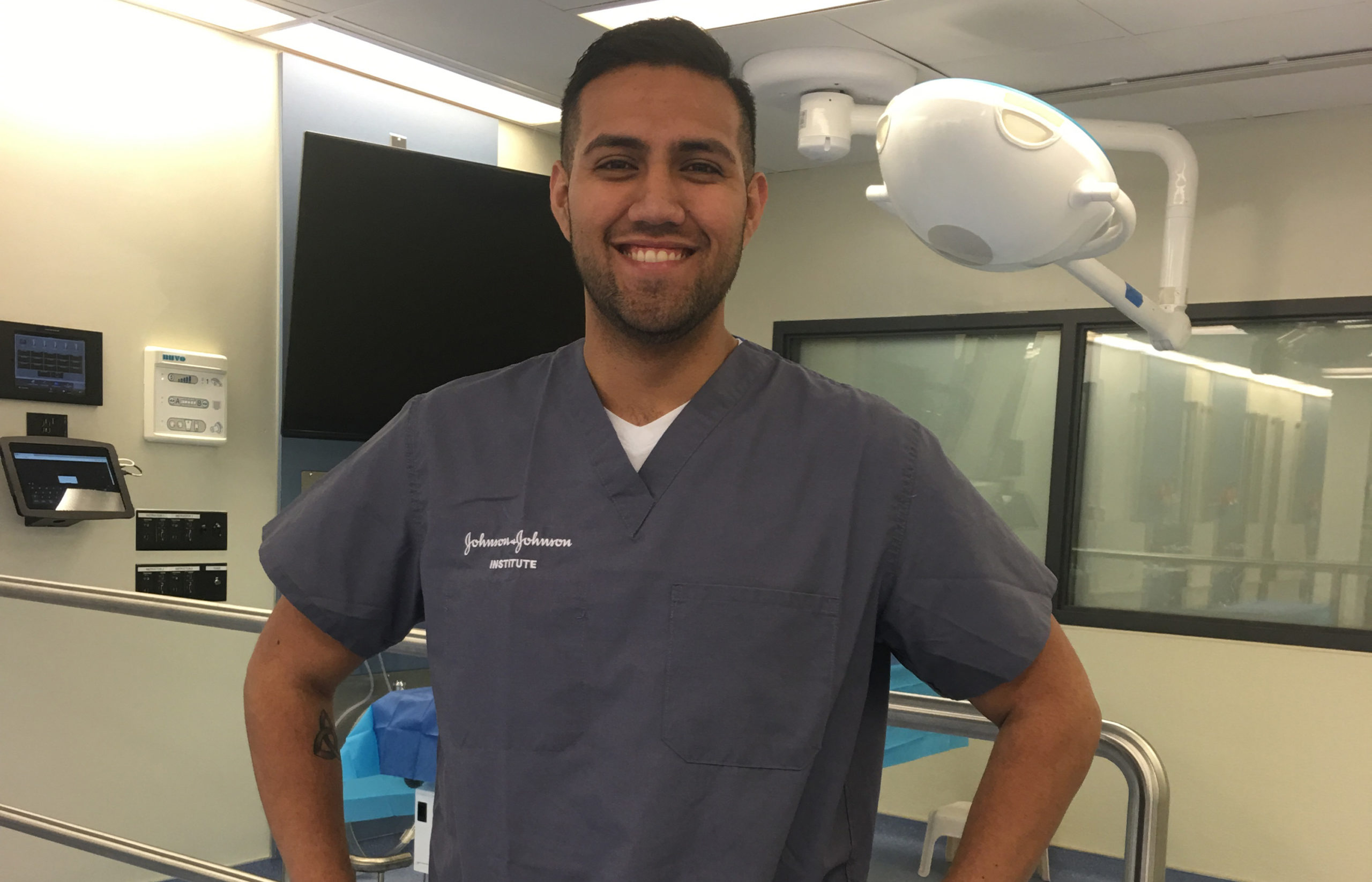 When Armando Salgado B'14 graduated from Saint Mary's, he planned on utilizing his psychology major to either become a clinical counselor or to attend medical school and become a psychologist.
Then, he says, life happened.
Instead, Salgado married his college sweetheart, Danielle Pues B'15, had three beautiful children, earned an M.A. in Industrial and Organizational Psychology, and built a successful career in the sales industry over the past eight years, the last five in the pharmaceutical and medical device industry. About a year ago he became an immunology specialist with Janssen Biotech, the pharmaceutical company of Johnson & Johnson.
Salgado specializes on a biologics portfolio within Janssen's Immunology Division. He educates medical professionals on the latest infusion therapies for patients who suffer from these debilitating diseases.
"I specialize in the therapeutic area for irritable bowel disease, where there is no cure, but every therapy treats a patient differently to get them into remission," he said.
"I'm passionate about this. My grandmother had Crohn's disease, and I saw how debilitating it was. When I was younger, these therapies didn't exist. It's part of my passion to be in this role to help these patients. Science and therapy have advanced a long way."
Armando said his career may not have gone the way he originally planned, but in addition to fulfilling his dream of helping others, he's finding that the skills he learned obtaining a liberal arts degree at Saint Mary's — and as one of Saint Mary's inaugural First Generation Scholars — come into play every day.
"The liberal arts education and content prepared me for what happened in the real world," he said. "Life throws real situations at you. Getting married and having kids at such an early age made me have to pivot and utilize all those assets in other ways. All those soft skills are definitely coming into play."
The idea of pairing business, science, and psychology with interdisciplinary study — as Saint Mary's has done within Aquinas Hall on the Winona Campus — makes sense to him as it's the three disciplines he utilizes in his current position.
"Psychology is applicable to any field where you interact with humans and behaviors," he said, adding that earlier in his career, he worked directly with psychiatrists, and being able to speak knowledgeably about disease states to his customers was beneficial.
As a business administration and management minor, Salgado said he learned how to read a room and obtain the information needed for his clients. Additionally, he obtained a background in analytics, specifically looking at business and marketing trends and strategizing messages accordingly.
And, although, he admits science may not have been his strength at Saint Mary's, the study skills he learned as an FGI Scholar with memory tips have been very helpful when he needs to launch a new therapy or device and has four weeks of training to learn the science behind what he's promoting.
For Salgado, his position also gives him a great deal of autonomy. "You get a territory, and it's your job to grow it, so that's the best part," he said. "I'm the only rep in this territory, in charge of 80 customers, and I am the face of Janssen Pharmaceuticals for them. I'm the CEO of my own territory. I don't have a corporate business office. I'm in the field, driving from customer to customer (both larger medical institutions but also private practices), so every day is different and new."
And he has more time to spend with his wife and family, including Armando III (age 4), Viviana (age 2), and Camila (7 months).
When Salgado looks back at his years at Saint Mary's, it's natural many of his memories revolve around his wife, whom he met as a sophomore. "Next would be the faith component," he said. "I don't think my faith would be where it is today if it wasn't for Saint Mary's. It was important to me to go somewhere with similar values my families had and the values I wanted my family to have in the future. I also think about the relationships that were built."
Salgado said he had also been accepted into Michigan State, but once he learned he had obtained the First Generation Initiative Scholarship to attend Saint Mary's tuition-free, there was no question he would attend Saint Mary's.
"At the time, I was oblivious to its actual significance. I understood it was a free college education, and obviously that is important, but I took for granted all of the resources they provided," he said. "Looking back, what FGI was was a support system, not just about providing free college tuition and study hall assistance. It's a community there to make sure you're not only getting into the program but also succeeding throughout the program. It's a program that is breaking the statistics of failing rates of minorities in college, and I hope it continues to grow."