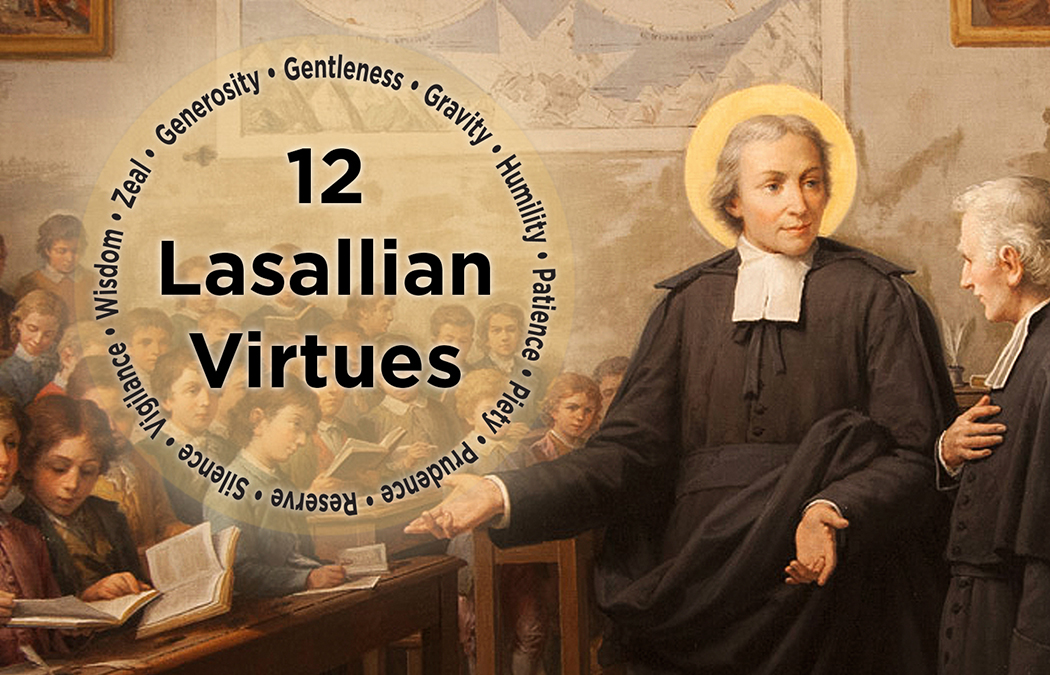 They are intrinsically connected with the foundation of Lasallian education, but what impact do the "12 Virtues of a Good Teacher" have on today's educators and students? Are there virtues that are missing or less relevant in modern-day teaching practices?
Those were the questions formally posed by a trio from the Winona Campus of Saint Mary's University of Minnesota.
Luckily, after being rewarded a Lilly Fellows Small Grant, those three team members will be one step closer to discovering answers with the construction and promotion of a Lasallian teaching rubric — and related materials — on the 12 virtues.
"It's something that I believe is new to many new faculty here, especially those who do not come from another Lasallian institution. It's something that we are introduced to, but is not really elaborated upon much," said Christopher Bobier, Ph.D., assistant professor of Philosophy. 
Before arriving on the Winona Campus in the fall of 2018, Dr. Bobier was not aware of the 12 virtues first written by Saint John Baptist de La Salle in 1706 and reissued by Brother Agathon, FSC, the fifth Superior General of the Brothers of the Christian Schools. 
The 12 virtues are: 

Generosity

Gentleness

Gravity

Humility

Patience

Piety

Prudence

Reserve

Silence

Vigilance

Wisdom

Zeal



Personally, Dr. Bobier said he could relate the most, based on his disposition, to the virtues of gentleness and generosity within the parameters of the classroom. He struggled, though, with the virtue of silence in particular.
"We want our students engaged," he said. "When they're quiet and don't answer questions, we naturally interpret that as they're not following along or they're not engaged and therefore, I'm not doing my job well. Whereas to Saint John Baptist de La Salle — and more specifically Brother Agathon — silence is one of those tools that we can use to promote reflection among students."
Knowing the university's history of successful recipients of the grant, Dr. Bobier enlisted the help of Joseph Tadie, Ph.D., associate professor of Philosophy, and Adam Potthast, Ph.D., director of Assessment and Faculty Development who also runs the Center for Excellence in Learning and Teaching.
The initiative will begin in the fall 2020 with the formation of a seven-member committee comprising Drs. Bobier, Potthast, and Tadie, as well as four other senior faculty members. The committee will meet every other week to discuss readings on the 12 virtues, Lasallian pedagogy, and best teaching practices — and how they compare or contrast with modern-day teaching research. If all goes as planned, the findings from the committee will be posted on the center's website as a resource for all faculty on the three campuses that compose the Saint Mary's academic community.
"It also serves as an opportunity not just for new faculty to see what's expected of them in the classroom, but having one resource —  we hope — will help get deans, department chairs, and administrators on the same page with regard to Lasallian pedagogy," Dr. Bobier added.
The Lilly Fellows Program in Humanities and the Arts began at Valparaiso University to "stimulate conversation about church-related higher education and church-related mission on their campuses or among church-related institutions in close proximity to each other." Only new programs are funded in the amount of $1,500 to $3,000. The total amount requested in the proposal was $2,850 to cover all projected expenses.