Collaborative workspace inspires students' creativity
From crafting holiday gifts for family members to building 3D models of the COVID-19 virus and learning about how to market and mass produce products — there is no limit to the creativity and hands-on learning that takes place in the Anthony B'59 and Sandra Adducci Family Makerspace. 
"Our goal with the purpose and the physical location of the makerspace is to bring business and science together," said Michelle Wieser, dean of the School of Business and Technology. "Since it opened two years ago, the makerspace has proven to be a wonderful interdisciplinary space, supporting academic curriculum as well as co-curricular experiences."  
Housed in the newly refurbished Aquinas Hall, the makerspace serves as a collaborative workspace equipped with 3D printers, woodworking tools, sewing machines, and more for students to express their creativity and flesh out innovative ideas and entrepreneurial interests. Although courses utilize the space, all students can use the makerspace.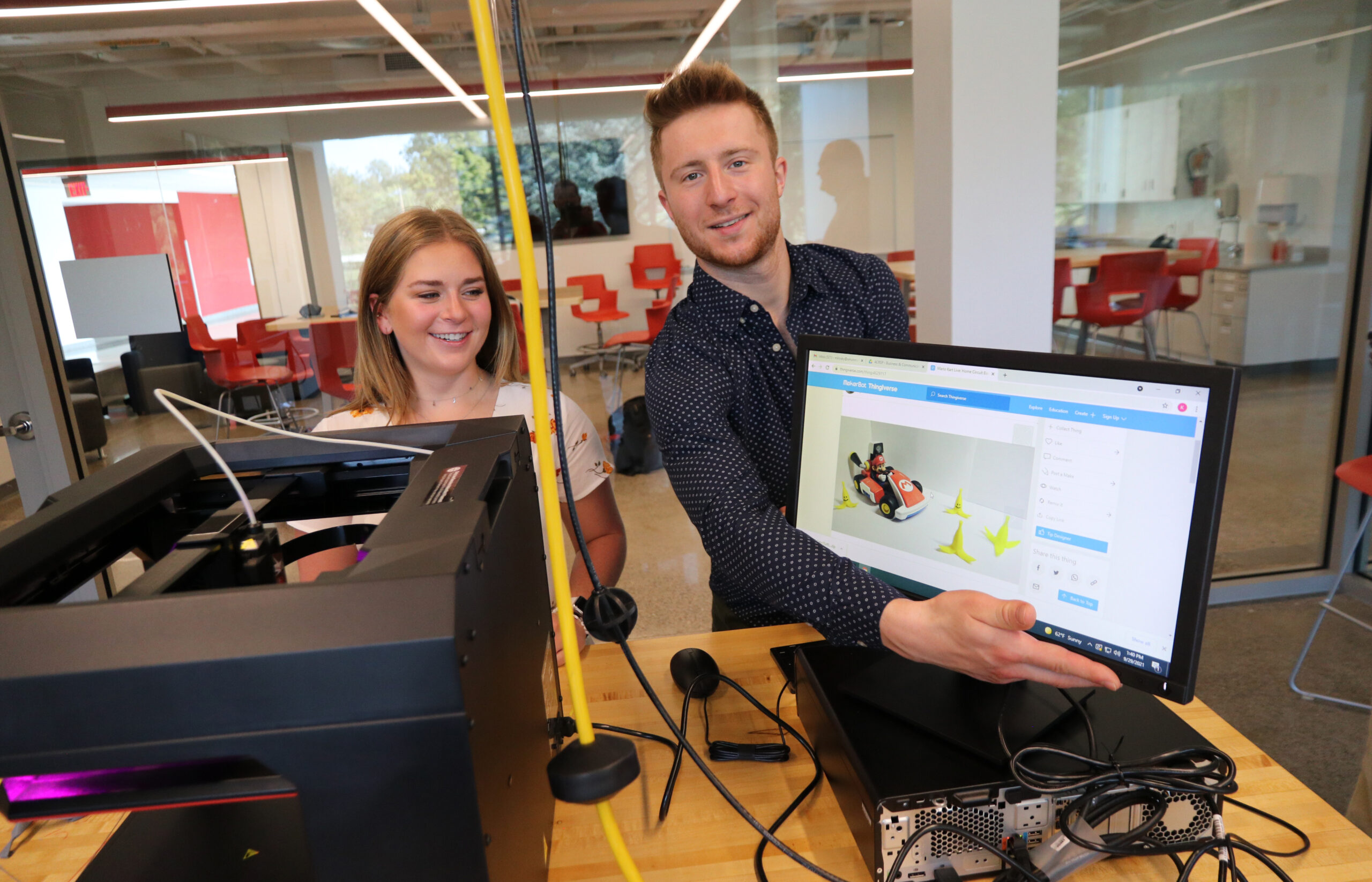 Foot traffic in the space continues to increase as more and more students see the possibilities of what they can accomplish.
"We really focus on helping users of the space see what is possible when they apply their academic talents to a real world, physical object, whether that be for a product or as a life skill when it comes to fixing things around the house," said Matthew Klosky, assistant professor of business and director of the Kabara Institute For Entrepreneurial Studies. "One of our big goals in the makerspace is to build students' confidence in the use of tools and processes that help them make their ideas into a real, tangible outcome."
Saint Mary's junior Morgan Brown first thought the tools were intimidating, but quickly found that learning these new skills and making products was addicting. 
After attending a Santa's Workshop event, she found herself wanting to use the space more and more. When she heard the school was offering an internship to work in the makerspace, she jumped at the opportunity.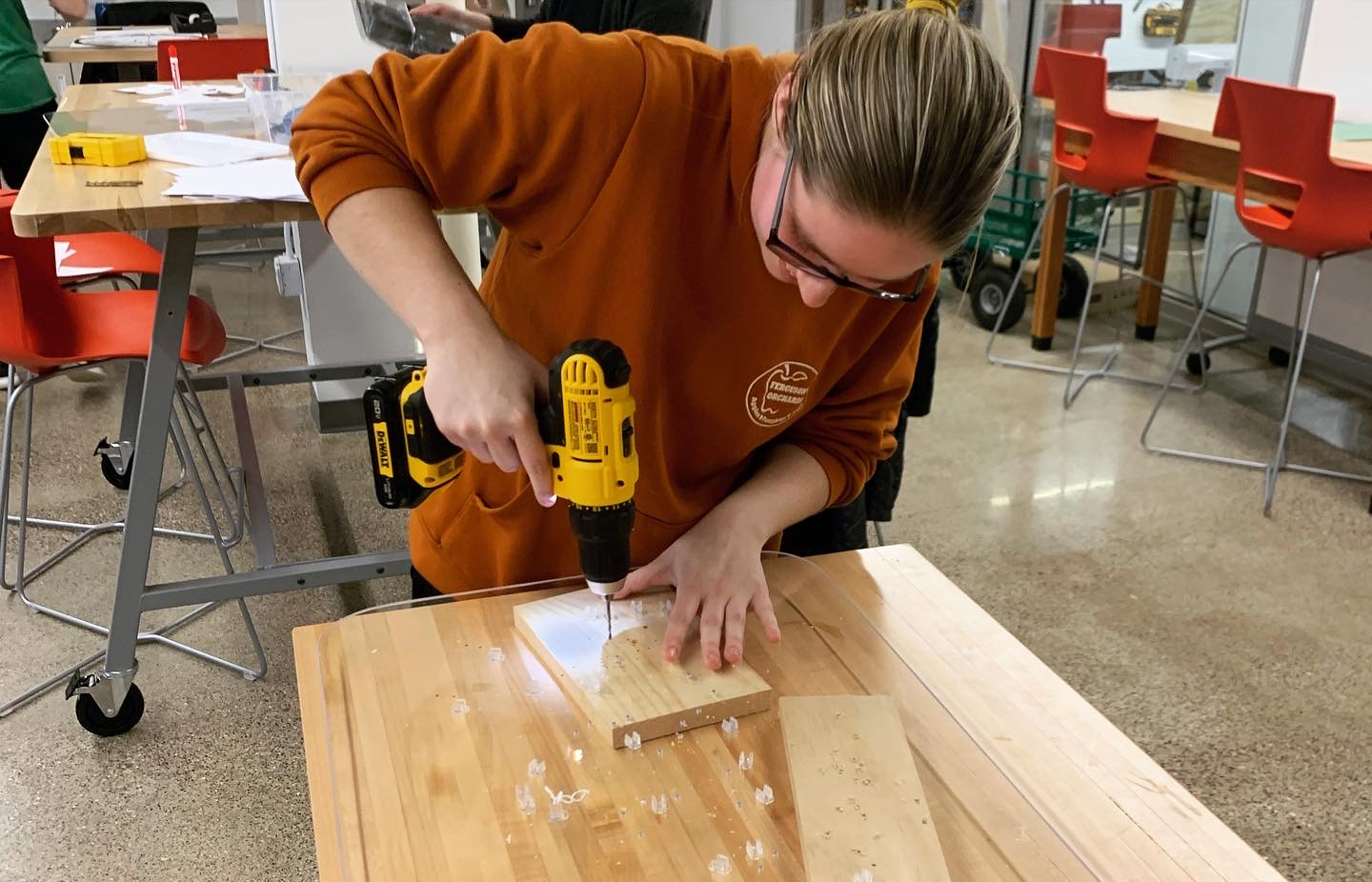 Spending 10-plus hours a week in the space, she is now an expert with many of the various tools in the space and has even led workshops for her fellow students. For Brown, watching her skills continually grow and being seen as a resource for her fellow students is a highlight. 
"I made my first LED light back in December when I was just kind of a passerby, and it took me nine hours," she said. "And now we're kind of mass producing them in like, three, four hours. So, it's been interesting to see the progress that has been made just from learning how to use all these tools." 
Brown has noticed the influx of students' use of the makerspace and is pleased to see the growing interest.
The makerspace has been a springboard for a number of students to start micro businesses, getting them exposure to the process of prototyping, production, and operations.
"The makerspace operates as one of several platforms amplifying the mission and messaging of the Kabara Institute for Entrepreneurial Studies. The institute is focused on inspiring, exciting, and educating students across campus about the entrepreneurial mindset," Klosky said. "Our students have accomplished some amazing things in the space, from starting microbusinesses, generating thousands of dollars in revenue, to building legacy furniture. Far more importantly, students are building the mindset of the entrepreneur — turning their dreams into something real that can impact others around them."
It's not just current students who are impressed by the space, according to Brown. 
"Admissions has started to have their tour guides stop by the space," she said. "The parents always seem really impressed because they realize this is a creative and valuable outlet for their kids. This is a real opportunity." 
To Brown, the makerspace is now an additional part of what makes the Saint Mary's experience so unique to its students, and she encourages everyone to take advantage of the space. 
"I think the biggest takeaway that myself and many others have had is that you are capable of using these tools," Brown said.
"One of our core messages in the makerspace is 'Let's figure it out,' and this operates on so many levels," Klosky said. "From 'Let's figure how that tool works' to 'Let's figure out if there is a market for this product' as they build prototypes. The students who engage in this mindset are the ones who raise their hands later in life to take on new challenges or opportunities when they are presented. The makerspace provides a platform for our current students to build the confidence to see their dreams become a reality."