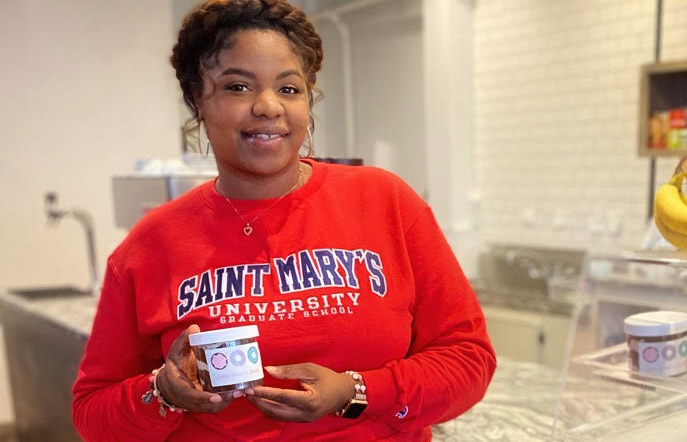 Saint Mary's graduate school alumna Teri Anne Lott M'20 travelled often in her first professional job and didn't have time to make a lot of friends. In her limited free time she began watching Cake Boss on cable TV and baking cakes in earnest, eventually launching Lotties Treats and Sweets as a side hustle five years ago.
"I have very fond memories of cooking and baking with my granddad in Ohio. He was an old time cook with a huge garden and did scratch cooking for days," says Lott. "I was 4 or 5 years old when we moved to Minneapolis, and before we left I planted watermelon seeds in his yard. One day he called us and asked, 'Why are there watermelons growing in my yard?'"
After receiving her undergraduate degree in Business Marketing from Howard University, Lott worked in marketing and sales but wasn't passionate about her work. Wanting to become a teacher, Lott began exploring her education degree options when her brother told her about the Teacher Pathway Program, a partnership between Saint Mary's University and The Sanneh Foundation.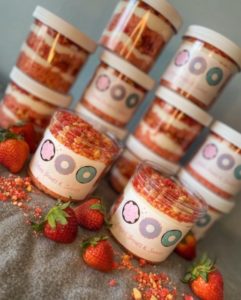 The Teacher Pathway Program enables students to be paid while obtaining their teaching license and earning a Master's degree. Lott received her Master's of Arts degree in English as a Second Language from Saint Mary's in 2020. Although she left teaching when the pandemic hit and now works full time in Human Resources for Target, Lott remains very involved in the community and serves as a board member for The Sanneh Foundation.
"My Master's program was very beneficial, covering the foundation of education and how to advocate for those without a voice, and that resonates with my work at Target," adds Lott. "A lot of people stop at diversity, and don't include inclusion and equity. But we need to ask, 'What more can we do to make people feel included? How do you have the uncomfortable conversations and advocate for inclusion?'"
Lott still uses what she learned at Saint Mary's every day, and is grateful for the school and her instructors, including Dr. Shannon Tanghe, Dr. Theresa Taylor, and Dr. Rebecca Johnson. She credits them for teaching her about lesson plans, preparing for the unknown, and always being cognizant of things we can't anticipate.
Lott's baking prowess – all self-taught by watching baking shows and videos – grew over the years. Lott has appeared on the Food Network's Bakers vs. Fakers as the audience tries to assess who's who. She made it to the final round before losing to a full-time baker.
"Baking cakes takes the cake! I love the joy my baking brings people. My baking makes them happy, and it's my therapy. I just zone out, it's just me and my food," says Lott. "Bringing smiles to people and the therapeutic qualities of baking are the best."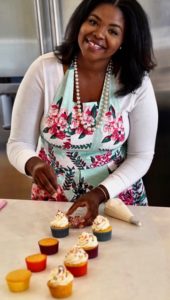 Lott has a business and a food license for Lotties Treats and Sweets, and recently began selling her cake jars (cake layers placed in jars for single-serve treats or to share) at For Real Coffee House, the newest black-owned, woman-owned coffee shop in South Minneapolis in George Floyd Square. The coffee shop sells monthly coffee subscriptions and various baked goods, and encourages conversations about what's happening in the community.
Her advice for would-be entrepreneurs is to go out and do whatever brings you joy. Lott believes that when you're trying to do important things, the right people show up to help, and things line up when you put in the work.
"For those thinking about going back to school for a Master's degree – go for it! I was skeptical, I was 31 years old and two years is so long, but the time went so fast. And my work in school applies today at Target," adds Lott. "I had a 4.0 GPA at Saint Mary's. The coursework is interesting, engaging and applicable. I highly recommend grad school and particularly Saint Mary's."
By Tom Brandes