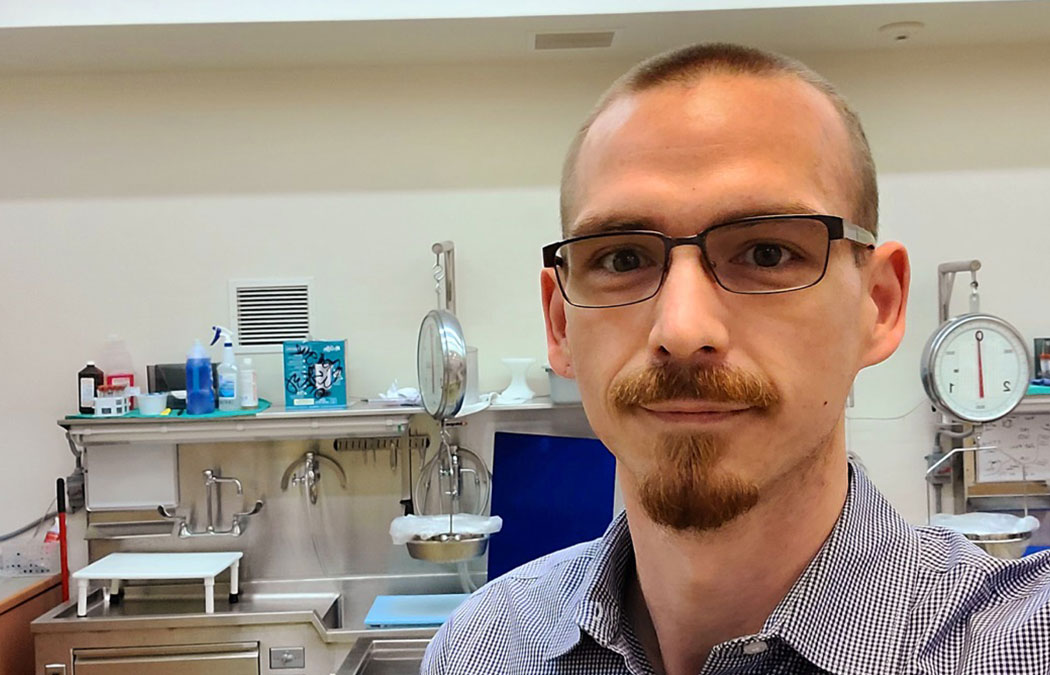 By Tom Brandes
One of the reasons Shane Sheets sought Saint Mary's University's accelerated MBA program is because his personal and professional life can also be described as accelerated.
In addition to juggling a family, being engaged, completing his degree in August, and serving his second term serving on the Green Isle (Minnesota) City Council, he has a busy work schedule, and was recently promoted.
Sheets serves as the director of the Midwest Medical Examiner's Office in Ramsey, Minn., which conducts death investigations in 29 counties in Minnesota and western Wisconsin and is responsible for performing autopsies to determine the cause, manner, and circumstances surrounding the death of an individual. The office operates under Anoka County.
"My job is to provide strategic management to a team of forensic pathologists, forensic technicians, medicolegal death investigators, and other medical professionals who work as a team to honor those who have died by providing scientific, consistent, and compassionate investigation into the circumstance of death," says Sheets. "I also manage the business functions for our agency, including contract negotiations."
The job is unique in terms of the knowledge, skills, and abilities required to perform the essential functions. His role involves customer relations, disaster planning, project planning, dealing with highly confidential information, and leading a team in multiple locations across the state.
Being an effective communicator is also a critical skill because Sheets' job requires interaction with the public, appointed and elected officials, medical personnel, funeral home staff, and members of law enforcement on a daily basis. Sheets appreciates that each day is unique and when his phone rings, he never knows what it will bring.
"My undergraduate degree is in criminal justice, and I have various certificates in medicolegal death investigation, supervision of police personnel, and supervision and management credentials from the Minnesota Bureau of Criminal Apprehension," adds Sheets. "I chose Saint Mary's University of Minnesota due to its nationally recognized MBA program, affordability, and catered courses that coincide with my professional goals and busy work schedule."
Sheets strongly believes that education is one of the greatest investments a person can make in their future. He credits his studies at Saint Mary's University for helping him gain a competitive edge with advanced business knowledge at a time when the workforce is extremely competitive.
As he begins his last semester in the accelerated MBA program that he began just over a year ago, Sheets enjoys the networking abilities and like-minded professionals he's met through his coursework. Despite the fact that the coursework is primarily online due to the pandemic, he appreciates how Saint Mary's has designed the program to mirror in-person learning in terms of connecting with peers and building relationships.
"I've learned critical skills in each of my courses, but Employment Law, Project Management, Executive Communication, and Quantitative Decision Making stand out as the courses where I will use the most material in the workforce," says Sheets. "Saint Mary's has helped me gain a well-rounded business education that will help me improve operations in the office."
Sheets is putting his newly learned skills to work in an office that performs more than 1,000 autopsies annually and has had to deal with increased overdose and mental health calls since the start of the pandemic a year ago. Despite wanting to be an astronaut while growing up, Sheets says this is the next best job for him.
"We are the voice of the deceased, and each staff member here plays a key part using their skills, hard work, respect and due diligence to provide answers to the families and loved ones of those who cannot speak," adds Sheets. "It's an honor to be a part of this extraordinary organization."