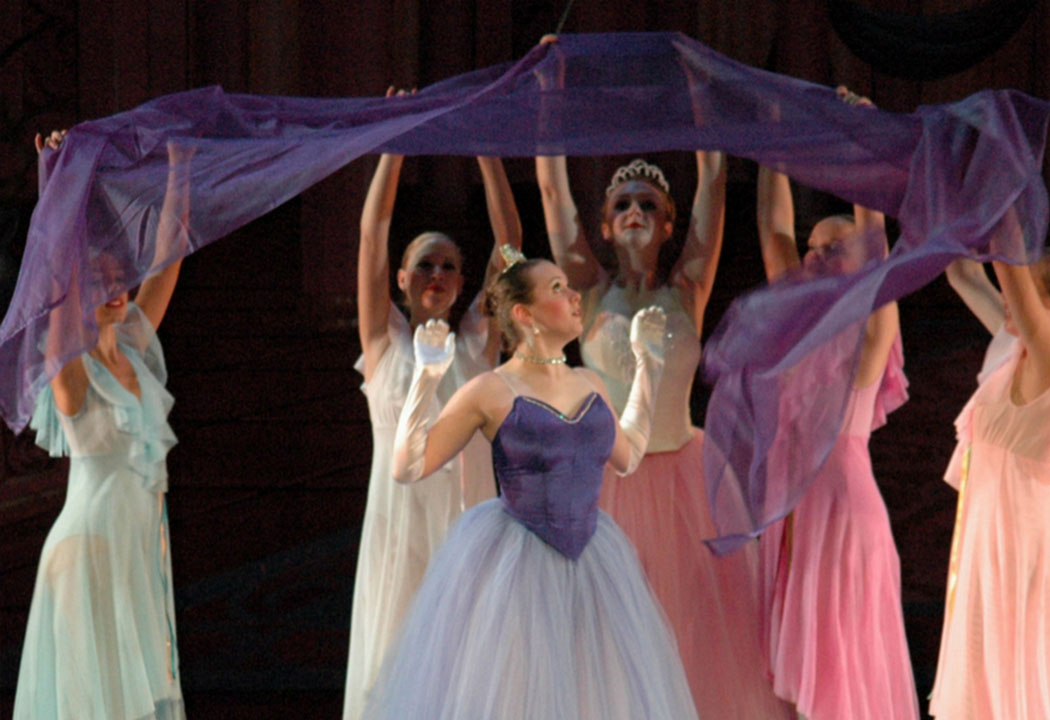 WINONA, Minn. — The popular fairy tale "Cinderella" will be brought to life April 20-22 at Saint Mary's University by the Minnesota Conservatory for the Arts (MCA) Dance Repertory Company. The performance features Saint Mary's alumnus Jarod Boltjes, professional dancer with the St. Paul Ballet, who will be performing the role of The Prince.
"Cinderella" tells the story of a young girl, scorned by her comical stepmother and stepsisters, who finds true love and lives happily ever after with the help of her fairy godmother's magic and a glass slipper. Originally choreographed in the mid-1940s by Rotislav Zakharov of the Bolshoi Ballet and Sir Frederick Ashton of the Sadler's Wells Ballet, "Cinderella" continues to enchant audiences with the exquisitely fanciful score by Sergei Prokofiev.
For more than 40 years, the Dance Repertory Company has presented the Winona community with quality dance productions featuring local dancers in classical and contemporary works. The Dance Repertory Company performed "Cinderella" in 2006 and is excited for audiences to experience the magic again, with remounting of repertoire and updated takes on pieces and performance elements. Audience members will be entertained as this classical ballet tells the tale through dance, music, costumes, and scenery — including a huge pumpkin carriage to escort Cinderella to the ball.
The cast of more than 50 dancers ages 6 and up from Winona and surrounding communities includes: Jasmine Albrect, Layton Barnard, Erica Beckman, Emmie Dammen, Macy Donnenwerth, Abigail Ellenburg, Claire Ellings, Hannah Ellings, Grace Hendrickson, Elizabeth Hinz, Nadia Hocum, Aidan Indahl, Annabeth Kerr, Mattie Kreisel, Silvia Krzmarzick, Isabell Livingston, Nolan Livingston, Karly Lunda, Megan Lynch, Breanna McElmury, Isaac Meinke, Justine Meinke, Preston Meinke, Carmelle Meyer, Keeli Meyer, Natalia Minetto, Olivia Nelson, Rose Nelson, Anna Nungster, Makarah Olcott, Amanda Pohlman, Raina Racki, Marlee Ressa, Beatrice Sanders, Danielle Schleich, Laura Schleich, Natalie Schleich, Victoria Schroeder, Ella Skranka, Gavin Slavey, Alona Stenberg, Maya Strassburger, Emily Strom, Corrie Swenson, Kelly Swenson, Salome Tolvaisas, Isa Uribe, Max Uribe, Lucy Wilfahrt, Aza Theresa Williams-Carpenter, and Abbie Wishy.
Performances are April 20-21 at 7:30 p.m. and April 22 at 3 p.m. at the Page Theatre Performance Center on the Saint Mary's Winona Campus. Call the box office for tickets at 507-457-1715 or purchase online at pagetheatre.smumn.edu. For more information about the Dance Repertory Company visit mca.smumn.edu.