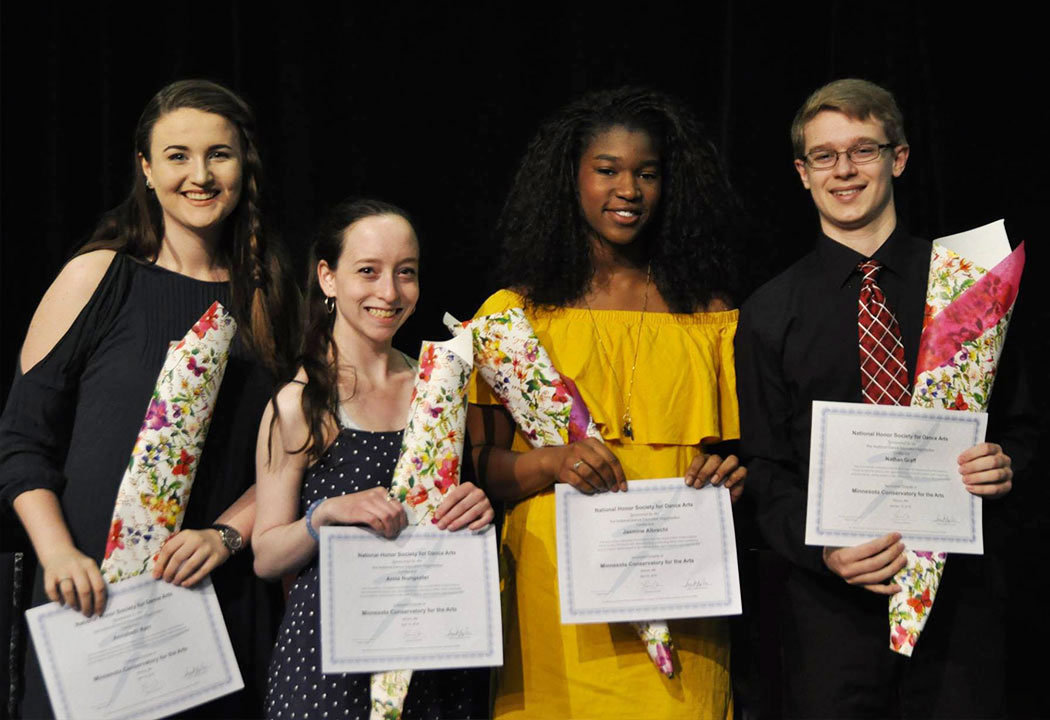 WINONA, Minn. — Four outstanding students were inducted into the Minnesota Conservatory for the Arts (MCA) Chapters National Honors Society for Dance Arts (NHSDA). Jasmine Albrecht and Nathan Graff were inducted into the Secondary Chapter for High School Students and Saint Mary's University students Annabeth Kerr and Anna Nungester were inducted into the Collegiate Chapter for University Students. The students were honored in an afternoon ceremony at the Valéncia Arts Center May 5.
Induction into all chapters is earned through an accumulation of points awarded for dance activities such as rehearsals, performances, research, workshops, or community service activities, along with a GPA of at least 3.0.
This was MCA's second induction ceremony since becoming a member of the National Dance Educators Organization (NDEO) and receiving approval as a site for Junior, Secondary, and Collegiate NHSDA Chapter.
MCA Director of Dance Tammy Schmidt led the ceremony, which featured a brief history about NEDO and NHSDA, as well as achievements and goals of each inductee. The ceremony also included a slideshow with photos depicting each dancer's time at MCA and closed with family and friends enjoying conversation and treats.
The third induction ceremony is planned for fall of 2018. Dancers who are interested in learning more should contact Schmidt at tschmidt@smumn.edu or 507-453-5502.
Photo caption: From left, Annabeth Kerr, Anna Nungester, Jasmine Albrecht, and Nathan Graff were inducted into the National Honors Society for Dance Arts earlier this month.