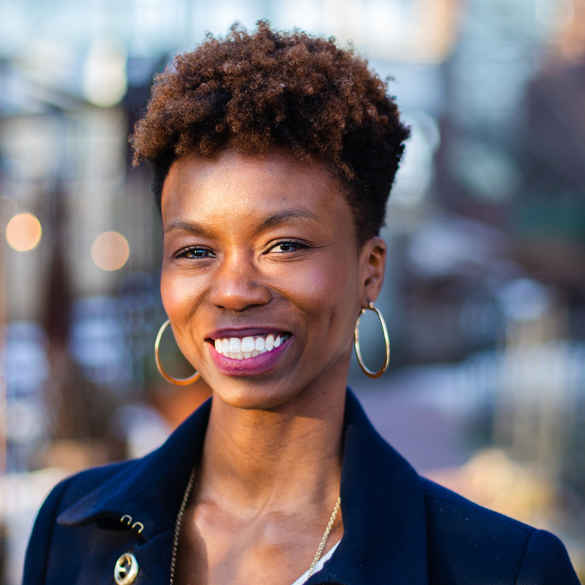 Maima Fant, DSW, joined Saint Mary's University as an assistant professor in the Master of Social Work program in February.
In addition to her new responsibilities at Saint Mary's, Dr. Fant also runs her own therapy clinic in Eagan, Minn., where she specializes in supporting and educating women about perinatal mood disorders and related mental health treatments.
Previously, Dr. Fant served as a mental health therapist in different capacities in the Twin Cities and Madison, Wisc., metro areas, including working for the City of Minneapolis to assess and treat adolescents with mental health issues. She has been in practice since 2009.
"I've always been curious about human behavior," said Dr. Fant, who is teaching two courses this summer. "Learning about the brain, emotions, and mental health have always been of interest to me. I've also had an inherent calling to help."
Dr. Fant has been a member of the National Association of Social Workers and Minnesota Social Services Association since 2015. She is a previous board member of Pregnancy and Postpartum Support Minnesota and is currently involved in the organization's local chapter.
Before joining the Saint Mary's community, she worked as an assistant professor and field coordinator at The College of Saint Scholastica for more than five years. She also served in a course-contracted role at the University of Wisconsin-Madison during the 2012-13 school year.
Dr. Fant recently defended her dissertation for her DSW degree from the University of St. Thomas. She also has an MSW and two bachelor's degrees in social work and African American studies from the University of Wisconsin-Madison.
Dr. Fant grew up in the northern suburbs of the Twin Cities as the first American-born child in her family. Her parents immigrated from the West African country of Liberia. She said her family's background has played a role in shaping her research and scholarly pursuits.
"There really isn't a structure or system within that culture in Africa that provides something like mental health services or specializations," Dr. Fant said. "So it was important for me to focus on ways to support communities that have historically experienced oppression and marginalization."
When not spending time with her husband and two daughters, Dr. Fant enjoys cooking, yoga, and traveling.
Join us in welcoming Dr. Fant!