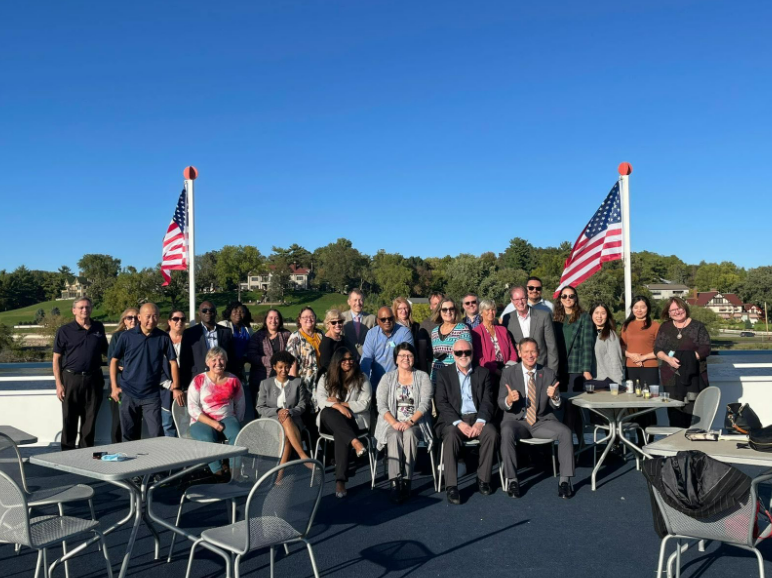 During a colorful fall weekend, the Midwest Academy of Management hosted its annual conference at St. Ambrose University in Davenport, Iowa. With the academy board deciding that "teaching and researching must continue on," this year's conference was hosted in-person with hybrid attendance on Zoom. The conference took place between October 14 – 16, 2021. This year's conference was well attended by students from various programs across the nation. Ten students pursuing a Doctorate in Business Administration (DBA) attended the conference from St. Mary's University of Minnesota, with several students receiving scholarships from the academy. The conference was also attended by Dr. Matt Nowakowski and Dr. Jennifer Schultz.
It kicked off with the Doctoral Consortium which had informative sessions on "Teaching Effectiveness" by Dr. Tim Peterson and "Research Productivity" by Dr. Monica Forret. Activities included a panel discussion and a working lunch in small groups with faculty. The day ended with the group going on the Mississippi River Cruise on a sunny fall afternoon.
During the conference, second year students, Keith Anderson, Lelna Desta, and Andrew Rhoads presented their paper titled "Fearless Whistleblowing – Backing Down the Schoolyard Bullies." Students and professors also led and moderated six workshops and one symposium during the three day conference. Topics included:
Teaching with the Scripted and Unscripted: Using TV and Reality TV in the Classroom
Practitioners in the Classroom: Sharing Best Practices and Added Value
The Diversity Grand Challenge: Myths and Legends
Program Pride – Networking with Former Program Alumni: A Conversation Corner
Academy of Management Ombudsperson Team: Professional Collaborations Workshop
Considering Administrative Roles: Alternative Career Paths in Academia is One Right for You?
Apps n Apps: Using Mobile Applications in the Business Classroom
The variety of topics covered and the ability to network with researchers and faculty members was valuable. The following two quotes were shared with attendees during the conference:
"Creativity dwells in the mind, but one must be careful because so do the boundaries." – Unknown [Quote shared by Dr. Tim Peterson during the "Teaching Effectiveness" Presentation]
"It is very hard to let go of what was successful, for what you don't know will succeed." Dr. Michael Hitt [Keynote Speaker]
Several sessions asked attendees to reflect on one question: What do you value? […in your life, career, research, teaching, etc.]
Returning back to an in-person conference proved to be successful for the students and faculty who attended this year's Midwest Academy of Management's annual conference. The board announced that next year's conference will take place in Fall of 2022 in Detroit, Michigan!
Lelna Desta