A Saint Mary's University Psy.D. student has once again been named the Outstanding Graduate Student of the Year by the Minnesota Psychological Association (MPA). This award is given to graduate student members of MPA who take on leadership roles within MPA to advance student engagement in the association in ways that go above and beyond expectations.
As a testament to the quality of our program and the talents of our students, a Saint Mary's student has been awarded this honor for four of the past six years.
Quincy Guinadi was honored during the Minnesota Psychological Association's virtual President's Conference: Full Day First Friday Forum on Oct. 1. Guinadi is the current student division co-chair for MPA and is in her fourth year in a counseling psychology doctoral program at Saint Mary's. She is also an international student from Singapore. Quincy's scholarly interests include international students and immigrant issues, working with trauma, and leadership in psychology.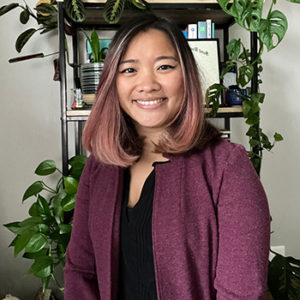 "I am honored to receive this award that recognized my leadership and advocacy contributions in MPA," Guinadi said. "I am also extremely thankful for all my mentors in my doctorate program, clinical trainings, and the MPA governing council who were influential in the development of my leadership and advocacy skills.
"As the MPA student division co-chair, my role is to represent undergraduate and graduate psychology students across Minnesota and advocate for their needs and voices in governing council meetings. The student division also provides supportive spaces, social events, mentorship, and networking opportunities through the year. In the past year, the student division launched a student blog and created a platform where student voices and experiences are highlighted.
"This position allows me to develop my leadership skills and network with psychologists all over Minnesota. I had opportunities to develop relationships with other leaders in psychology and build a network of mentors. I got to collaborate with psychologists of various disciplines and advocate for the protection and advancement of our profession. I learned a lot about my leadership style, how governing bodies function, and how to effectively communicate and advocate for others' needs. One of my future career goals is to be a clinic director or training director; this role sets me up to be an effective and competent leader. My positive experiences in MPA encouraged me to run for a national leadership position — the American Psychological Association Graduate Student chair-elect position. The results are not finalized yet; we'll find out around mid-November to December!"
Additionally Willie Garrett, Ed.D., who teaches in Saint Mary's Psy.D. program, was also awarded with the 2021 Presidential Medallion for his many contributions to MPA during his presidency and in his current role as immediate past president and involvement on several MPA committees.
Past grad student awards have included:
2016 — Shannon Goecke-Watson and Cynthia Swanlund
2018 — Bronwyn Neeser
2020 — Erika Brink
2021 — Quincy Guinadi