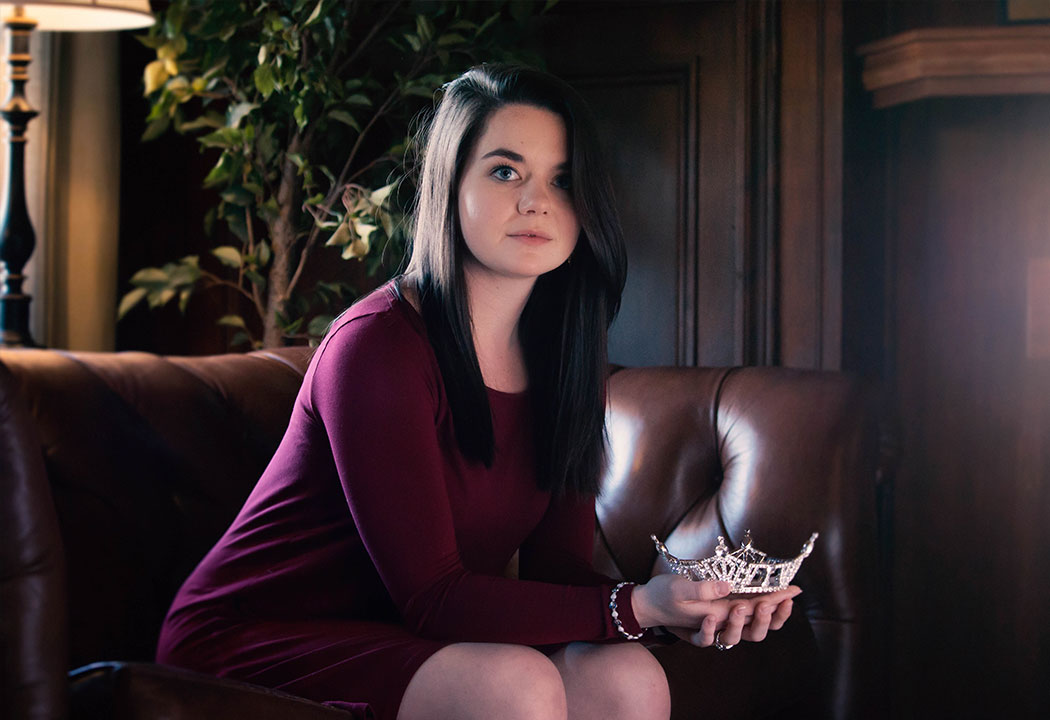 Serving as Miss Winona, Casey McCarraher '20 proudly wears a sparkling crown and sash, as she waves in parades and makes countless guest appearances.
Behind her outgoing personality and beautiful smile, McCarraher is also spreading a very serious and personal message that she hopes ultimately saves lives. She calls it, "It's your choice."
"It's about bringing awareness to and preventing drunk driving," the Pastoral Youth Ministry major from New Vienna, Iowa, said.
It's a platform that's deeply personal to her.
As an eighth-grader, McCarraher received a phone call from her older sister that she can still recall vividly. She was told that her brother, a junior at the time, had been involved in a serious car accident.
McCarraher soon learned that her brother had made the choice to drive drunk. While leaning over to throw up, her brother's vehicle struck an elderly couple's vehicle, causing his car to flip and start on fire. Although he recovered, her brother was in a coma for four days.
Earlier on the day of the accident, McCarraher said that her brother had offered to give take her skiing with his friends, but she "shoved him off." McCarraher said that for a long time she felt guilty for not being there to stop him.
Now, McCarraher wants to use her Miss Winona platform to make a difference. "I don't want anyone to go through what I went through, what my family and my community went through," she said.
During her time as Miss Winona, she hopes to get the message out about how to handle situations where someone may be on the verge of driving drunk. She believes that everyone, no matter who they are, can take steps to prevent drunk driving throughout the community.
She tells others, "It's up to you to make the decision to not drive drunk, and it's up to you to step up and step in when someone else is about to get in a car under the influence."
Saint Mary's alumna Serica Rowley '13, a theatre and musical director at McCarraher's high school, encouraged and motivated McCarraher to take her platform for preventing drunk driving to the Miss Winona Pageant held last November. Rowley, who is a former Miss Winona herself, helped McCarraher prepare for the pageant.
The Miss Winona Pageant, which is a scholarship program, was McCarraher's first pageant. Although she was hopeful that she would win, she but didn't really expect to do so, which made the announcement of her win a surprise.
"I was full of shock and so much joy," McCarraher said. "I don't even remember them putting the crown on my head."
McCarraher has since adapted to her role as Miss Winona and is continuing to balance her college life with the responsibilities of her title. Along with strenuously preparing for the Miss Minnesota pageant on June 15, McCarraher is continuously working to promote her platform in a variety of ways.
Along with giving talks at the Winona Senior High School related to preventing intoxicated driving, McCarraher also held "drunk goggles" demos at Winona State University to show people what it's like to be drunk while they're actually still sober.
McCarraher has also gone on a ride-along with Winona deputies around "bar time" — 10 p.m. to midnight — so that she could experience what it would be like to pull over someone who is driving while intoxicated.
Additionally, last November, the same month that McCarraher was named Miss Winona, she submitted a proclamation that was accepted and signed by Minnesota Governor Mark Dayton declaring the month of December to be "Drunk and Drugged Driving Prevention Month".
McCarraher credits her success at interacting with people out in the community to the overall atmosphere of Saint Mary's. Through her involvement with Campus Ministry and choir, she feels part of a "close-knit family who will always be there."
"It's my home," she said.
By Courteney Jacob '19