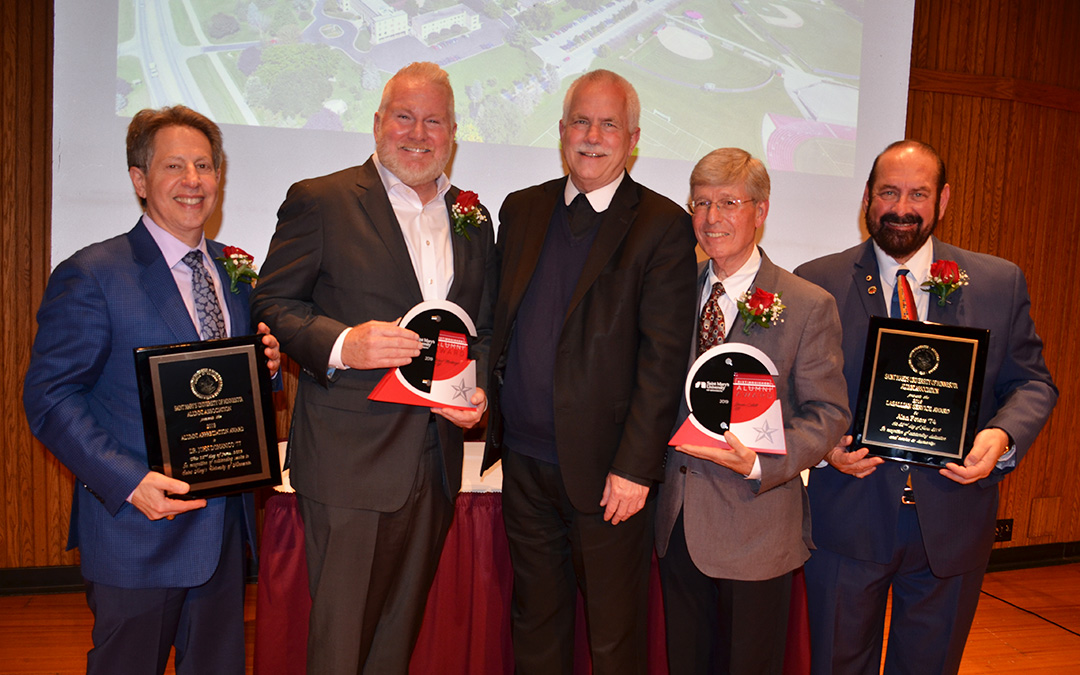 WINONA, Minn. — Saint Mary's University's Alumni Reunion June 21-23 was about elevating achievements. In addition to recognizing four successful alumni, another alumnus was recognized for more than 50 years of service to Saint Mary's, and the 50th anniversary class made a $1,125,000 gift to their alma mater.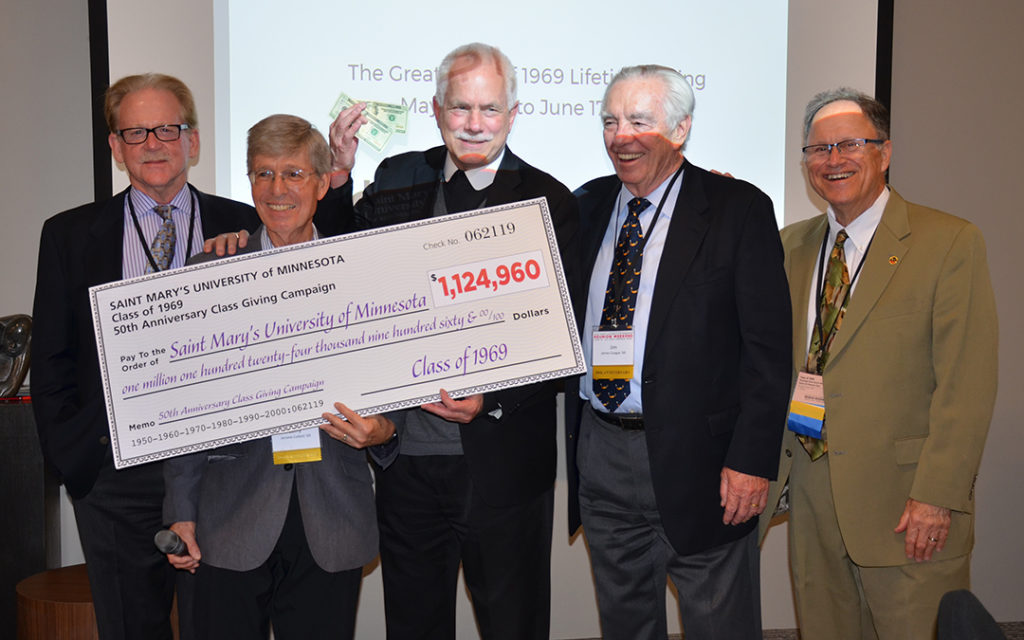 Throughout the weekend more than 450 alumni became reacquainted with Winona, celebrated their friendships, and reconnected with Saint Mary's.
Each year the university recognizes outstanding alumni who have made outstanding achievements in their professional careers, who best exemplify the Lasallian charism Saint Mary's was founded upon, and who have generously contributed time and talent to the goals and objectives of their alma mater. This year, four alumni were honored during a reception and ceremony June 22 on the Winona Campus.
This year's Distinguished Alumni Award recipients are Jerome "Jerry" Colletti '69 of Scottsdale, Ariz., and Michael Morsberger M'97 of Orlando, Fla.; the Alumni Appreciation Award recipient is Dr. John Domanico '77 of La Grange, Ill.; and the Lasallian Service Award recipient is Alan Peters '74 of Minneapolis.
Distinguished Alumnus Award: Jerome "Jerry" Colletti '69, Scottsdale, Ariz.
Jerry Colletti '69 has made it his business to be successful — and to help others find success in business. He now is sharing the skills he acquired working for international businesses, and in his own management consulting businesses to help Saint Mary's Business Advisory Board. He has helped top executives increase their sales effectiveness and was recognized as an Entrepreneur of the Year nominee/finalist by Ernst & Young, LLP. Now retired, he has co-authored over 200 articles and four books.
Distinguished Alumnus Award: Mike Morsberger M'97, Orlando, Fla.
Mike Morsberger M'97 is an accomplished advancement professional with 30 years of experience in nonprofit fundraising and development. He has been a part of highly successful — and often record-breaking campaigns — for University of Central Florida, Johns Hopkins, and George Washington University in Washington, D.C., where he oversaw their $1 billion campaign and helped to secure the two largest gifts in university history ($50 million and $30 million).
Lasallian Service Award: Alan Peters '74, Minneapolis
Alan Peters founded Can Do Canines in 1987 and serves as executive director of the organization which has grown to an industry-leading organization which has placed more than 650 fully trained assistance dogs into the community, all at no cost to their clients with disabilities. The business enhances the quality of life for people with disabilities by creating mutually beneficial partnerships with specially trained dogs. The work of his organization brings freedom, independence, and peace of mind to people with disabilities.
Alumni Appreciation Award: Dr. John Domanico '77, Le Grange, Ill.
Dr. John Domanico has supported his alma mater in multiple ways throughout his life, serving on the Alumni Board, the First Generation Advisory Board, and on the Board of Trustees. He also co-chaired the Celebration of Excellence event in Chicago. He and his wife, Joanie, have generously financially supported many university initiatives. John developed the idea to start Lasallian Day of Service 10 years ago, and, because of his vision, hundreds of alumni from throughout the United States have gathered together in service to their communities.
Several other alumni were also recognized for their generosity.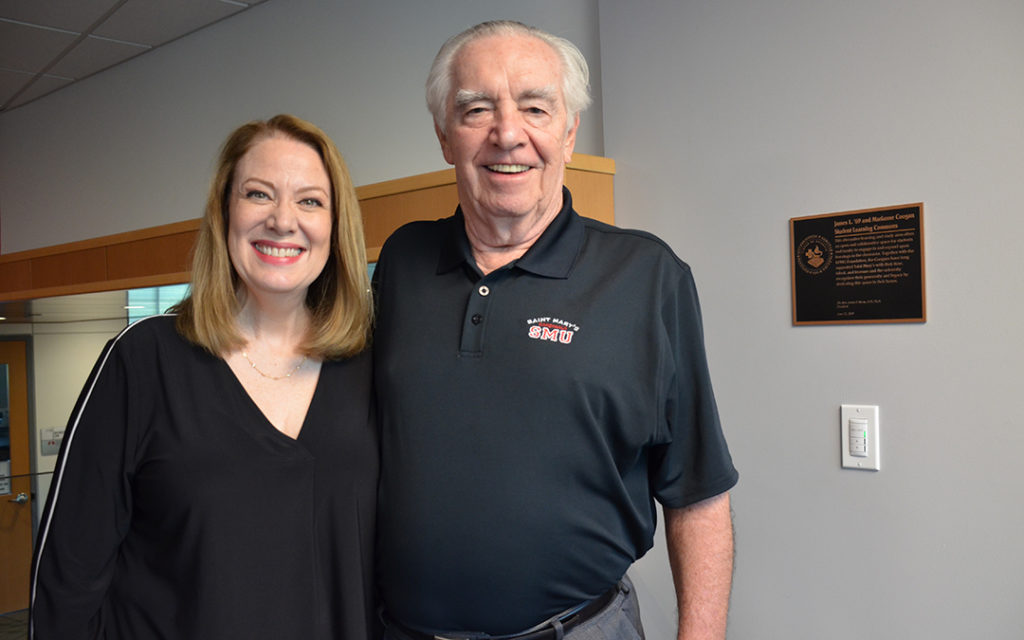 The James L. '69 and Marianne Coogan Student Learning Commons in the Science and Learning Center was named Saturday in honor of a couple who — along with the KPMG Foundation — has long supported Saint Mary's with their time, talent, and treasure. Jim Coogan of Naples, Fla., has served as a university trustee, and the couple has philanthropically supported many university initiatives.
The Class of 1969 — in addition to announcing its cumulative giving level (since graduation) as $1,125,000 — surprised classmate Tony Piscitiello '69, M'82, AFSC, with a $50,000 gift to the "Piscitiello Endowed Scholarship Fund" for the First Generation Initiative in recognition of his 50 years of dedicated service to the university. Piscitiello, of Winona, has served the university for more than 50 years in multiple capacities including: admission counselor, vice president for admission, executive vice president, and senior development director.
Later Piscitiello was surprised with another honor as the Anthony Piscitiello '69, M'82, AFSC Welcome Area was dedicated in the Admission Office of the Hendrickson Center. The room naming recognizes the tremendous impact he has made on generations of Saint Mary's alumni, parents, and friends throughout his career in recruiting students.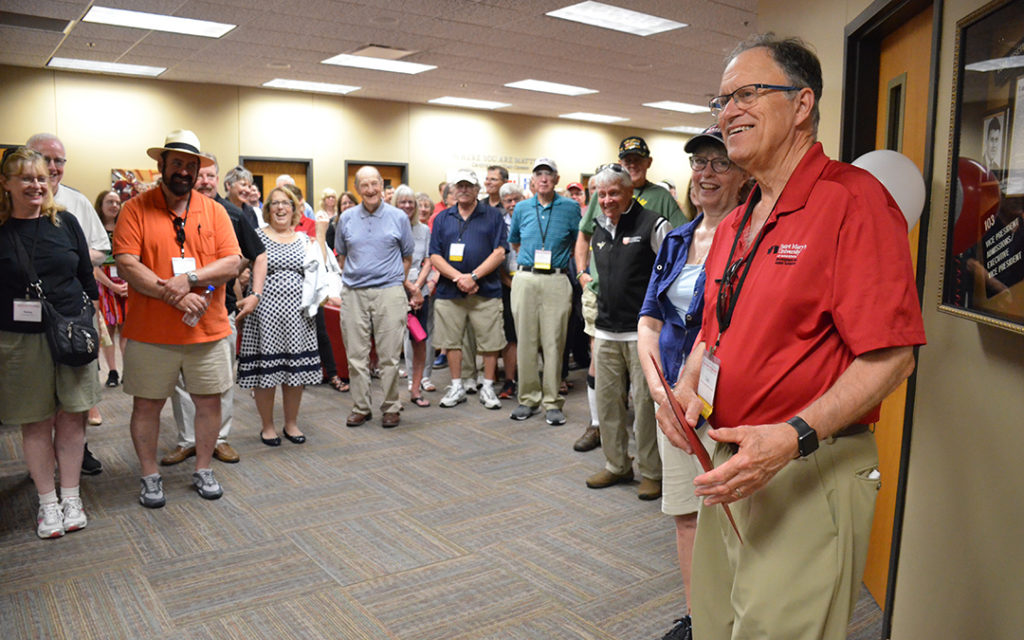 Alumni enjoyed campus and trail tours, took a boat ride on the Mississippi, visited the Minnesota Marine Art Museum, and sang along with the Oldie Moldie All-Stars (a student-led music group) as well as a hip reunion band of alumni. After alumni received an update on current university news, a special ceremony honored our alumni veterans, and a three-plane flyover in missing man formation was arranged by Retired Capt. Tim Tyre '69. Some classes took over downtown Winona for small reunions, others convened on campus, but alumni of all ages converged to Saint Mary's Park for the traditional reunion picnic, at the site where Saint Mary's University first began in 1912.
Next year's Reunion Weekend is scheduled for June 27-29.
Photo caption (above): Brother Robert Smith, FSC, Ph.D. (center) recognizes this year's alumni award recipients including, from left: Dr. John Domanico, Mike Morsberger, Jerry Colletti, and Alan Peters.