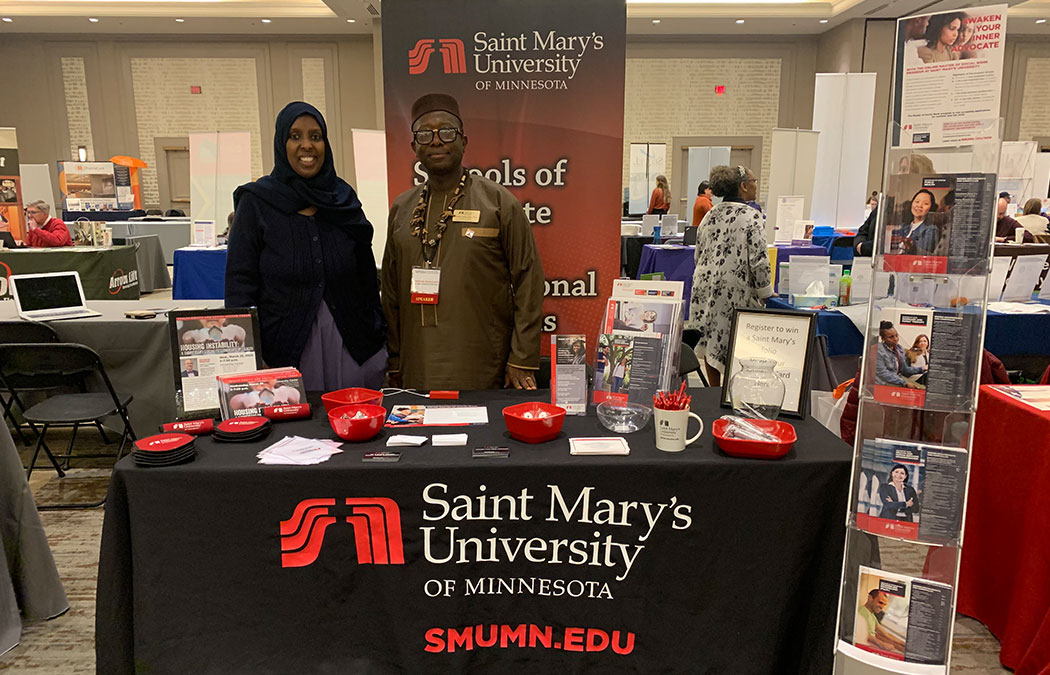 Five members of the Saint Mary's University Master of Social Work (MSW) community presented at the 127th annual Minnesota Social Service Association (MSSA) Conference, "Shaping our Future Together," March 11-13 in Minneapolis.
Sylvester Lamin, Ph.D., core associate professor in the MSW program, presented on three topics:
"Law Enforcement-Mental Health Collaborations," joined by Shelly Statz, field education director and core faculty member in the MSW program, and Consoler Teboh, Ph.D., course-contracted assistant professor in the MSW program
"Social Workers as Administrators and Leaders: Educational and Practice Implications," joined by Statz and Michael Lee, Ph.D., course-contracted assistant professor
"Africans Aging in the Diaspora: Narratives About Social Isolation and the Roles of Social Workers"
Suzanne Shatila, MSW program director, was a panelist on "Getting Your Master's Degree in Social Work: When, Why and How?"
Saint Mary's was represented by a booth supported by School of Health and Human Services staff with the help of the Alumni Relations team and connected with many current, future, and past students of various disciplines.
MSSA's Annual Training Conference & Expo is the largest, most comprehensive health and human service conference in the Midwest. The conference brings together almost 3,400 health and human service professionals from all parts of Minnesota and the surrounding states. MSSA remains committed to improving Minnesota's health and human service system through education and advocacy. Its mission is to unite diverse professions and passionate people through education and legislative advocacy to enrich lives.
Photo caption: Farhiya Farah, Ph.D., Master of Public Health program director, stands with Sylvester Lamin, Ph.D., core associate professor in the Master of Social Work program.