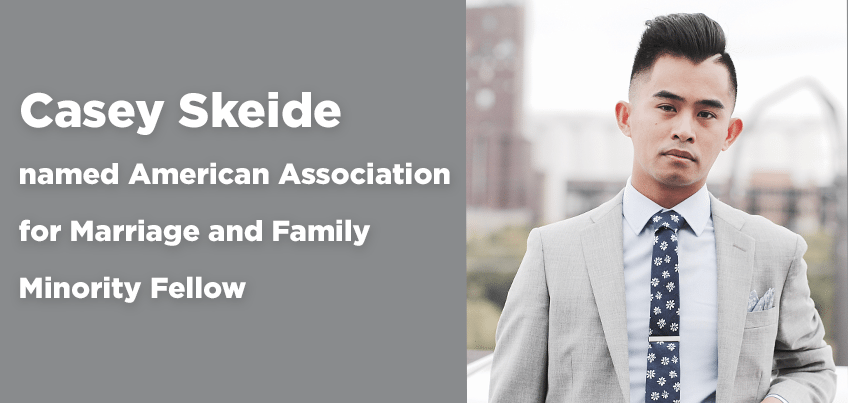 By Stacia Vogel
Graduate student Casey Skeide has been named a 2017-2018 American Association for Marriage and Family Therapy (AAMFT) Minority Fellow. This national award is highly competitive and from the AAMFT Research and Education Foundation with grant support from the Substance Abuse and Mental Health Services Administration (SAMHSA).
Skeide is among a select group of individuals chosen for the Now Is The Time: Minority Fellowship Program for Youth (NITT-MFP-Y). Aimed at helping strengthen our nation's youth and communities, this fellowship program provides significant financial and professional development support to students who are interested in providing access to and improving the behavioral health care services for racially and ethnically diverse children, adolescents, youth, and individuals in transition to adulthood.
"Without a doubt, this is a privilege to nurture my skills as a therapist and it's a major milestone in my career and life," said Skeide, who is a student in the Saint Mary's Master of Arts in Marriage and Family Therapy program.
"As a marriage and family therapy student, one of the very first lessons that one learns is of the interconnectedness and systemic nature of all human interaction. In communities that I am from and work together with, it is not the individual that makes the community, but the community that makes the individual." Skeide said. "With this notion, I have always sought institutions and experiences that exemplify this, and Saint Mary's University of Minnesota is no exception. Saint Mary's MFT program is dedicated to the nurturing and empowering of learners to live lives of service and leadership and I believe are able to do so because of the emphasis on community."
With this fellowship, Skeide will have the opportunity for national trainings in MFT leadership, attendance and recognition at the 2017 annual AAMFT conference in Atlanta, as well as mentorship.
"The Saint Mary's graduate school community could not be more proud of Casey Skeide for being selected as an AAMFT Minority Fellowship recipient. The goals of the fellowship program are in complete alignment with our Lasallian values of access, social justice, and culturally responsive service. This fellowship aims to expand the delivery of culturally competent mental health services to underserved people as well as to increase the number of culturally competent therapists. Skeide embodies these values with all of their passion, energy, and creativity in academia, research, and in direct client service. Our community is better for having Skeide in it," said Samantha Zaid, Ph.D., Rev., L.M.F.T., who is Director of the Marriage and Family Therapy Graduate Program at Saint Mary's University of Minnesota.
A little more about the fellowship: In 2014, the Now Is The Time: Minority Fellowship Program-Youth was established. This Fellowship was part of President Obama's Plan, Now Is the Time, to increase access to mental health services for youth in America. The objectives of the NITT: MFP-Y are to reduce health disparities and improve behavioral health care outcomes for racially and ethnically diverse populations by increasing the number of culturally competent master's-level behavioral health professionals serving children, adolescents, and populations in transition to adulthood (ages 16 to 25) in an effort to increase access to, and quality of, behavioral health care for this age group. The MFP is Substance Abuse and Mental Health Services Administration's (SAMHSA) premier mental health workforce development training program focused on mental health disparities faced by underserved and minority communities. For more about AAMFT, visit their website.