Signe Nestingen, Psy.D., a professor and director of clinical training for Saint Mary's Psy.D. in Counseling Psychology program, is receiving two honors from the U.S. Navy.
This spring, she will receive the U.S. Navy's Impact Influencer Award. Candidates for this award exemplify education and have been exceedingly impactful to the U.S. Navy Medical Recruitment Program.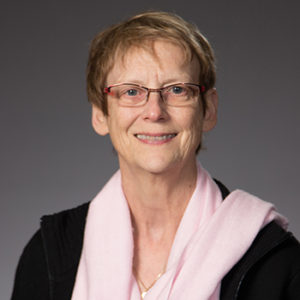 According to Lt. David Acree, the officer in charge of U.S. Naval Medical Programs Talent Acquisitions Group for the Northern Plains, "Over the past two years Saint Mary's has literally helped to fill one-fourth of the nation's highly competitive Clinical Psychologist needs. This is due to three main facets, the first is the high caliber students, the second is your rigorous and outstanding program, and lastly is the efforts of Professor Nestingen. Every package that has come out of your school and passed my desk has her signature peppered throughout."
Acree added that over the past two years, he's been in regular correspondence with Nestingen about the high-caliber student applicants that she has recommended for several of his clinical psychologist programs.
As part of the recognition ceremony, three students Nestingen has been instrumental in preparing and placing will also be invited: James Selmon-Vasser M'16 and a 2021 Psy.D. graduate; Mariah Olvera M'19 (current intern); and Tuong Setala (a 2019 graduate of the Psy.D. program).
Additionally, in recognition of Nestingen's work, she was chosen to take an education orientation visit (EOV), beginning Jan. 28, to the U.S. Navy Medical Center at Balboa in San Diego.
Navy Recruiting Command sponsors an annual EOV for Navy Talent Acquisition Groups and various recruiting departments. Competitively selected, civilians are offered the opportunity to witness the pride and professionalism of Navy Medical personnel serving our country. EOVs provide an actively engaged, compactly organized, two-day in-port tour of various Navy commands and installations to key educators with the overarching purpose of increasing their understanding of life in today's Navy. Additionally, this will be an opportunity for Nestingen, as an educator, to see prior students at work in their new Navy medicine careers.
"I am honored by the recognition from the Naval Medical Program. I am a psychologist, in part because I believe that each of us can contribute to positive change in the world, and in the individual lives of those people with whom we come in contact," Nestingen said. "As a psychologist and an educator, I am committed to the students finding their best way to make a positive contribution. I am delighted that the quality and caliber of our students and our doctoral psychology program are also recognized by the Naval Medical Program. Our students exemplify the Lasallian principle of together and by association as they bring their talent, passion, knowledge of the science of psychology to their service in the Navy. This recognition from the Navy demonstrates the quality of the Saint Mary's Psy.D. program and the strength and skill of the faculty.
Psy.D. Program Director Ashley Sovereign, Psy.D., said, "Signe works so hard, so tirelessly, and I have never heard of a director of clinical training who does more to prepare students for internships than she does. I love that they see that and also that they're happy with our students."