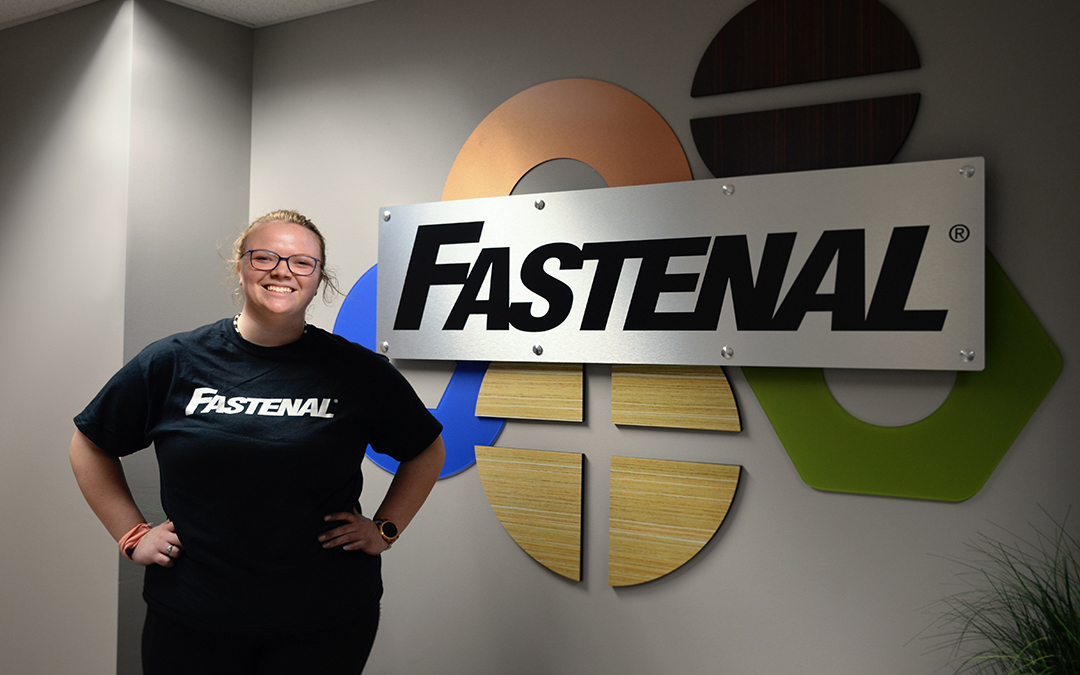 As a college student who isn't from this area, Elizabeth Wright admits she had never heard of Fastenal, even though they're the largest fastener distributor in North America headquartered in Winona.
But all that is changing through Saint Mary's University's new Cooperative Education Program. From now until they graduate, Wright, a sophomore at Saint Mary's, and Jordan Malikowski, another Saint Mary's sophomore, are in the process of becoming immersed in numerous aspects of the business — from distribution to the corporate offices.
Likewise, across town, Kyle Brodt '19 is working at Merchants Bank for 25 hours a week, getting a first-hand look at how the banking world operates.
Saint Mary's co-op program, in its first year, is like an intense internship. Students receive a meaningful work immersion experience while earning credits (and in some cases compensation), all while being able to participate fully in campus life. The program benefits students with real-world experience, a competitive advantage, and a potential job. On the other end of the spectrum, the program benefits employers by providing them a funnel of students with fresh ideas, as well as potential employees — ones who already know the ins and outs of their business before they graduate.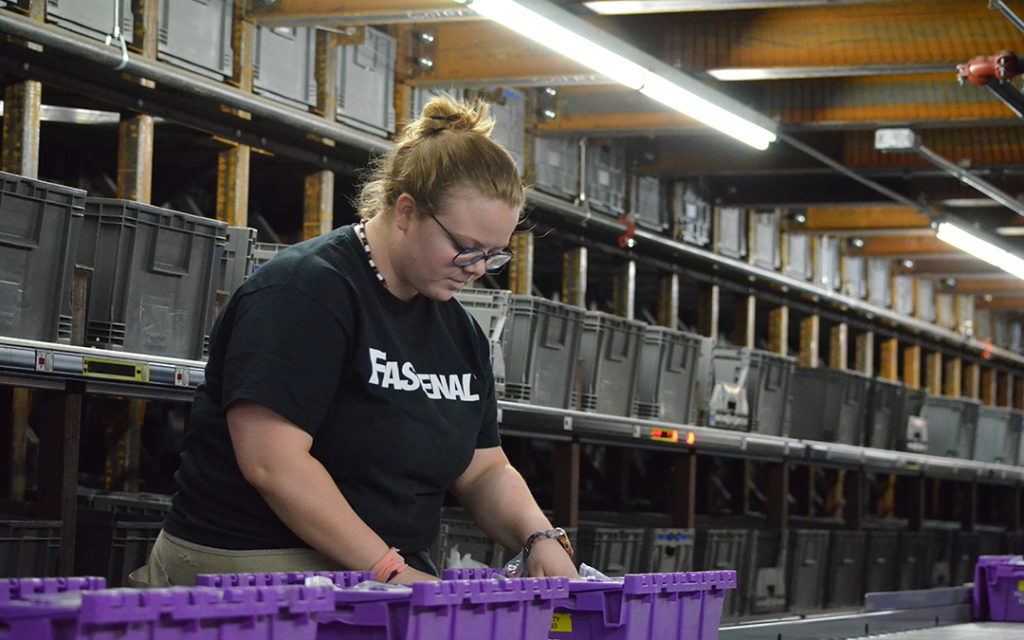 Elizabeth Wright
Wright, an accounting and entrepreneurship major from Harvard, Ill., said she's always enjoyed working with numbers. But where she'll take her degree is still largely unknown.
Her work at Fastenal is helping her explore career options. "Being able to get more than two years of experience before I graduate is a great achievement and is very useful on a résumé and when applying for jobs," she said. "Not a lot of college students can say they have that."
Both cooperative education students are currently working in the distribution center at Fastenal. "They are learning about our product lines, logistics, and how products flow throughout our facility to our stores," said Kylin Lindholm, who works in diversity and compliance support in Human Resources for Fastenal. Both Wright and Malikowski recently finished a 10-week rotation in the receiving department and will transition to the picking department for 10 weeks before completing their final 10 weeks in the distribution center in the sortation department. In August, they'll be placed in the first corporate office rotations.
"Both Elizabeth and Jordan started mid-January 2019 and are doing great thus far in the program," Lindholm said. "They have caught on to the different department duties quickly and are eager to continue learning about our inner-workings and process flow."
Wright, who is working 15 hours a week, said she sees the benefit of working in a variety of areas. "(This rotational experience) allows us to see all aspects of the business instead of just being thrown into the accounting system," she said. "With a lot of accounting internships, you only work in the spring during tax season, but those internships only last about three months and provide you with a very narrow experience. We have touched and understand the product, and we have a better understanding of all the issues that may happen on the back end."
Linholm agrees that the broad overview Wright and Malikowski are receiving will help them as they transition to departments more directly related to their majors, and in the long run, may help Fastenal.
"Depending on the students' career interests, they may be exposed to a variety of rotations within our business, including: accounting, finance, economics, business, communications, computer data science, entrepreneurship, sales, marketing, supply chain, product development, and more," Lindholm said. "Throughout the corporate rotations, they receive customized mentorship based on their future career interests. While being involved in various networking opportunities and career readiness workshops, they will be building a network of peers and mentors."
The largest employer in Winona, Fastenal is growing. "As we expand across the world, our teams at our headquarters expand too, offering employment opportunities within the local community," Lindholm said. "Our Cooperative Education Program exposes students to real-world business situations where they are able to apply their classroom knowledge. Additionally, as prompted by our entrepreneurial culture, students are able to apply valuable insight from previous departmental rotations to each new role they take on, in an effort to improve our business. During the latter portion of the program, we strategically align the students in a rotation where they could see themselves working full time, and encourage them to pursue full-time opportunities within the company upon graduation."
Wright is grateful for the opportunity. "My plan wasn't originally to stay in Winona, but then this opportunity came up and it was very appealing," she said. "Winona has a nice hometown feel, and I'm open to the potential."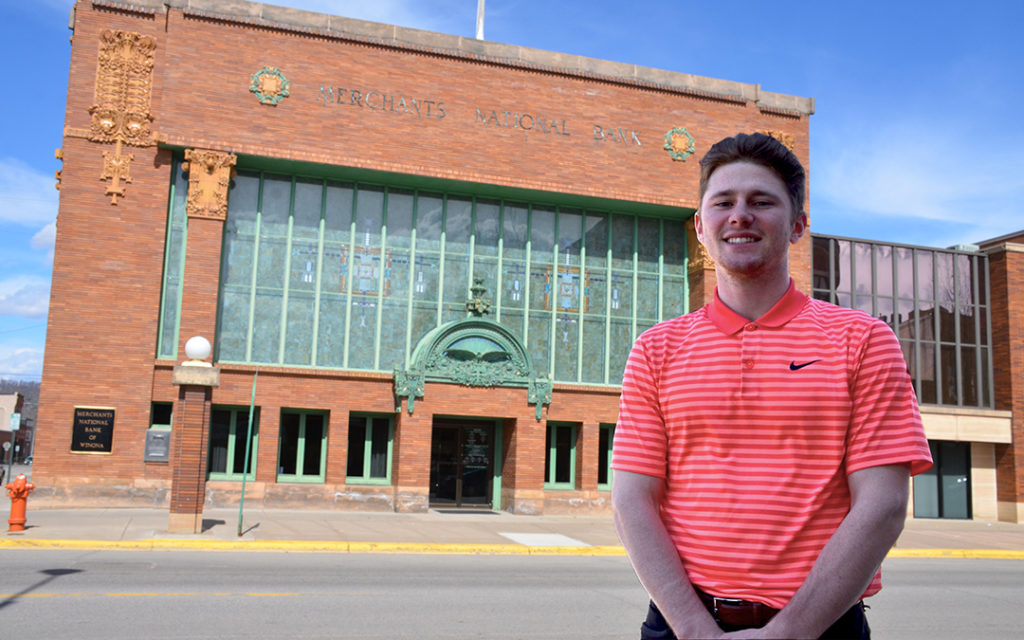 Kyle Brodt
Kyle Brodt, a finance major from Roseville, Minn., may have been destined for a job in finance.
"I've always been a numbers guy. I like money, and I like investing, and I've grown up in a family involved in finance," he said.
Brodt is working as a junior credit analyst for Merchants Bank. As such, he has been working on borrowing base certificates, doing quality control checks, making sure everything meets the bank's standards, inputting information into credit scoring software, and doing some updates to lending cloud software.
Laura Greseth, credit analyst manager and assistant vice president at Merchants, said that Kyle is doing well as their first co-op student.
"Kyle works well independently. Essentially, he needs minimum supervision and he runs with it," she said. "It's been good to have Kyle here because there's always something to do. It's a good experience for him to be in this professional setting and to introduce him to career opportunities and teach him a little bit about Merchants Bank and the banking industry.
"Business majors can get ideas for career areas they like or dislike," she added. "I knew I wanted an analyst job but no one knows until they're in this chair what we do day in and day out."
Brodt began working at Merchants Bank in January. In addition to spending 25 hours on the job, he takes two online courses that involve discussions and a year-end project.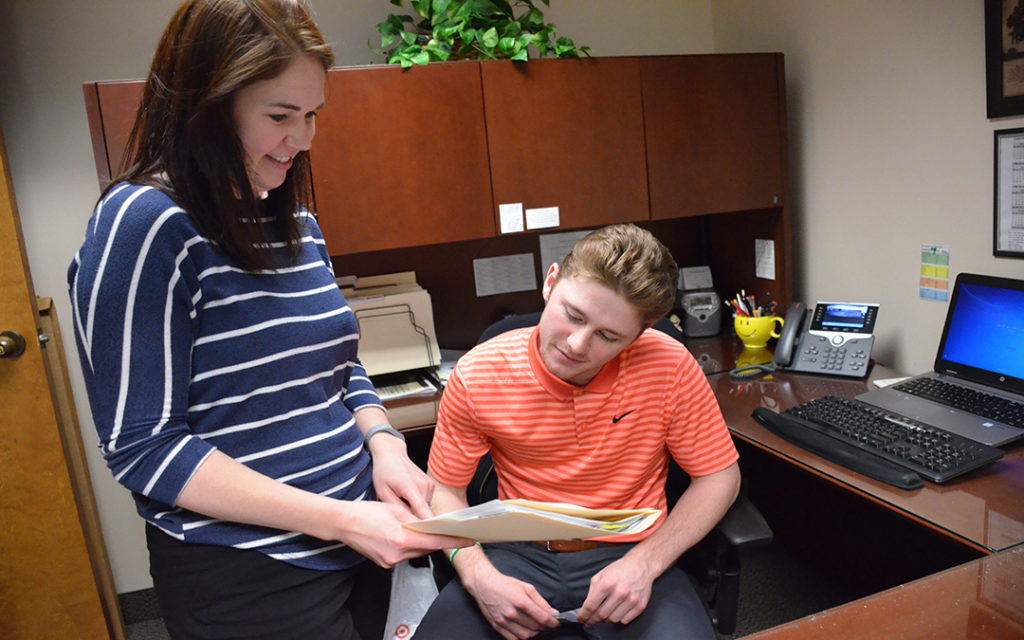 "This was such a great opportunity to jump into the professional working world while I'm still in college," he said. "Merchants and Saint Mary's have allowed my hours to be flexible as a student-athlete on the men's golf team."
Greseth said that ideally, Merchants would like to offer their co-op students full-time employment after graduation. "If the situation is right and he does decide this is a route for him, this would be a really good foot in the door," she said.
Brodt knows that as he's applying for jobs, this experience helps him rise above the competition. Although he is applying to a number of different companies, he's also excited about the opportunities Merchants Bank provides.
"I hope to go back to the Twin Cities area, and Merchants Bank has locations near the Cities. I'm open for anything," he said. "The co-op program is a huge advantage. The environment at Merchants is very open and friendly, and they are very customer centric. I would recommend this program to anyone."