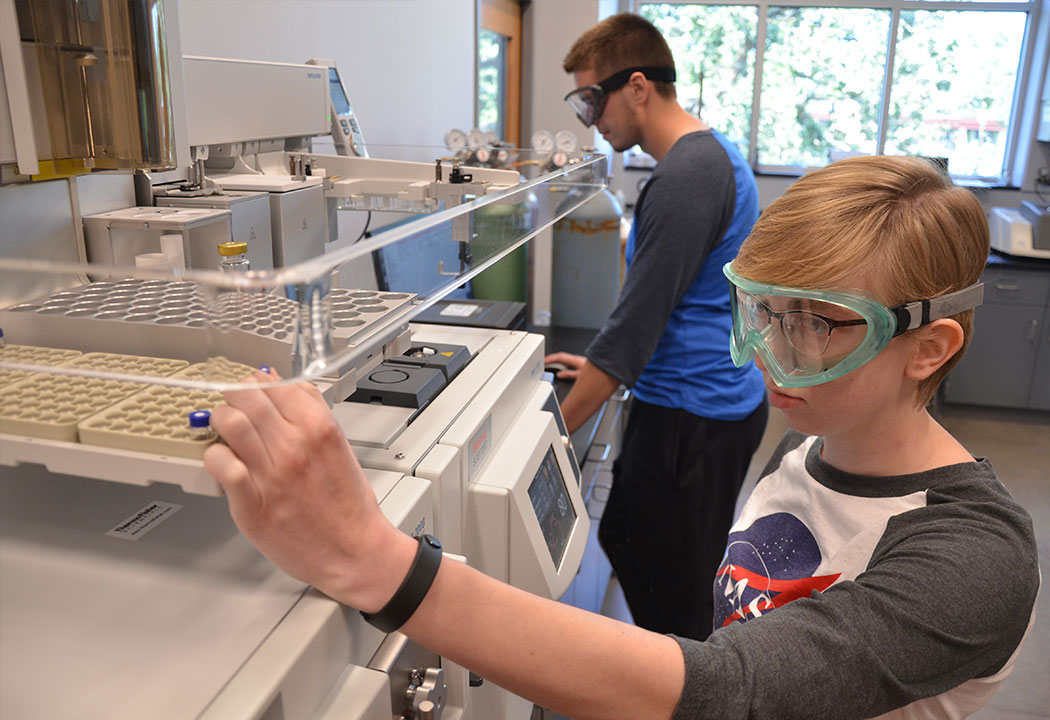 Photo caption: Chemistry majors Allison Miller '19 and David Kemper '19 use the new Gas Chromatograph Mass Spectrometer.
As senior chemistry majors at Saint Mary's, David Kemper and Allison Miller spend quite a bit of time working in a lab.
But now, with a new ThermoFischer Gas Chromatograph Mass Spectrometer, they will spend less valuable time waiting to analyze compounds. Answers are literally at their fingertips within a minute or two.
By using this new gas chromatograph (GC), coupled to a mass spectrometer (MS), Saint Mary's students are now able to separate, identify, and quantify complex mixtures of chemicals at a whole new level.
Kemper will be using the equipment this fall in his quantitative analysis class. "We'll be using the machine to run multiple samples at the same time to determine what their composition is," he said. "This is a very important piece of equipment because it's what students would be out using in the real world. Having a machine that they can practice on and get use to is an invaluable experience."
Miller said she knows many of her classmates will benefit from the new technology; she may also be able to utilize the equipment to characterize ligands synthesized during her senior research project.
Far more advanced than the university's previous GC-MS Capability, this new equipment will be highly utilized by students in the teaching labs for organic chemistry, quantitative chemical analysis, environmental toxicology, and instrumental analysis. It is also the main instrument of analysis for senior chemistry and biology research projects.
Dr. Nathan Lien, associate professor of chemistry, said he is overwhelmed with the possibilities that this new instrument — made possible by a generous gift from RTP Company of Winona — offers the university and its students.
"The new instrument has higher sensitivity, meaning that it can detect much smaller amounts of compounds than the older instrument," he said. "This will greatly assist the students who are analyzing for trace quantities of compounds in water and biological samples."
Only small amounts of material are required, the analysis is quick, and the wealth of molecular instruction available is astounding.
Kemper is amazed that the instrument can be used remotely. "The ability to collaborate on projects and share information with people over great distances is pretty great," he said.
Another huge benefit, Dr. Lien added, is the robotic auto-sampler. "It has the ability to perform three types of sampling: liquid, headspace (the air above liquid in a vial), and solid phase microextraction (SPME), which is a method of concentrating small amounts of analyte onto a fiber)," he said.
"In addition to being able to run unassisted, day or night, the auto-sampler is able to seamlessly switch between sampling types," he added. "For example, our organic chemistry lab students could place their liquid samples in a sampling tray and set the instrument to run. Shortly after, a research student could add their samples to another sampling tray to perform SPME analysis. The system will run unassisted during the evening (or overnight) and switch between liquid and SPME; both the lab and research students will have their data available to them in the morning."
Additionally, Dr. Lien said, users can set the instrument to analyze a wide variety of samples using one of many published methods or devise a new one if there isn't one.
"This equipment is way cool," Miller said. "It has a really neat read-out monitor on the front of the column oven now! The software with it is also really great, it displays both sets of spectra (gas chromatograph and mass spec) in real time. The equipment is very beneficial."
By using this new equipment, grateful students will have more precise measurements, in less time, leaving them with more time to do research — and less time waiting for results.
"RTP Company is grateful to have such an outstanding university as Saint Mary's within our community," said Steve Maki, vice president of technology at RTP. "We hope that the equipment will contribute to the critical research that is being carried out by the university and will enhance the educational experience of the students and professors that use it for years to come."