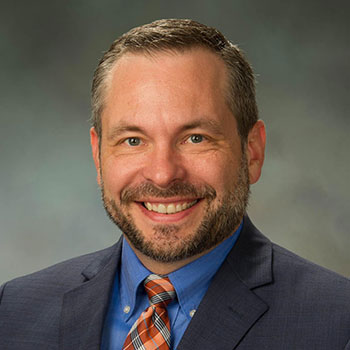 After a nationwide search, a new dean of the School of Education has been appointed and will be joining Saint Mary's on March 1. Michael Lovorn, Ph.D., an accomplished leader in education and administration, comes to Saint Mary's from the State University of New York (SUNY) College at Buffalo. There, he served as assistant dean for global engagement, director of the International Graduate Program for Educators, and director of sponsored programs.
He earned his Ph.D. in Curriculum and Instruction at the University of Tennessee in 2003. Prior to completing this degree, he taught middle and high school history, government, and other social studies courses for over a decade. Since 2003, his work has centered on teacher education, curriculum development, and international programs. He has over 10 years of experience developing and directing comprehensive traditional, hybrid, and online education programs. He has also served as an educational consultant and taught on-site graduate education courses in over 30 international schools on five continents.
A highly-regarded, well-published, and active researcher and grant writer, Dr. Lovorn's areas of expertise include historiographical analysis and comparative histories, international education, humor in the classroom, and teaching global competencies.
With educating educators a cornerstone of Saint Mary's mission, and in support of the university's strategic plan "Building a Future Full of Hope 2025," he is charged with establishing and championing an inspiring vision for the School of Education that integrates Lasallian Catholic principles and values with Character Education and Virtue Formation.
"Education is a highly-personalized process of imparting and acquiring knowledge, fostering independent reasoning skills, and developing the ability to make informed decisions," Dr. Lovorn said. "I believe that in addition to facilitating learners' academic and intellectual development as cognizant, competent citizens, teachers should seek to help them emerge as freedom conscious, values-driven individuals, and I think my vision aligns quite well with Saint Mary's Lasallian Catholic mission."
We look forward to Dr. Lovorn, an outstanding scholar, educator, and global strategic thinker, joining Saint Mary's. With a firm focus on outcomes, Dr. Lovorn will advance our strong reputation in preparing highly skilled teachers and administrators and will look to the future in meeting the needs of students and the educational community. He will be identifying new audiences, enhancing content, and leveraging our modes of delivery that meet the needs of those audiences, including online learning and its application to undergraduate and graduate professional programs and certifications.
In his new position, Dr. Lovorn will oversee a renowned school with 200 undergraduate students and over 1,500 graduate and professional program students, both on ground and online.
Thanks to Lynn Albee, Ed.D., who has served as interim dean of the school while the search was underway. Dr. Albee will transition to senior associate dean upon Dr. Lovorn's arrival.
Many thanks also to the search committee, chaired by Michelle Wieser, Ph.D. Other committee members included Jack McClure, Ph.D.; David Ulaszek; Tianna Johnson; Abram Hedtke; Nancy Van Erp, Ph.D.; Rod Schwarz; Father Bob Horihan, Ph.L.; and Skip Nolan, Ph.D. The process involved meetings with faculty, staff, and presentations on behalf of the finalists. The committee is to be commended for their fine work, especially in the midst of a pandemic.
Father James P. Burns, IVD, Ph.D, Saint Mary's president, said, "I join our provost in thanking our search committee for its work in producing such a fine candidate in Dr. Lovorn, and I look forward to welcoming him to the university."