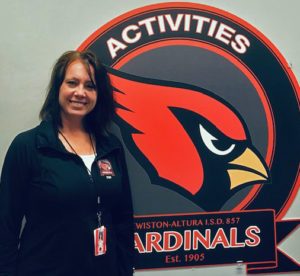 Kelsey Philipsek remembers ending her first day of teaching middle school in tears — not because she was frustrated or overwhelmed but because of immense joy. For the first time in her professional life, she found where she felt she belonged.
"It was truly the best day," she said. "And I've continued to have even better days since."
Philipsek is now in her second year of teaching eighth-grade algebra and technology education at Valley Middle School of STEM in Apple Valley. She is also working toward her Master of Art in Teaching at Saint Mary's University of Minnesota, where she was recently named a Noyce Scholar.
This past year, the university was awarded a $1.18 million NSF Robert Noyce Teacher Scholarship Program grant in support of the university's Inclusive STEM (Science, Technology, Engineering, and Math) Teacher Education Pipeline (iSTEP) Project. iSTEP is designed to increase the number of secondary STEM teachers from diverse backgrounds who are committed to teaching in high-need areas to help alleviate teacher shortages in the area of science and mathematics.
For Philipsek, it was a long road to becoming a teacher.
"When I graduated from high school, I really didn't know what I wanted to do, and all of my school counselors said, 'Well, you're really good at math and science, you should become an engineer because that's what successful people do,'" she said.
Taking their advice, she enrolled in a civil engineering program at her undergraduate college. Philipsek took to the math courses that were required for her degree, but she didn't find herself enjoying the core engineering.
"I loved the math courses so much, I decided to get a minor," she said. "And then I finished all my math courses, and I wanted to take more as a way to cope with my engineering degree because I didn't like it. But I was so far along in the degree, I didn't change."
With the desire to take more math courses, Philipsek left college with two degrees: civil engineering and math. After graduating, she found herself working at several engineering firms, but she still wasn't enjoying the profession.
"I tried everything," she said. "I worked all over the U.S. and I worked on all kinds of projects scaling from multibillion-dollar projects to smaller projects and nothing really kept me intrigued."
After serious contemplation of what she wanted to do with her career, Philipsek decided her skills could be best used in the classroom. She says her decision to become a teacher wasn't solely based on her love of math. Philipsek wants her students to be able to pursue their interests.
"The reason I wanted to get into education wasn't necessarily to teach math. Obviously, I love math. But that's not my goal," she said. "My goal isn't to get kids to like math. My goal is for students to realize that math isn't a barrier to pursuing something that they want."
As a student at Saint Mary's and Noyce Scholar, Philipsek knows she'll be well equipped to continue that goal.
"Since I was named a Noyce Scholar, I've had so many people reaching out to me and connecting with me, and it's been amazing," she said. "Being able to know that going into my career, I know I'll have this network of people and community (from Saint Mary's) that I can rely on."