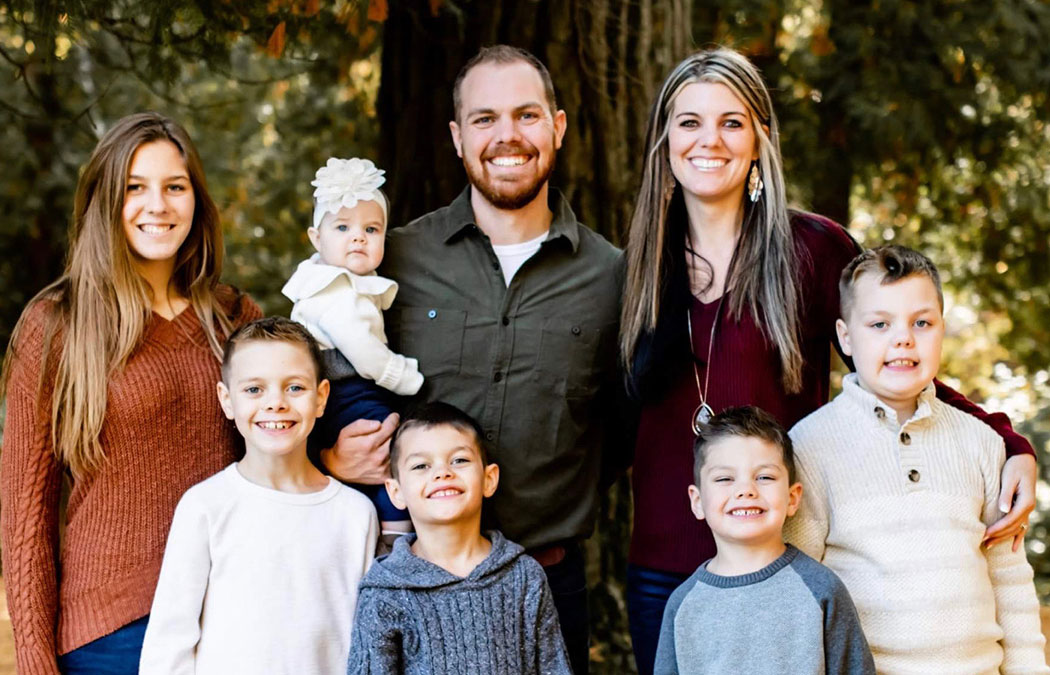 For three years, David Johnson M'19 precariously balanced his work, family, and school schedule by utilizing time management skills — and a fair amount of caffeine.
As a student in the Saint Mary's University of Minnesota Graduate Program in Nurse Anesthesia, Johnson would get up around 3 a.m. at his home in Duluth to make it to the Twin Cities Campus by 6 a.m. He would go to class (or clinicals), drive back home to tuck his children to sleep, and study for a few hours before calling it a day around midnight.
"Usually when I would leave, I would make a whole French press coffee, put it in a thermos, and I would just drink that all day," said Johnson.
All of the effort, though, has been worth it.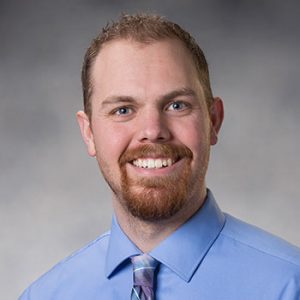 After finishing the master's program in August 2019, Johnson, 33, became a certified registered nurse anesthetist (CRNA) at St. Luke's Hospital in Duluth.
Johnson began his current role in September 2019, just six months before the start of the COVID-19 pandemic. Within a few weeks after new safety protocols took effect at hospitals, Johnson and his fellow nurse anesthetists — many of whom have degrees through the program at Saint Mary's — decided to conduct research on how to properly use personal protective equipment (PPE) while mitigating the threat of contamination.
"We educated ourselves and then took that education to help calm the fears of our co-workers," Johnson said.
On a larger scale in Minnesota, during the height of pandemic, CRNAs have been called upon to perform some duties that are generally done by intensive care unit (ICU) nurses, such as putting in central venous lines and intubating patients. That's because Minnesota is one of a few states where CRNAs must hold both a registered nurse (RN) license and an advanced practice registered nurse (APRN) license — along with an anesthesia certification.
Building 'a good base'
Johnson began at Saint Mary's in May 2017, after working at St. Luke's as a RN in the general ICU for four years, following three years as an RN in Milwaukee.
"I wanted to build a good base of nursing knowledge and intensive care knowledge — and then make an informed decision from there," he said.
He is grateful for his experiences as an RN, but always gravitated toward the idea of working as a CRNA.
"It's everything that you can do as an ICU nurse, amplified by 100 in a lot of ways because you have to make split-second life or death decisions and be ready at any second to act," Johnson said.
Johnson began to gain a sense of autonomy in particular while completing two clinicals at rural locations: in Hayward, Wis., and Aitken, Minn. The hospitals are just two of 40 locations where Saint Mary's nurse anesthesia students can take part in clinicals throughout the region.
"There are things that you learn as an independent practitioner that you could never learn in the team approach, because you're making the decisions for the anesthesia plan," Johnson said, adding that his rural clinical helped train him into the CRNA he is today.
"I think that's the real benefit we have at Saint Mary's is the ability to have our students out in rural locations, for eight, 16, or 24 weeks," he said. "Students in other programs only get perhaps two weeks of rural clinical, and then they're working under an anesthesiologist the rest of their clinical rotations. They don't have that ability to have that independent side that we have at Saint Mary's."
Additionally Saint Mary's M.S. in Nurse Anesthesia program is one of just four programs in Minnesota to be accredited by the Council on Accreditation of Nurse Anesthesia Educational Programs. It recently celebrated its 10-year reaccreditation.
Volunteering to help
Upon arriving at Saint Mary's in 2019, Leah Gordon, DNP, Nurse Anesthesia program director, was touched by Johnson's kindness. Gordon said she was fairly dependent on the students to help her appreciate the program's nuances.
"David was one of the students who told me different things about the program — and did it in a really professional and respectful way," Gordon said.
Furthermore, Johnson volunteered to interview prospective students before finishing. After graduating, Johnson became a remote part-time professor for a portfolio course on the variations of professional writing and presentations.
"I wanted [incoming students] to have as good of an experience as they could coming through school, and to be as prepared as they could be when they were done," he said.
Photo caption: David Johnson M'19 and his wife, Melinda, find a way to balance two careers while taking care of their six children. David works as a CRNA at St. Luke's Hospital in Duluth, Minn., where Melinda also works as a surgical technician.