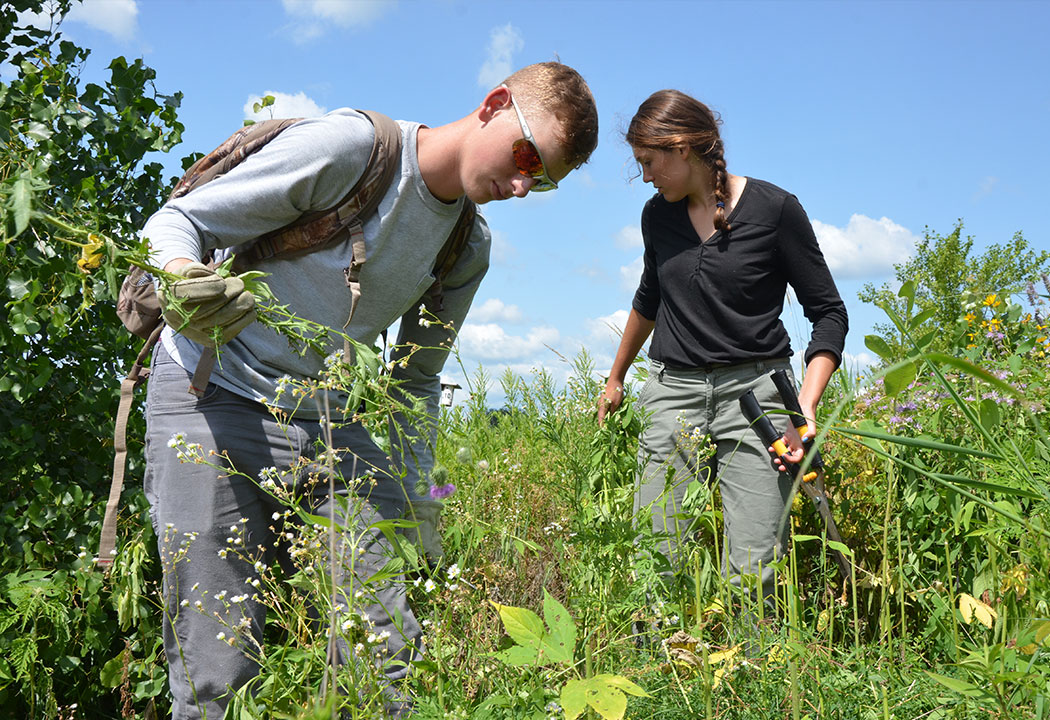 Saint Mary's University science interns spent the summer researching area bat habitats, testing local waters, and removing invasive species.
Not only did they gain valuable research techniques and knowledge (like how to distinguish the call of a brown bat from a red bat, how to avoid wild parsnip, and what effects nutrient pollution has on water quality), they also learned how their work can contribute to helping issues on local, regional, and even potentially national levels.
Bat research
Dr. Ben Pauli and Ben Borash '20, an environmental biology major from Bowlus, Minn., are hoping their contributions can eventually help end a bat epidemic.
"The reason why studying bats is so important is that bats are at this conservation crisis crossroads," Dr. Pauli said. "They're suffering from white-nose syndrome, a fungus that infects them during hibernation. It started in New York state 12 years ago and is moving westward. It's only been in Minnesota a couple of years."
Dr. Pauli explained that the syndrome causes bats to wake up too much during hibernation, which causes them to burn too much reserve energy for them to be able to survive.
"When a cave gets infected with this disease, 95 percent die. Over the past 12 years, we're talking 7 million dead bats in U.S. It's a crisis," he said. "Because each female typically only has one pup, populations don't bounce back quickly."
Their ongoing research goal is to make sure bats have the best circumstances possible when they come out of hibernation, beginning with studying their summer habitats.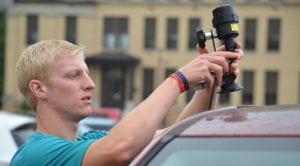 As part of his 400-hour internship, Borash recorded bat calls with special equipment he attached to the top of a van. Slowly traveling about 30 miles a night, Borash covered several routes and eight survey sites. "We started our routes a half hour after sunset," he said. "If it was raining or windy, we couldn't do it because bats won't come out in these conditions.
"Studying bats was never something I had thought of doing before, especially echolocation monitoring," he added. "Now I definitely have a heightened appreciation for them. There are seven species of bats just in this area."
Bats, Dr. Pauli said, are constantly making noise and sending out signals, but because their calls are so high pitched, humans can't hear them.
"I had no idea that each species of bat has a very distinct call," Borash said. "We can identify them solely based on their calls. Also, we can determine where they are living. They like to live in trees, but they also like the open spaces because that's where the bugs are. That's where we tended to get more calls."
At this point Borash said he can only pick out a couple of species' calls, but he'll be working more on that in coming weeks as listens to the recorded calls. Then he'll use Geographic Information System-related software to calculate which environmental factors are important to the bats' habitat.
"What about the landscape attracts bats to those spots? Is it wooded, near water, near agriculture? He'll identify the features of the environment," Dr. Pauli said. "Then we can start answering questions about what bats like. And then we can apply that knowledge to the conservation crisis."
In addition to his own research, Borash also contributed to a statewide DNR bat monitoring program in Wisconsin.
"It's almost humbling knowing that this could have an impact, no matter how small," Borash said. "Especially since it's not something we know a lot about at this point, we're on the front line of that research."
Borash, who hopes one day to get a job as a park ranger, appreciates the opportunity to work outdoors, do cutting edge research on bat habitat selection, and work so closely with one of his professors. "It's a lot different seeing professors in a classroom, as opposed to out doing research," he said. "Oftentimes this is why they got into teaching, because they live for this research. It's great to see how passionate they are about their work."
Water quality research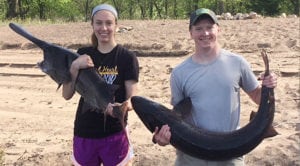 Josh Balsiger '20 and Michele Remer '20, both environmental biology majors, spent the majority of their summers on boats or in the lab as they studied the health of the watershed around Lake Winona.
The students, led by Dr. Josh Lallaman, went to nine sites around Winona and its watershed to take dissolved oxygen and temperature measurements and to collect water samples, which they analyzed in the lab for nutrients, phosphates and nitrogen levels, conductivity, pH levels and chlorophyll.
"This data is going directly to the county, which is going to use data to make decisions about how to manage and improve water quality in Lake Winona," Dr. Lallaman said. "So it's a great opportunity for students to collect real data and a good collaborative building experience between the university and local government."
At issue, he said, is the fact that Lake Winona is too green, a result of algae that is a direct result of having elevated amounts of nutrients, nitrogen, and phosphorous that are coming in from locations like Gilmore Creek. "From our preliminary results, we've confirmed previous studies that say Gilmore Creek contributes some of those nutrients. Some still comes out of Boller Lake and enters Lake Winona. It's still coming from lots of different places. It's good preliminary data to address this problem."
"It's cool that we are helping inform decisions that need to be made at a policy level and a personal level in order to take the watershed to a new area," said Balsiger, a Camas, Wash., native.
Balsiger said increased phosphorus allows for more plant growth and this increase comes from both agricultural runoff from pesticides, as well as urban runoff. "Storm sewers don't have drainage systems, and that leads to an abundance of algae in Lake Winona," he said.
The students also completed a soil workshop with Dr. Lallaman where area farmers learned about soil health and how to analyze soil samples, and they also assisted Dr. Lallaman with other research by weighing and tagging sturgeon, paddlefish, and carp on the Mississippi.
"This summer internship is a great experience to get to know students better, get to know what their career interests are, get to know them on a personal level, and work on their strengths and weaknesses," Dr. Lallaman said. "We can make helpful suggestions on further career development while they are here or after they leave Saint Mary's."
Both Balsiger and Remer know they'd like to continue working in science research. Remer would like to work outside of the U.S.; Balsiger wants to eventually get his master's degree.
"We're getting field experience and that's something that not a lot of undergraduates get to have," Remer said. "We're also working one-on-one with professors. We get to know them pretty well and help build relationships," the Grand Forks, N.D., native added.
These students know that getting letters of recommendation from professors who know them well and know their capabilities is invaluable. And the time they've spent learning proper lab techniques will help them throughout their educational journey and beyond.
"We talk about that we would do this every summer if we could," Balsiger added. "Next summer, some new lucky person gets to learn all the things we learned. We spend half the time exploring the world and half the time feel like a scientist doing these amazing things."
Prairie restoration
Erin Hettinger '20 and Cole Van Houten '21, both environmental biology majors, spent the majority of their summer internships at Saint Mary's Cascade Meadow facility in Rochester, where they learned about plant identification and helped with invasive species management and other prairie restoration efforts.
"We go around cutting and pulling species that shouldn't be there," Hettinger said. "I like the idea of conservation in general, so this was a great experience. There is so much work that goes into restoration, the planning, and seeing what techniques work and what doesn't."
The Lindenhurst, Ill., native hopes to go to grad school but is not sure what area she wants to pursue. "I love environmental biology, and I love being outside but wasn't sure about career options," she said. "I liked the idea of restoration and this was a perfect way to get my foot in the door to see if it's something I'm interested in."
Earlier in the year garlic mustard was a primary target; later in summer they focused on eliminating wild parsnip. "If you touch it, it burns your skin," Hettinger said. "Because it tends to grow right along the trails, it's not good if visitors get exposed to that."
The two are collecting data on where parsnip is located and determined there was no correlation between density and the height of the plants. Their goal is to build a model to predict in the future locations that the invasive species will flourish. "So we can predict where to put management efforts in the future," Hettinger said.
Van Houten of Pine Island, Minn., enjoys being outdoors, so he knew the summer internship would be a great experience, as well as a resume builder. He hopes one day to study wildlife biology, particularly mountain lions.
"Cascade Meadow was formerly farm land so we're helping bring it back to its native prairie by taking out invasive plants like parsnip, and garlic mustard, and other various invasives," he said. It's nice to see how Saint Mary's is using that property and taking care of it. It felt nice to be part of something, to better the land stewards there and keep it a prairie."
As part of their summer research, the two also had an opportunity to do water sampling on the lake at Cascade Meadow with Dr. Lallaman.
"There's nothing quite like being able to experience a whole growth season for a plant community," said Dr. Moni Berg-Binder. "That's really key for those students interested in this area, to get them connected to the land in a different way than before.
"With our entire internship program, the idea is that our students are able to gain hands-on, in-the-field experience that supplements what they gain in the classroom," she added. What they can gain from the internship experience is they are not just learning about management of some of these species, they're actually out there managing the invasive species and getting the real-world experience."
In the beginning, she said, students are mentored, but as the summer progresses, they gain more independence. She said she and Kathy Kilkus Allen from GeoSpatial Services are able to back off intentionally so students "gain that ability to problem solve independently and work through different scenarios on their own, knowing that we're a phone call away if they need us."
Work at Cascade Meadow integrates research in invasion ecology with restoration management. By focusing on wild parsnip, she said, they can learn about target management and see the value of their research in an applied way.
On a personal level, Dr. Berg-Binder said, summer science internships is in keeping with Saint Mary's Lasallian mission. "Part of our Lasallian heritage is to be kind of that big brother or big sister role model," she said. "Students can see how we balance work and life. That's important for those who are looking at career paths like we've chosen."
All the students had opportunities to crisscross in their research, getting a taste of all three research areas. And, in November, each student will be making poster presentations at conferences.
"With all of our internships, the goal is to produce an outcome that they can share in some way — to take research a little further," Dr. Berg-Binder said.
Photo caption: Cole Van Houten '21 and Erin Hettinger '20 helped with invasive species management and other prairie restoration efforts at Saint Mary's Cascade Meadow facility in Rochester, Minn.