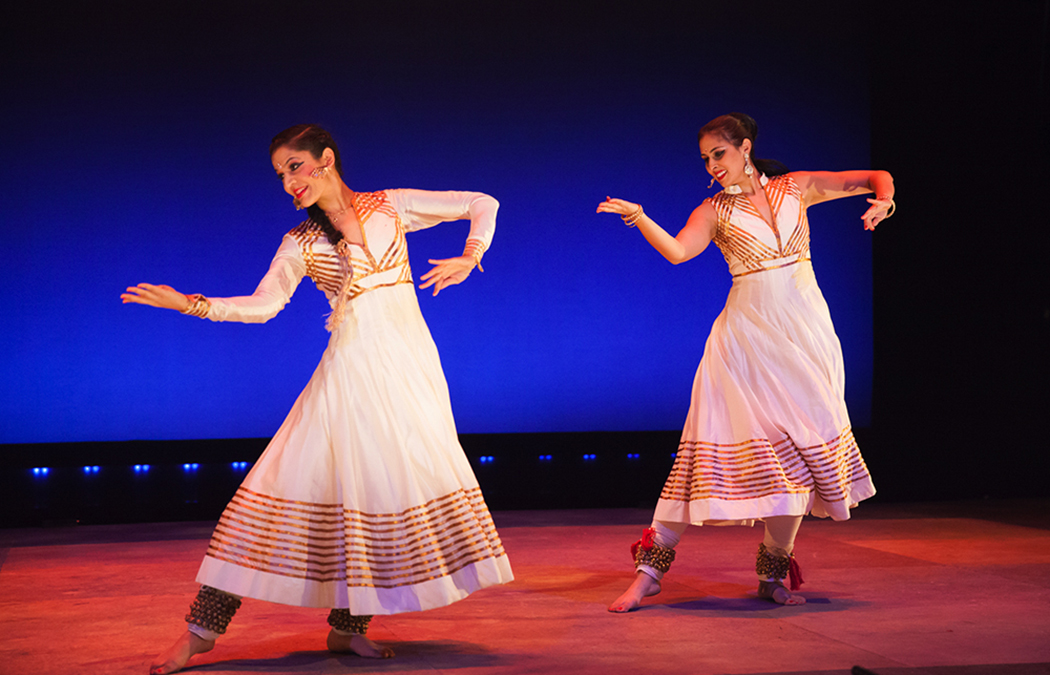 Leela Dance Collective, Michelle Dorrance, and Dormeshia to perform and offer a week of programs throughout the community
Winona, Minn. — The Page Series at Saint Mary's University of Minnesota brings the Leela Dance Collective and world-renowned tap dancers Dormeshia and Michelle Dorrance to Winona Monday through Saturday, March 23-28, for a week of residency activities and a performance of their original dance and music production SPEAK.
Bridging tradition and innovation and history and progress, Indian kathak and American tap dance, continents and ages apart, share parallel stories of struggle and perseverance. In SPEAK, kathak dancers Rachna Nivas and Rina Mehta (torch bearers of the late master Pandit Chitresh Das' famed lineage), as well as jazz tap dancers Michelle Dorrance (a MacArthur Award winner) and Dormeshia (of the Tony Award-winning Bring In Da Noise, Bring In Da Funk) bring to the forefront the voices of a new generation of powerful female artists.
SPEAK breaks creative barriers, celebrates two contrasting forms of expression through cross-cultural performances, and highlights the vacuum of female artists in two male-dominated dance genres. The production serves as an example for intercultural collaboration and global citizenship, a dialogue of rhythm, poetry, storytelling, music, and dance hailed as "… an evening of rhythmic magic" (Los Angeles Dance Chronicle).
Providing a live musical score by Allison Miller and Jayanta Banerjee are a trio of classical Indian musicians, led by sitarist Jayanta Banerjee, and a trio of American jazz musicians featuring pianist Caili O'Doherty. They are joined by Dan Kurfirst on piano, Keala Kaumeheiwa on bass, Debasish Sarkar on vocals, and Satyaprakash Mishra on tabla.
Kathak comes from the word "katha" which means story. The kathakas were storytellers that travelled from village to village in ancient India telling the stories of the great Hindu gods and goddesses. While the depiction of Hindu iconography remains visible in modern day kathak, the tradition of telling epic tales through kathak has been left behind by most contemporary practitioners of the art form in favor of more contemporary, abstract, or accessible explorations.
Tap is an indigenous American dance genre that evolved over a period of some 300 years. Initially developing out of West African musical and step-dance traditions — along with influences from other rhythmic forms such as Irish step dance — tap emerged in the southern United States in the 1700s.
The inspiration for SPEAK comes from the late kathak master Pandit Chitresh Das' work with tap dancer Jason Samuels through their collaboration, "India Jazz Suites." After Das' death in 2015, the Leela Dance Collective was formed to continue his legacy.
Residency Activities
Beginning Monday, March 23, members of the SPEAK cast will be in Winona to offer workshops, artist talks, and events designed to share the history and background of their work. All are invited to participate in free events throughout the week, including:
Introduction to Kathak workshops:

Monday, March 23, 7:30 p.m. at the Valéncia Arts Center
Tuesday, March 24, 10:45 a.m. at the Winona Friendship Center (call 507-454-5212 to register)

A Page in History: Kathak and Tap Dance

Tuesday, March 24, 12:05 p.m. at the Winona County History Center

Tap and Kathak Master Class for Intermediate/Advanced dancers

Tuesday, March 24, 4 p.m. at the Valéncia Arts Center (register at pagetheatre.org)

Artist Talk: How I learned music without learning to read a measure of it

Wednesday, March 25, noon in the Figliulo Recital Hall (Saint Mary's Performance Center)

Meet the Artists Event and Tap Jam

Wednesday, March 25, 5 p.m. at Island City Brewing Company

The Music of SPEAKLecture-Demonstration

Thursday, March 26, 4 p.m. at the Page Theatre

Documentary Screening: Upaj: Improvise

Thursday, March 26, 7 p.m. at Winona State University (Science and Laboratory Center, Room 120)
Company members will also participate in the Driftless Dance Festival on Saturday, March 28:
Rhythm and Movement for Families

10:15 a.m. at the Winona Family YMCA

Artist Panel and Lunch with the Artists

11:45 a.m. at Acoustic Café

Introduction to Kathak Workshop

2 p.m. at Valéncia Arts Center

Tap Master Classes at Valéncia Arts Center (fee-based events, registration required)

10-11 a.m. • Michelle Dorrance • Open to dancers ages 10 and older
1:15-2:45 p.m. • Michelle Dorrance • Open to dancers ages 13 and older
3-4:30 p.m. • Dormeshia • Open to dancers ages 10 and older
In addition, the artists will work with groups from Home and Community Options and Riverway Learning Community during their week in Winona. Area school groups are also invited to attend a school matinee performance of SPEAK on Friday, March 27, at 12:30 p.m. at Saint Mary's.
Full activity descriptions and registration information is available at pagetheatre.org.
SPEAK will be performed Friday, March 27 at 7:30 p.m. in the Page Theatre. Tickets to SPEAK are $30 for adults, $27 for students and seniors, and $24 for youth, and may be purchased online at pagetheatre.org or by calling the Performance Center box office at 507-457-1715 (noon to 6 p.m., weekdays). Performance tickets are also available at a reduced rate when ordered as part of a Driftless Dance Festival pass.
To view the SPEAK trailer: https://bit.ly/34knqpZ
Additional SPEAK videos: https://bit.ly/30nzjKq and https://bit.ly/2QYLeuY
About the Artists
Rachna Nivas is a charismatic performer, mentor, and powerful leader amongst today's generation of Indian classical artists, bringing a contemporary voice to kathak. Deemed "revelatory" by the San Francisco Chronicle, she has an extensive performance career to great acclaim across the U.S. and India. She is a senior disciple of the late legendary master, Pandit Chitresh Das, and the former director of the Chhandam School of Kathak, one of the largest classical Indian dance institutions in the world. www.rachnanivas.com
Rina Mehta, founder and artistic director of The Leela Institute, is one of the most powerful Kathak artists of her generation. She is a senior disciple of the late Pandit Chitresh Das and has performed to great acclaim across the United States and India, both as a soloist and principal dancer with the Chitresh Das Dance Company. She received a Fulbright Award for Dance, and is a pioneer and strong leader amongst her generation, taking Kathak forward and carving a place for the ancient art form in modern times. www.rinamehtakathak.com
Dormeshia Sumbry-Edwards has been a part of almost every major tap movie or show that has appeared in the history of tap dance since the 80s, including the Tony-winning Bring in Da Noise, Bring in Da Funk. Accolades include an Astaire Award for Best Performance, the Bessie Award, and the Hoofer Award. She is founder of Harlem Tap Studio and performs extensively at shows and festivals around the world. Dormeshia was also Michael Jackson's private tap instructor for 11 years. She is revered as one of the most dynamic performers in the industry today. www.divinerhythmproductions.com/DormeshiaSumbryEdwards.html
Michelle Dorrance is a New York City–based artist who has appeared in STOMP, Derick Grant's Imagine Tap!, Jason Samuels Smith's Charlie's Angels/Chasing the Bird, Ayodele Casel's Diary of a Tap Dancer, and Mable Lee's Dancing Ladies. Company work includes: Savion Glover's Ti Dii, Manhattan Tap, Barbara Duffy and Co., JazzTap Ensemble, and Rumba Tap. Solo work ranges from The Late Show with Stephen Colbert to commissions for the Martha Graham Dance Company and American Ballet Theatre. A 2018 Doris Duke Artist, 2017 Ford Foundation Art of Change Fellow, and 2015 MacArthur Fellow, Dorrance has received honors and support from United States Artists, the Joyce Theater, New York City Center, the Alpert Awards, Jacob's Pillow, Princess Grace Foundation, The Field, American Tap Dance Foundation, and the Bessie Awards. www.dorrancedance.com
The Leela Dance Collective was founded in 2016 by Rina Mehta, Rachna Nivas and Seibi Lee, senior disciples of legendary kathak master Pandit Chitresh Das, along with leading kathak performers Sarah Morelli and Shefali Jain. It is the only one of its kind Indian-American dance company that brings together leading kathak artists from around the world representing a multitude of voices to articulate a clairvoyant vision for kathak. The collective is distinguished by an artistic practice that centers around collaboration and collective creativity and a body of work that is at once grounded in tradition and boldly innovative. In its two-year history, the collective has already begun to make an indelible mark on the field of kathak and world dance with its rigorous technique, dynamic choreography, fashion-forward costuming, and sophisticated musical scores.
The collective has garnered critical acclaim across the United States and internationally for its groundbreaking productions from SPEAK, a collaboration that brings together leading female artists in kathak and tap, to Son of the Wind, a traditional dance ballad based on India's epic, the Ramayana. With home season performances in San Francisco and Los Angeles along with national and international touring, the collective performs for more than 10,000 people annually. Past highlights include appearances at The Broad Stage, the Green Music Center and Yerba Buena Center for the Arts. The collective's productions and performances have been supported by the National Endowment for the Arts, the California Arts Council, the Zellerbach Family Fund, the Esper Petersen Foundation and New Music USA. theleelainstitute.org.
About the Page Series
Now in its 33rd season, the Page Series connects professional performing artists from around the globe with thousands of Winonans each year. With events at the Joseph Page Theatre on the Winona Campus of Saint Mary's University of Minnesota, as well as at locations across the Winona community, the Page Series offers dance, music, and theatre performances, workshops, classes, and more that inspire, uplift, educate, and invite community members to discover the relevance of the arts in their daily lives. www.pagetheatre.org
This activity is made possible by the voters of Minnesota through a grant from the Minnesota State Arts Board, thanks to a legislative appropriation from the arts and cultural heritage fund.
Driftless Dance Festival activities are supported, in part, by an award from the National Endowment for the Arts.
Page Series community programs are made possible in part by a grant from the Xcel Energy Foundation.