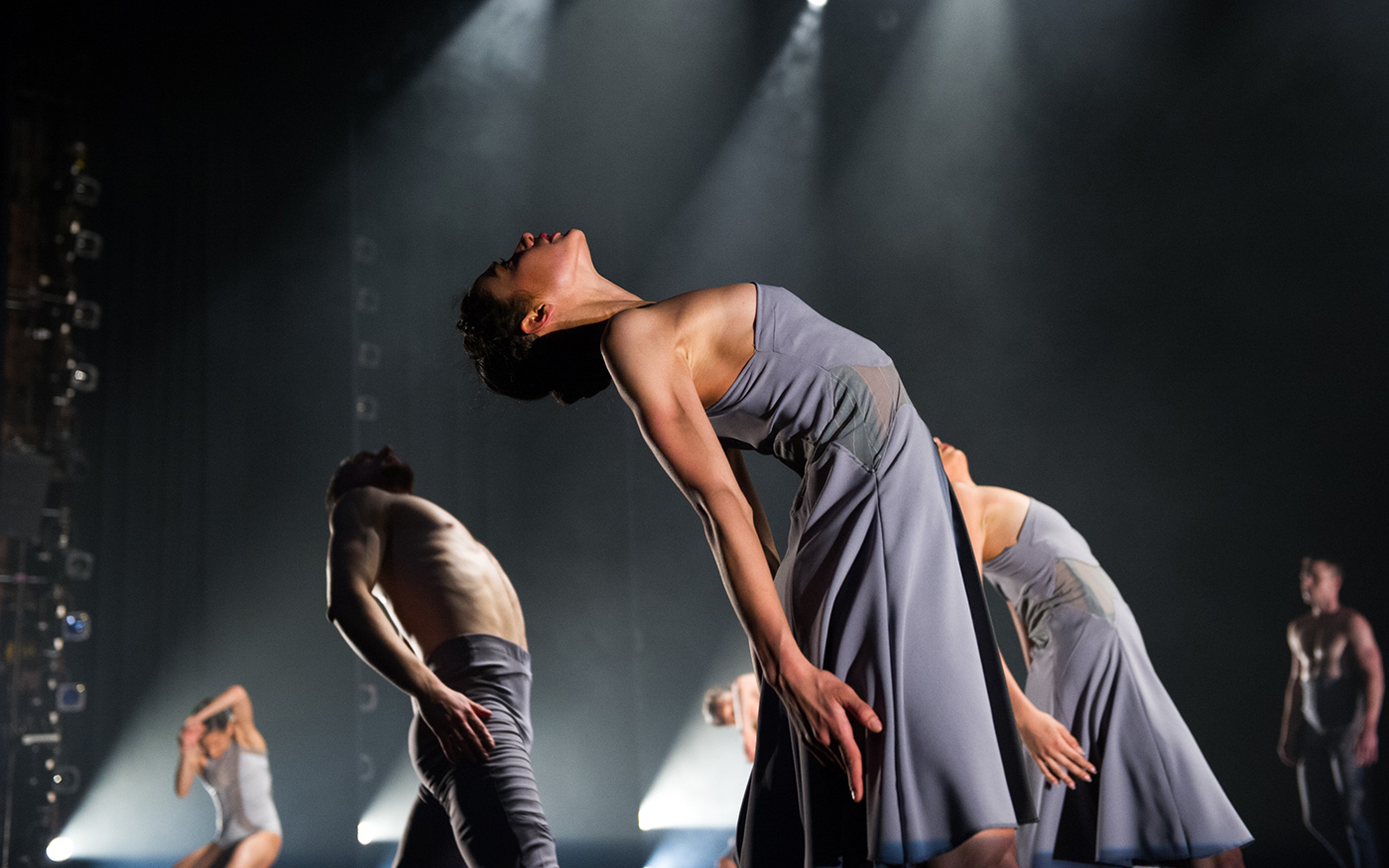 WINONA, Minn. — The Page Series brings leading Latino dance company Ballet Hispánico to Winona Oct.1-4 for residency activities, culminating in a performance at the Page Theatre on Friday, Oct. 4, at 7:30 pm.
Ballet Hispánico, founded by National Medal of Arts recipient Tina Ramirez, specializes in the performance of repertory that explores the diversity of Latino cultures and brings innovative ways of experiencing and sharing a cultural dialogue. The Chicago Sun Times hails the company as "quite simply, stellar in both their stylistic malleability and their ability to create characters … [they're] gorgeous to look at and thrilling to watch — highly individualistic performers who can shift easily from ballet and modern to a whole range of Latin styles."
In Winona, Ballet Hispánico will perform three works from their Latina choreographers program:
Annabelle Lopez Ochoa's Tiburones, her newest work, which reimagines the world of the street gang, the Sharks (from the award-winning musical West Side Story) from a Latinx and gender-fluid perspective. Ochoa will embrace non-gender specific roles while deconstructing stereotypes and giving new life to an ever appropriated cultural icon.
Tania Pérez-Salas' Catorce Dieciséis, which draws inspiration from the number Pi to reflect on the circularity of our movement through life and is set to the music of Vivaldi and other Baroque composers; and
Michelle Manzanales' Con Brazos Abiertos (With Open Arms), which explores with humility, nostalgia, and humor the iconic Mexican symbols that she was reluctant to embrace as a Mexican-American child growing up in Texas. The work features the spoken word work of Dominican-American poet Maria Billini.
Ballet Hispánico Artistic Director and CEO Eduardo Vilaro will give a pre-performance talk at 6:45 p.m. to discuss the evolution of the program, the need for more diversity and representation in the dance field, and what it means to be a Latinx dance company in today's cultural landscape.
Vilaro, who became Ballet Hispánico's second artistic director in 2009, has infused the company's legacy with a bold and eclectic brand of contemporary dance that reflects America's changing cultural landscape. Born in Cuba and raised in New York from the age of 6, he is a frequent speaker on the merits of cultural diversity and dance education. In 2001, he was a recipient of a Ruth Page Award for choreography, and in 2003, he was honored for his choreographic work at Panama's II International Festival of Ballet. Vilaro was also inducted into the Bronx Walk of Fame in 2016 and was awarded HOMBRE Magazine's 2017 Arts & Culture Trailblazer of the Year award. Vilaro also founded Luna Negra Dance Theatre, which performed at the Page Theatre in 2011.
Thanks to grants from the Minnesota State Arts Board, the Xcel Energy Foundation, and Arts Midwest, the Page Series will also offer activities with the company throughout the Winona community, including:
Modern Dance Master Class for intermediate and advanced dancers who are in high school or older. The class includes an Afro-Cuban warm up and the opportunity to learn a section of one of Ballet Hispánico's pieces and will be held Tuesday, Oct. 1, at 3:30 p.m. in Memorial Hall, Winona State University. Advance registration is required at pagetheatre.org.
Happy hour reception to welcome the company to Winona, hosted by the AmericInn Winona (303 Pelzer St) on Tuesday, Oct. 1, from 5 to 7 p.m.
Movement workshop at the Winona Friendship Center for all ability levels. Modified movement, including participation from a chair, will be offered. The event is Wednesday, Oct. 2, at 10:45 a.m. Please call 507-457-5212 to register.
A Page in History talk with Eduardo Vilaro on Wednesday, Oct. 2, at 12:05 p.m. at the Winona County Historical Society.
Unlocking Creativity, a professional development workshop led by Vilaro for nonprofit organization staff and board members, business professionals, and community leaders, on Thursday, Oct. 3, from 9 a.m. to noon at the Valéncia Arts Center. Registration is required at pagetheatre.org.
Ballet Master Class for fast intermediate and advanced dancers ages 12 and older on Thursday, Oct. 3, at 5:30 p.m. at the Valéncia Arts Center. To register, visit pagetheatre.org.
Latin Social Dance Lesson and Community Dance, free and open to community members of all ages and abilities on Thursday, Oct. 3, from 7-9 p.m. at the Valéncia Arts Center.
In addition, the company will conduct workshops for Bluffview Montessori, Home and Community Options, and Project FINE.
To learn more about residency activities, visit pagetheatre.org/project/ballet-hispanico-residency. Performance tickets can be ordered online at pagetheatre.org, or by calling the Saint Mary's Performance Center box office at 507-457-1715 (noon to 6 p.m., weekdays).
About the Page Series
Now in its 33rd season, the Page Series connects professional performing artists from around the globe with thousands of Winonans each year. With events at the Page Theatre at Saint Mary's University's Winona Campus, as well as at locations across the Winona community, the Page Series offers dance, music, and theatre performances, workshops, classes, and more that inspire, uplift, educate, and invite community members to discover the relevance of the arts in their daily lives. www.pagetheatre.org
This activity is made possible by the voters of Minnesota through a grant from the Minnesota State Arts Board, thanks to a legislative appropriation from the arts and cultural heritage fund.
This engagement is supported by the Arts Midwest Touring Fund, a program of Arts Midwest that is funded by the National Endowment for the Arts, with additional contributions from the Minnesota State Arts Board and the Crane Group.
Page Series community programs are made possible, in part, through grants from the Xcel Energy Foundation and the Elizabeth Callender King Foundation.
Photo by Paula Lobo