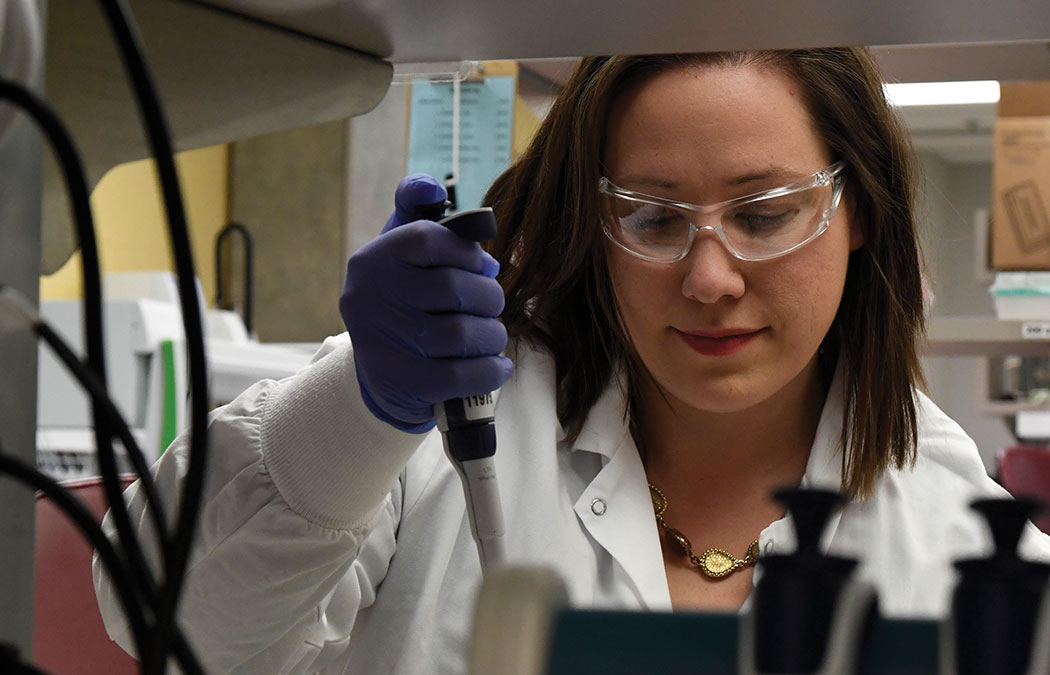 Working in genetic research at Mayo Clinic, Beth (Schubert) Pitel '06 solves complex puzzles, which could ultimately improve patient care or even save lives.
Pitel became part of a research team using genetic testing to understand why young children were suddenly dying about 15 years ago in an Amish community. The deaths had baffled medical examiners and brought heartbreak to the Amish community. Some of her most recent research was covered by CNN.
It was eventually uncovered that a gene called RYR2 was to blame. The children who died were found to have inherited a duplication of part of this gene from both parents. The results provided some closure to family members, recourse for children currently carrying the gene, and options for preventative measures through genetic counseling.
Pitel describes her job as threefold:
Genomic assay development. "When you go to the doctor and they do genetic testing, they are ordering a clinical test," she explained. "I'm one of those people who help to develop molecular genetic testing methods. I make sure they are of the highest quality and have an acceptable turnaround time for the patient."
Genomic annotations in cancer. "I am lead development technologist on a team called the 'Genomics of Oncology Annotation Team' (GOAT). We create tools that support the assays we develop. Those tools can help us determine what alterations might be important for the doctor or patient to know about," she said. "Can we align abnormalities in the genome with pieces of knowledge? What do we know about the deletion of a certain gene in a particular type of cancer? We can make assertions based on peer review journals, genomic knowledge bases, or our own clinical experience in the lab. We have a lot of resources at our fingertips, so I'm really grateful to be involved in gathering that data and putting it in a format that is useful for those trying to interpret these complex genomic assays." Pitel also co-leads a virtual molecular tumor board for the Variant Interpretation for Cancer Consortium (VICC), an international collaborative effort to better utilize what is known about mutations in cancer.
Clinical Research. "In the case of Dr. (Michael) Ackerman's study (with the Amish children), we helped to interpret the data from chromosomal microarray and mate pair sequencing (MPseq) studies and deliver results back to the team. We get pulled into research studies a lot because we are able to provide access to the technology needed to answer complex problems and the interpretation on the back end."
Pitel said that her job is very diverse and fulfilling. "It's a great use of my education," she said. "I think critically about what I'm doing and troubleshoot different problems that arise. Working through a difficult case is the ideal way to use my education, which was ignited at Saint Mary's."
Pitel said she was always drawn to science, and genetics in particular.
"I felt like being in a lab and working with technology would be a really good fit for me," she said. She eagerly became the university's first cytogenetic technology major, which was a 4 + 1 program with Mayo Clinic. "I jumped on that opportunity and didn't look back," she said.
"I knew that's what I wanted to do. I knew I wanted to come to Mayo Clinic, and it all seems to have worked out."
Pitel went on to earn a master's in biochemistry and molecular biology and has worked at Mayo Clinic for more than 12 years in a variety of roles, all within the same lab. Her current title is development technologist.
Although the cytogenetic technology major was phased out, several university alumni, in this program and others, have gone on to work at Mayo Clinic. Debra Martin, Ph.D., department chair of Biology, estimates that at least 10% of those working in the lab with Pitel are Saint Mary's alumni.
"That wouldn't surprise me; there are a lot of Saint Mary's alumni here," Pitel said, adding that she enjoys seeing Dr. Martin bring current students through the lab for annual tours. Dr. Martin is one of the people she credits most for preparing her for her career.
"Dr. Martin prides herself on being a tough teacher," Pitel said. "But she ingrained a lot of biochemistry and molecular biology in my mind. I felt prepared. And I worked with Dr. Dick Kowles (now faculty emeritus) on my research project. Working with him was just a joy, and he always had a new joke or quip. I could be in a lab for hours counting cells under a microscope, but he would make me feel grateful that I was there.
And Dr. Jeanne Minnerath made a huge impact on my career trajectory; she brought me to Mayo Clinic on multiple occasions to tour labs and lab programs."
Pitel also believes that being part of Habitat for Humanity, playing on the volleyball team, singing in the church choir, serving as a resident assistant, and other campus activities while at Saint Mary's taught her how to balance her time and juggle priorities, which has come in handy in her career and with her family.
"I don't think I would have been able to take advantage of being so involved had I been at a larger university," she said. "Saint Marys taught me to make time for the things that are important."