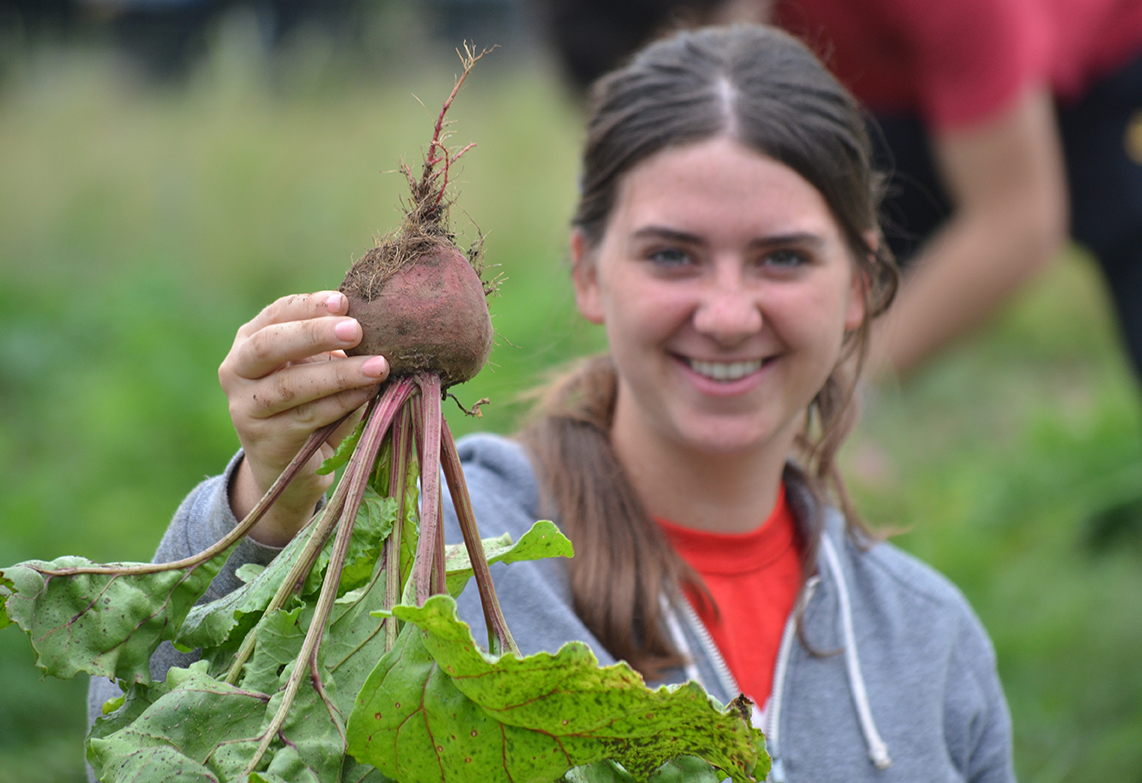 The SMUMN Community Garden at Saint Mary's has seen bountiful growth in its first year.
There has been the expected growth of corn, potatoes, beans, peas, turnips, carrots, kale, beats, eggplants, tomatoes, onions, basil, hops, squash, beans, and asparagus.
And — the student gardeners are quick to point out — there's been a steady growth of weeds.
But some of the most important growth has come at a personal level: the increased comradery between student gardeners; the discovery of the meditative quality of communing with the land; the attainment of gardening and cooking skills; and a deep sense of service and fulfillment that comes from feeding the hungry.
Garden organizers are hoping for continued growth in coming seasons — including additional educational opportunities, more collaborations in the community, a hoop house, cooking classes, and more gardeners.
The seed for beginning a community garden was planted by Chris Kendall, former vice president of Student Life, just prior to the demolition of the Ek Family Village in summer of 2017, which made way for the 120-by-80-foot plot.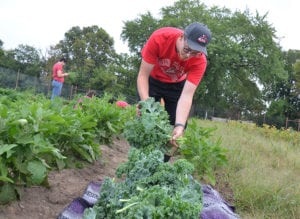 Dr. Kyle Black, associate professor in the Department of English and World Languages (and gardener extraordinaire), connected with Kendall's dream before he retired last year with his proposal "Learning the Land Through Labor and Life Connections", a project he developed through CELT and the Faculty Learning Leadership program in 2016-2017. With the support from the university's maintenance department (and folks like former executive vice president and chief operating officer John Pyle), their work came together with perfect timing and like-minded hopes for the university.
"The idea is that the garden serves as a learning laboratory for students, staff, and community members," Dr. Black said. "We're addressing a need in this community by donating our vegetables to the Winona Food Shelf, but we're also addressing a need within our own Saint Mary's community as well to raise awareness of food scarcity and healthy dietary practices. Ideally, the garden could contribute to and improve the offerings currently provided by the cafeteria and get students more involved in the decisions behind what we provide and where it originates.
"Eventually, we'd like to spread the idea that if students need vegetables, in exchange they can lend a hand in the garden to feel like they've contributed," Dr. Black said. "We want to address needs of hunger that exists in our country, on our campus, and in our community, all while learning about vegetables, the land, and about ourselves in the process."
Dr. Black said the garden exemplifies the "3Ps: project-based, problem-based, and place-based or place-conscious educational opportunities." "The problem is food scarcity," he said. "The project is the garden, and, in the process, we have all established a special connection with and awareness of this place we call Saint Mary's. And in the garden specifically, we've developed an intimate relationship with the soil and everything that's in it."
As of the end of August, 135 pounds of produce from the community garden was donated to the Winona Area Food Shelf, with several other harvests yet to come.
Annika Blesener '20, a secondary education-social studies major from North St. Paul and Andrew Sandoz '20, a business intelligence and data analytics and finance double major from Appleton, Wis., are two garden club members who have worked in the garden all summer and even beyond. They, along with Dr. Black's honors students, started seeds in their residence hall windows last year.
"My whole window was eggplant trays and some pepper and kale," Sandoz said. "They started as eggplant seeds in my room and now we're picking eggplants. That blows my mind. I didn't think they'd grow that well. My gardening skills aren't that good. It's amazing seeing the whole thing grow to fruition."
Blesener said the activity also taught her about failure. "Some of my seedlings didn't make it," she said, making a sad face.
Blesener started the garden club a year and a half ago on campus because she saw the success of the garden planted and cared for by the Christian Brothers. "I wanted to learn more about the restoring powers that nature offers," she said. "But I also wanted to know more about food and how it gets to our plates."
Both students learned about companion cropping with corn, beans, and squash. (Corn stalks provide support for the beans and the squash spreads across ground to control weeds.) Blesener also learned about composting.
And they all learned that weeding wasn't really so bad.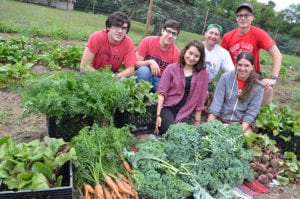 "Dr. Black was always saying how therapeutic it is to weed. I didn't believe him in the beginning, but it's kind of nice to come here and weed," Sandoz said. "It's very peaceful in the morning."
Blesener called weeding meditational. "You're finding peace in yourself through the peace of your surroundings," she said. "Weeding takes time but it's totally worth it."
But the best part of gardening, in their minds, is the harvest and knowing how much their work is helping others.
"It has been very eye opening," Sandoz said, "When we saw that we had 89 pounds of vegetables on this big scale, we realized that's a big amount of food. I had no idea how substantial that was."
"I felt like we really gave back," Blesner said. "We are living the Lasallian mission. We are serving others."
Along with harvesting comes eating; both students are equally excited about adding more vegetables to their diets.
"If you grow something on your own, it tastes better than what you buy in store," Sandoz said, admitting that as a freshman, he consumed Ramen by the economy sized boxes. Now, he's looking forward to grilling vegetables.
Blesner said just by throwing vegetables in omelets and stir fries, she just feels healthier.
Dr. Black didn't want to wait to grill his bounty. He pulled vegetables from the garden, brushed off the dirt and offered the students a taste. "I've always heard God made dirt, so dirt don't hurt," he said with smile.
"With a little bit of work, food can be free," he stressed to the students.
Other possible plans to expand the garden include an inter-cultural awareness component. "We are working on establishing a relationship with Hmong farmers (through Project FINE) in the area," Dr. Black said. "With this, we hope to bring in community members with a profound cultural and social background in gardening in order to not only share knowledge of how other folks might grow food, but also how to prepare it and share meals and moments together."
He also hopes to involve Montessori school children and to invite the university's education students to use the garden with their student teaching projects. "The earlier we can get them interested, the better," he said, adding he hopes to someday have a Saint Mary's booth at the local farmer's market. By selling produce and donating profits, there's an opportunity to teach students about social entrepreneurship, he explained.
For example, Dr. Black said, through Hops for Hope they'll sell the garden hops to local breweries and donate profits to charitable organizations.
"A main goal of the project is to raise awareness at Saint Mary's of where our food comes from and have more students engaging in this process, with the big hope of having the broader university community mindful of food resourcing," he said. "Just like our vegetables, this project is growing bigger."
Look for more details about harvest celebrations and university food weeks this fall. For more information about how to get involved, contact Dr. Black at kblack@smumn.edu.
Photo caption: Annika Blesener's favorite parts of gardening are harvesting and eating the harvest.