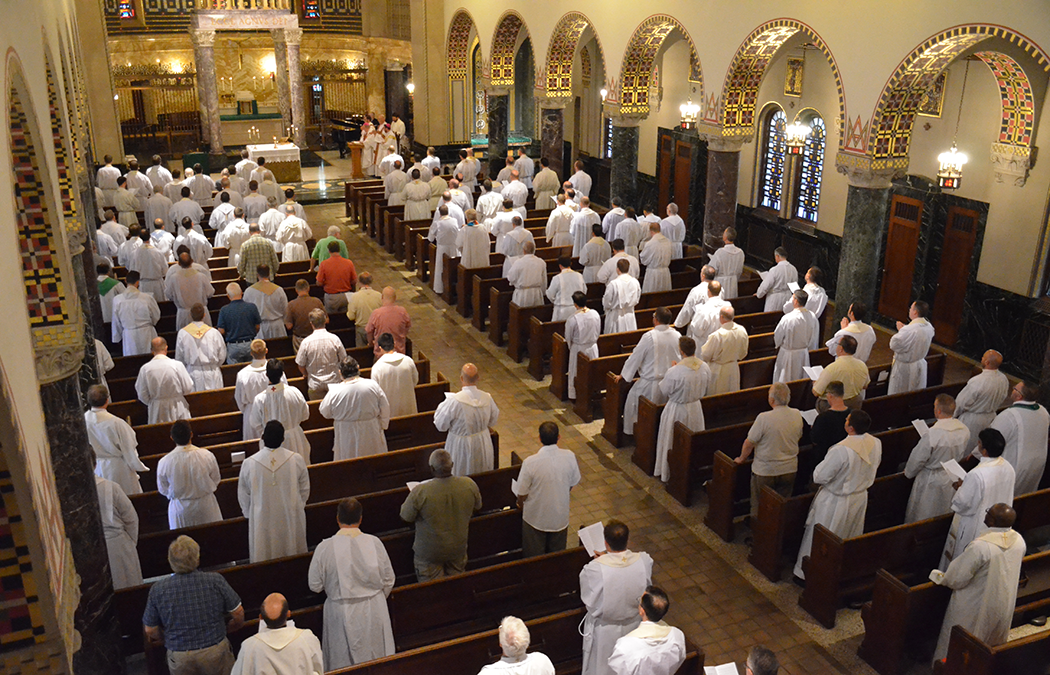 Saint Mary's University's Winona Campus hosted nearly 220 priests for their biennial Presbyteral Assembly between June 20-24. For the attendees — priests of the Archdiocese of Saint Paul and Minneapolis — it was a time for fraternity, prayer, and learning. And it was the first time the group was able to come together since the start of the pandemic.
For Saint Mary's, it was an opportunity to not only support them in their important work, but also to showcase our beautiful campus, its facilities, and our university hospitality.
Father T.J. McKenzie, organizer of the Presbyteral Assembly, said, "We chose Saint Mary's because it fit all the needs we were looking for in a new location. Previously, we were at a hotel in downtown Rochester. However, we were looking for a location that allowed for us to have greater access to a chapel, greater access to nature for priests to go walking, hiking, etc. We were also looking for a place that allowed for greater fraternity to take place, and the campus provides for that."
The group was able to utilize both Saint Thomas More Chapel, along with the Chapel of Saint Mary of the Angels, while enjoying our fieldhouse and outdoor spaces. In addition, they were able to take advantage of all that Winona has to offer, including area golf courses, the Minnesota Marine Art Museum, the Polish Museum, and area cathedrals. They also enjoyed biking and kayaking opportunities.
Our hope is that this visit could turn into additional student referrals and visits — as well as facility rentals. Thanks to everyone who helped make their stay a pleasurable experience.
Things overheard during their visit:
I will encourage my young parishioners and their families to tour Saint Mary's.
When I was 18 years old, why didn't I tour and attend Saint Mary's? This place is great.
We were well taken care of … I am sure you do the same with your students.
This campus has a real Catholic feel to it when other campuses have lost it.
In a hotel, it felt like a business meeting but being on campus felt like a real retreat.
I will definitely be looking at Saint Mary's as a place to take a retreat, bring my parish council, and retreat groups. What amazing facilities, especially the Alverna Center and Chapel of Saint Mary of the Angels.
Hear Archbishop Bernard Hebda of the archdiocese of St. Paul and Minneapolis explain the purpose of Presbyteral Assembly and why it is so important for priests to gather on Relevant Radio.
Photo caption: Guests of the Presbyteral Assembly say their final Mass at Chapel of Saint Mary of the Angels.