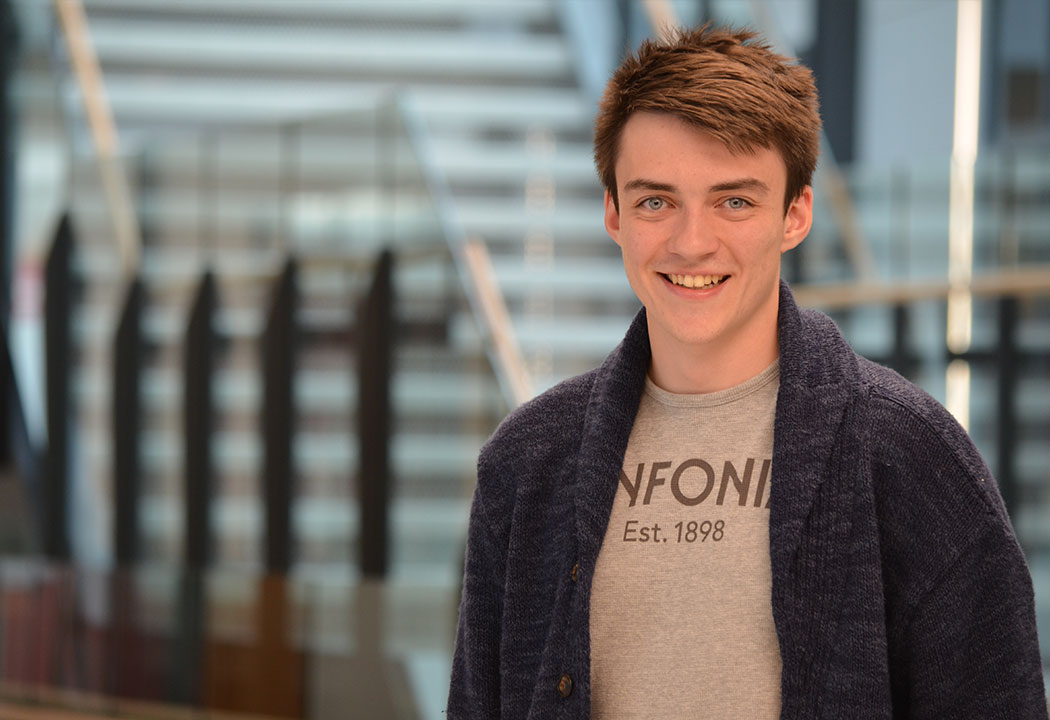 For a psychology student, having the opportunity to put Mayo Clinic as an internship site on your résumé is a real attention-getter. Saint Mary's senior Nick Sawchuk is hoping his experiences at the renowned Rochester medical facility will help him stand out in pursuing his dream to become a pediatric psychologist.
Sawchuk has interned in the Department of Psychology and Psychiatry at Mayo Clinic for the past year and a half during which he has worked both summer months and school breaks. His role involves research, data entry, chart extraction, and analysis on a variety of clinical studies. Working closely with fellows, physicians, and statisticians, he's also been collaborating on publishing manuscripts.
"Everything here is a team effort, which is how I work best," said Sawchuk who also serves as captain of the Saint Mary's swim team, dive team, and water polo team. "It's great having the support of world-renowned physicians and fellows. The community here is super positive."
The Rochester native said he was originally a biology major with a psychology minor, but after reexamining which classes he enjoyed (and excelled in) most and after seeing the type of career opportunities at Mayo Clinic, he switched to a psychology major and a biology minor.
"There's a battle between psych and bio on which discipline is the true science, so to speak," explained Sawchuk with a laugh. "Originally I wanted to be a pediatric psychiatrist, where I would be focusing on medication management and course of treatment, but I decided I wanted to be more hands-on and work in the area of cognitive behavioral therapy and become a pediatric clinical psychologist instead."
He would especially like to focus on the connection between eating disorders and chronic pain, a path which he says was inspired by the research he's doing at Mayo Clinic.
"There's not a lot of research around eating disorders and chronic pain in conjunction with each other. It's a very important field because a child's pain often affects their eating," Sawchuk explained.
In fact, he decided to do his senior thesis on the relationship between eating and body image and a person's overall functioning, carrying this same topic a bit further. "As a student athlete, I constantly watch what I eat and make sure I'm getting the calories I need to perform well," Sawchuk said. "The same sort of thing goes with these eating disorders. Sometimes the reason why these kids aren't functioning properly is because they don't have enough food in their system."
Sawchuk is being exposed to many different types of studies at Mayo Clinic, which is helping him develop a more diverse background in the field.
For example, he's recently been working on a neurocognitive study about children with postural orthostatic tachycardia syndrome (POTS), a psychosomatic disorder where patients experience intense autonomic symptoms. Among these symptoms, difficulty concentrating is prominent. After these children take different performance tests, the data is analyzed to see if they have any cognitive deficits.
"Compiling data can be messy sometimes. It's such a rewarding feeling when you finish a data set, everything is clean, and everything works," explained Sawchuk, who is working under the supervision of Michelle Skime M'15, a Saint Mary's alumna. "The research I'm involved with is primarily about finding validation for specific studies, instead of exploration."
The student athlete is preparing to go to graduate school after he finishes his undergraduate degree. He's hopeful the experience he's gaining in this internship will help him get his foot in the door.
"It's important to have a diverse clinical and research background. They want to see research experience and experience relevant to what you're specializing in," explained Sawchuk.
Through his internship, he's also gained a base knowledge of data entry and analysis using important statistical data software like SPSS, JMP, and R, some of which he was first introduced to in courses at Saint Mary's.
Sawchuk is grateful for the opportunities he's had at Mayo Clinic and is looking forward to his final year at Saint Mary's.
"Saint Mary's has helped me grow as a person and as a leader. It's taught me to be confident, to ask questions, and to take initiative," said Sawchuk. "Being involved in sports and groups like Fellowship of Christian Athletes (FCA) has helped bring my faith and sports together, and it's also helped me bring other people together and excel."