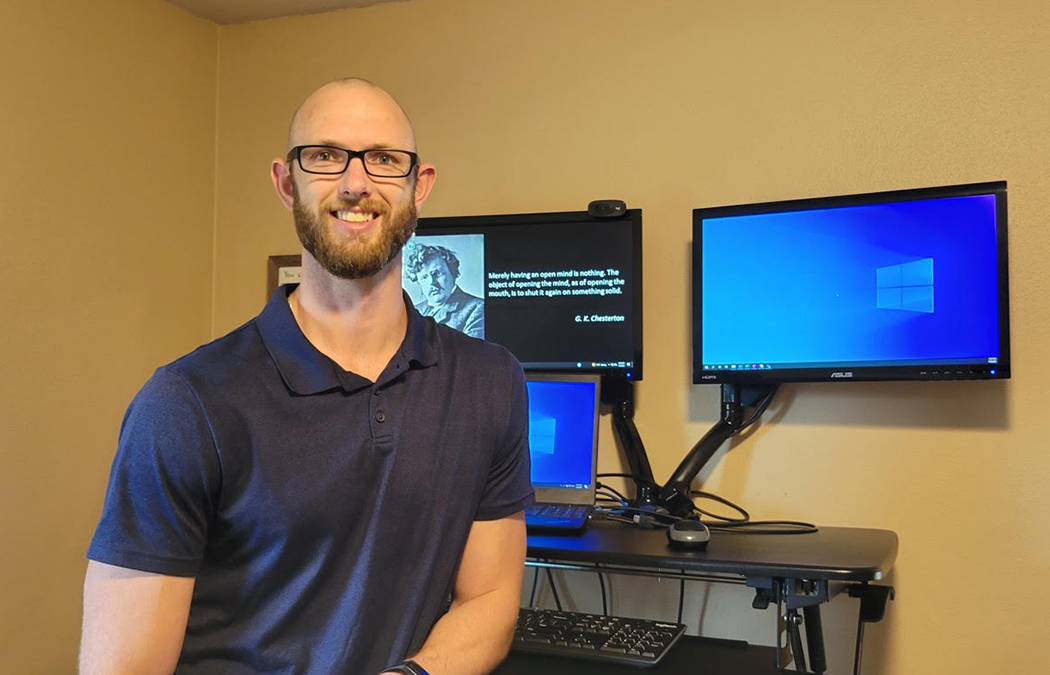 By Tom Brandes
It was the end of his workday – and the beginning of a new career era – when Jeff Keen hit 'send' on an online form. He wanted to learn more about Saint Mary's Master of Science in Business Intelligence and Data Analytics (BIDA). The program was among five or six data analytics graduate programs he was considering.
"Three minutes later, as I was walking out of the building, my phone rang and I was talking to the program director," Keen said. "I was very impressed by the rapid response and the admission process wasn't overwhelming, and soon I decided to attend Saint Mary's."
Keen, who has a political science degree, was working at the University of Northern Iowa Foundation when he began pursuing his interest in data analytics. Starting in the fall of 2018, he took several free online courses, including an intro to computer science and a couple of coding classes.
As he took these classes, Keen worked analytics into his job in order to better serve the organization. Soon he wished he could do this type of work full time, rather than shoehorning it into whatever he was working on.
"I had taken some free courses that helped convince me that I wanted to do the analytics track in grad school," Keen said. "I also discovered that it's more difficult to stick with free and self-guided learning options. Despite being a self-starter, I found it's a real challenge to stick with them. I also know employers value credentials, and I needed the degree to prove I could do the work."
Keen began Saint Mary's BIDA program in the fall of 2019, taking all his classes remotely. This was a big plus in his eyes because with a young child and another on the way, he couldn't commit to a long commute and sitting in class at prescribed times each week.
He also appreciates the fact that his classes varied between having a business focus and a technical focus. Keen describes his classes as an eight-week sprint that combined reading books and practical hands-on activities to accomplish something big – a large project completed by the end of each class.
"My instructors at Saint Mary's are well informed and approachable, and I really appreciate the wide variety of courses. I've done everything from ethics and economics to learning to write code in Python," he said. "Most of my classes have been project-based, so you learn a lot by doing. My favorite classes have been Decision Support Systems, where I built a data warehouse, and Data Mining for Decision Making, where I built a logistic regression model and really had a lot of opportunity to be creative and learn by doing."
Keen has been eyeing opportunities to get into analytics for several years, consistently applying for interesting positions as he worked through his master's program, and updated his résumé with courses and projects he completed.
"All the experiences and applications of my courses and projects finally got to the point that I could be taken seriously as a data analyst candidate even though I didn't technically have the word 'analyst' in my job title," adds Keen. "Two months ago, I landed a new job as an associate, Media Analytics and Insights for Mindstream Media Group."
He describes the job as a great combination of data wrangling, with data blended and combined to provide a holistic look at a media campaign. Once the data is in place there's a need to build visualizations, before looking for insights and presenting them.
Because analytics is such a broad field, Keen has no idea what his ideal job would be. But he does know he's having a blast in his new role and he believes Saint Mary's BIDA program, which he will complete this fall, has helped prepare him to work in many different parts of analytics.
"My job requires broad knowledge. Not just discovery and ETL data integration. Not just insight generation. Not just communication. Everything in the cycle from start to finish," Keen said. "The BIDA program is really focused on a more holistic view of analytics, and it's worked well for me. It provided the structure I needed to stick to my goals, and a really well-balanced framework. I wish I would have started this program three years ago."